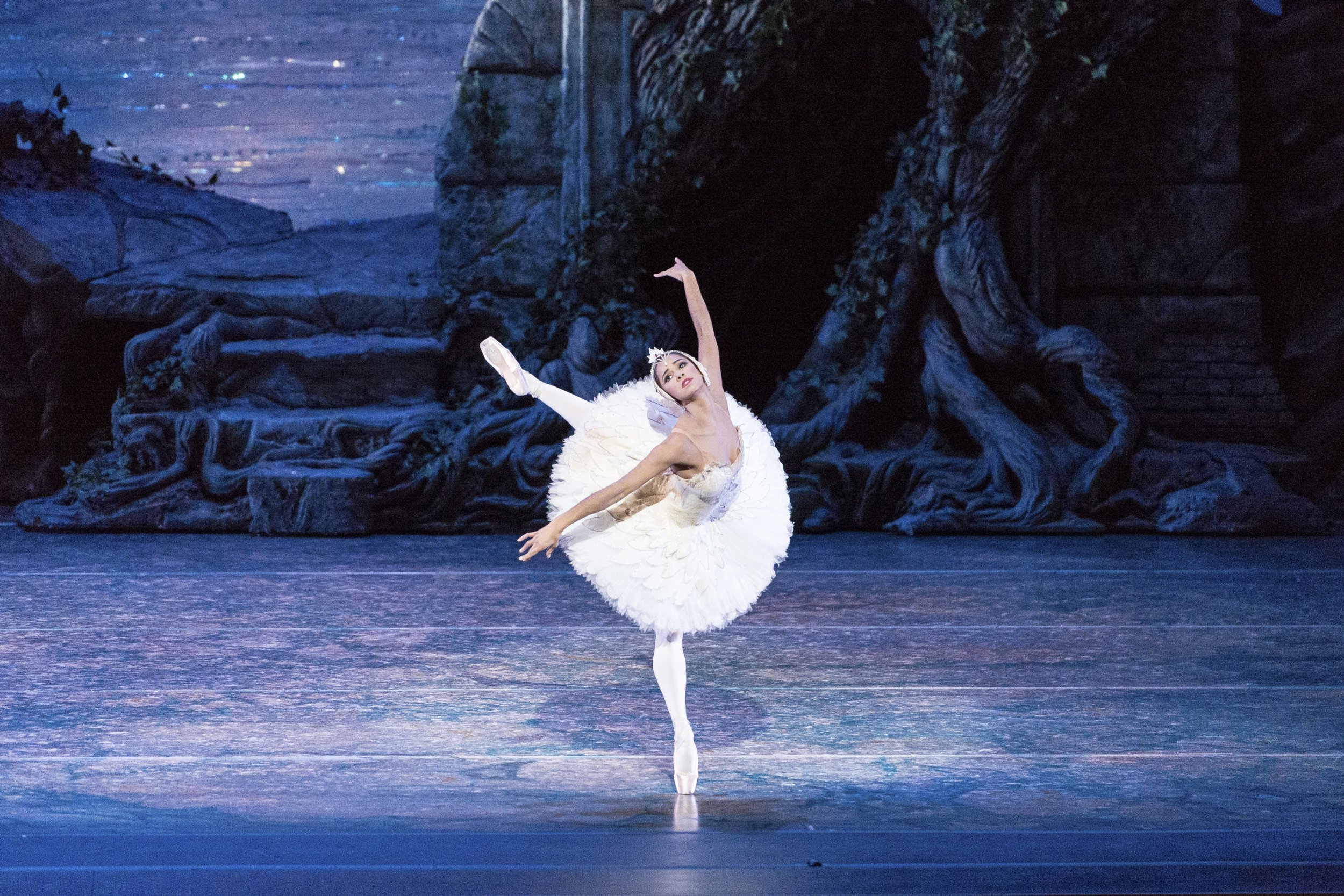 The name Misty Copeland has become known far beyond the dance-obsessed circles of bunheads and balletomanes. For the first time in decades, it seems, an American ballerina has broken into mainstream culture. When American Ballet Theatre announced its promotions and new company members Tuesday, she also made history as the first African-American woman to become a principal dancer with the company, which celebrates its 75th anniversary this year.
Copeland, born in Kansas City, Missouri and raised in San Pedro, California began dancing at 13, which for a female ballet dancer is positively ancient. Nevertheless, she quickly won awards and scholarships and joined ABT's Studio Company in 2000. Less than a year later, she became a member of the corps de ballet in the main company, and was promoted to soloist in August 2007. At the time of that promotion, she became the company's first African-American soloist in more than two decades.
In recent years, Copeland has spoken extensively about her path as an African-American woman climbing toward the upper echelons of the ballet world, inspiring young dancers and making herself widely known. She was named National Youth of the Year Ambassador for the Boys & Girls Clubs of America in 2013 and was appointed by President Barack Obama to the President's Council on Fitness, Sports and Nutrition in 2014. She is an advisory committee member for ABT's Project Plie, a partnership with the Boys & Girls Clubs of America that aims to "increase racial and ethnic representation in ballet and to diversify America's ballet companies."
In December 2014, she was named one of six recipients of the annual Dance Magazine Awards. "Misty Copeland is more than a dancer," the magazine's editors wrote. "As an outspoken advocate for racial equality in ballet—and living proof of the possibilities—she's an icon."
She has risen to a renown in the cultural mainstream that is rare for a ballet dancer in recent decades. In January 2014, she signed with Under Armour, a maker of athletic goods, and several months later, her first ad with for the company's I Will What I Want campaign made a splash. "By ballet standards, she was too old, too curvy, and too dark to be a premiere ballerina," reads the Under Armour site. "She didn't fit the ballerina mold. So, she broke it and cast a new one."
Over the last several years, Copeland has been the subject of countless stories in dance-specific publications as well as in mainstream media outlets, including an in-depth New Yorker profile. She was also the protagonist in the documentary A Ballerina's Tale, which screened at this year's Tribeca Film Festival. In April of this year, Copeland graced the cover of Time magazine's 100 Most Influential People in 2015 issue. She has garnered a loyal following on social media, with nearly 50,000 followers on her very active Twitter account and more than half a million on Instagram. Needless to say, Tuesday's news sparked a slew of congratulations:
In September 2014, Copeland made her debut as an author with the children's picture book Firebird. She has since published her memoir, Life in Motion: An Unlikely Ballerina, which Simon & Schuster says became an "instant New York Times bestseller."
Copeland danced several important roles with American Ballet Theatre this season, making her debut as Juliet in Romeo and Juliet a few days earlier than planned and as Odette/Odile in Swan Lake, the first-ever African American ballerina to dance the iconic dual role with ABT.
"Let everyone know henceforth that an African-American ballerina has danced this exalted role with American Ballet Theater at the prestigious Metropolitan Opera House," wrote Alastair Macaulay, chief dance critic for The New York Times. "It's the flashes of bravery in Ms. Copeland's dancing, especially as Odette, that begin to illumine this ballet. As yet they're only intermittent; but since they're part of Ms. Copeland's story as well as Odette's, they're more than welcome."
ABT's artistic director Kevin McKenzie announced several promotions and additions to the company along with Copeland's historic rise to principal. Stella Abrera also makes the leap from soloist to principal, while Skylar Brandt, Thomas Forster, Arron Scott and Cassandra Trenary have been named soloists, effective August 1. Maria Kochetkova, a principal dancer with San Francisco Ballet and Alban Lendorf, a principal dancer with Royal Danish Ballet, join ABT as principals and Jeffrey Cirio, a principal dancer with Boston Ballet, joins as a soloist. One name missing from the list of promotions this year is Sarah Lane, a soloist perhaps best known outside the dance world for playing Natalie Portman's double in Black Swan.
Excitement around a potential promotion for Copeland was brewing among fans long before Tuesday's announcement. Copeland, too, had been open about her aspirations. "My goal is to become the first African-American principal dancer with ABT," Copeland said at an event held in her honor by the New York alumnae chapter of the Delta Sigma Theta sorority.
In her memoir, she wrote about the fear that accompanied her ambition to make history: "My fears are that it could be another two decades before another black woman is in the position that I hold with an elite ballet company... That if I don't rise to principal, people will feel I have failed them." But at age 32, eight years after becoming a soloist, her goal has been realized.