Mitch McConnell Says He'd Follow Trump on Gun Control Legislation: 'I'd Be Happy to Put it on The Floor'
The ball is in President Donald Trump's court when it comes to acting on gun control legislation in the wake of several mass shootings and amidst Congress' summer recess, according to Senate Majority Leader Mitch McConnell.
"I said several weeks ago that if the president took a position on a bill so that we knew we would actually be making a law and not just having serial votes, I'd be happy to put it on the floor," the Kentucky Republican told conservative talk radio host Hugh Hewitt Tuesday. "And the administration is in the process of studying what they are prepared to support, if anything."
McConnell said he was expecting to have an answer from Trump "next week," adding his belief that the president "is in favor of a number of things that he has discussed openly and publicly, and I know that if we pass it it'll become law, I'll put it on the floor."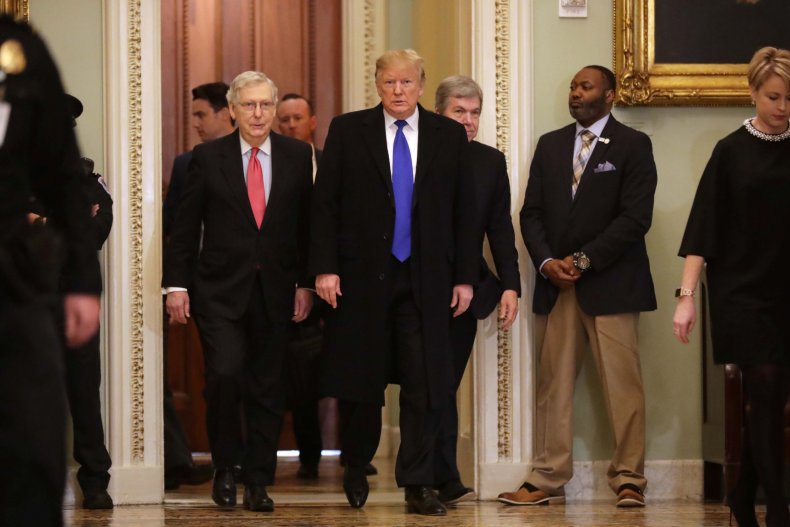 The Senate leader has received criticism from gun control advocates and Democrats in recent weeks for not forcing the chamber to come back early from August recess—which they'll return from next week, as scheduled—and immediately address gun control bills. Over the weekend, a man allegedly killed seven people and left roughly two dozen more injured, marking what was the country's latest mass shooting, following closely behind similar tragic events in Dayton, Ohio, and El Paso, Texas.
Congressional Democrats have continued to demand that McConnell vote on a universal background checks measure passed by the Democratic-led House earlier this year that would require background checks for virtually all firearms transactions as Trump wavers on his support for "meaningful background checks." House Democrats will also debate and consider other bills that aim to curb gun violence.
In the immediate aftermath of the most recent mass shooting over the weekend, Trump has steered clear of committing to support universal background checks, despite prior contradictory statements.
"Background checks — I will say that for the most part, sadly, if you look at the last four or five, going back even five or six or seven years — for the most part, as strong as you make your background checks, they would not have stopped any of it," the president told reporters on Sunday.
He added that the administration "is committed to working with Congress to stop the menace of mass attacks."
"This includes strong measures to keep weapons out of the hands of dangerous and deranged individuals, and substantial reforms to our nation's broken mental health system," Trump said. "To reduce violence, we must also ensure that criminals with guns are put behind bars and kept off the streets."
Bipartisan coalitions formed in the Senate last month after mass shootings in Texas and Ohio in an attempt to jump-start talks about gun control legislation, such as talks about so-called "red flag" laws, in addition to strengthened background checks. But until Trump can say definitively what he will support, it's clear that McConnell is unwilling to move forward.