Mitch McConnell Is 'Done,' Trump Allies Blast Senator After Jan. 6 Remarks
Allies of former President Donald Trump jumped to criticize Senate Minority Leader Mitch McConnell this week after McConnell described the January 6, 2021 attack against the U.S. Capitol as a "violent insurrection."
McConnell's remarks came after the Republican National Committee censured anti-Trump GOP Representatives Adam Kinzinger of Illinois and Liz Cheney of Wyoming last Friday over their criticism of the former president and involvement with the committee investigating the January 6 attack. The censure resolution described the pro-Trump riot as "legitimate political discourse," a description that drew substantial controversy.
When McConnell was asked about the RNC decision on Tuesday, the Kentucky Republican responded by giving his assessment that what had occurred on January 6.
"We saw it happen. It was a violent insurrection for the purpose of trying to prevent the peaceful transfer of power after a legitimately certified election, from one administration to the next. That's what it was," McConnell asserted, describing the pro-Trump attack against the federal legislative branch of government.
McConnell said he also felt the RNC should not be "singling out members of our party who may have different views of the majority"—pushing back against the censure of Cheney and Kinzinger.
A number of Trump allies lined up to attack McConnell following the remarks.
"Mitch McConnell is done in the Republican Party. You need to realize it," longtime Trump adviser Boris Epshteyn told right-wing strategist Steve Bannon during a Wednesday episode of his War Room podcast.
"Nobody wants to see Mitch McConnell around anymore. It's over Mitch, it's over," said Epshteyn, who served as a senior adviser to Trump's 2016 campaign and then as a White House assistant director of communications in early 2017.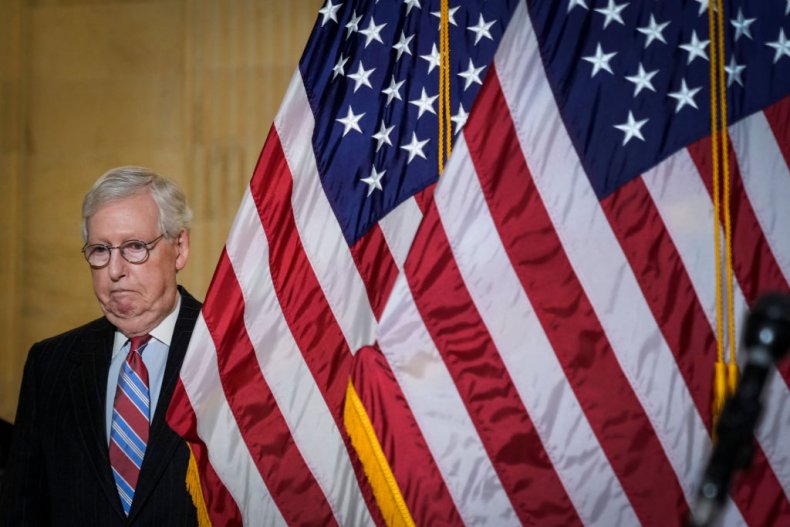 "The sleazy left and the sleazy RINOs [Republicans in name only] seem to have a lot in common, don't they? Mitch McConnell condemning the Republican National Committee for censuring Cheney and Kinzinger while behind the scenes and closed doors, he threatens his own members if they don't fall in line," right-wing political commentator Mark Levin said on his show.
Bannon also suggested on a Wednesday episode of his podcast that McConnell is an "establishment" leader, saying that the GOP Senate leader mocks Trump and his movement. He asked guest Representative Madison Cawthorn, a North Carolina Republican, what the GOP should do about members like McConnell.
"We do need to get rid of these establishment go-along to get-along Republicans," Cawthorn responded. He argued that the "boat is sinking" and "it's time to save the Republic."
Trump also issued multiple statements slamming McConnell, calling him an "Old Crow"—a nickname the former president has used repeatedly in recent months.
"For the Old Crow Mitch McConnell to say that the RNC should not censure walking Democrat sound bites, Liz Cheney and Cryin' Adam Kinzinger, is so against what Republicans are about," Trump said in a Wednesday statement.
In a statement released earlier on Wednesday Trump said: "Mitch McConnell does not speak for the Republican Party, and does not represent the views of the vast majority of its voters."
Newsweek reached out to McConnell's office for comment but did not immediately receive a response.