A video has emerged showing a friend of Elijah Cummings refusing to shake the hand of Senate Majority Leader Mitch McConnell during a memorial service for the late congressman.
The clip, which has been viewed more than 1.5 million times since it was posted on Twitter, shows McConnell turning to Senate Democratic Leader Chuck Schumer in shock following the apparent snub at the service in the Capitol.
The man who did not shake McConnell's hand is reported to be Bobby Rankin, who is listed as a pallbearer for Cummings' funeral on Friday, October 25.
The incident occurred during the service for the late Oversight Committee chairman, who became the first black lawmaker to lie in state at the Capitol.
Cummings, who was the representative for Maryland's 7th Congressional district for more than 20 years, died on October 17 following a long illness aged 68.
During the memorial service, McConnell was one of those who eulogized Cummings, describing the congressman as someone who "did not just represent Baltimore, he embodied it."
"He celebrated its victories, sought to advocate for its needs, and worked to heal its wounds," McConnell added.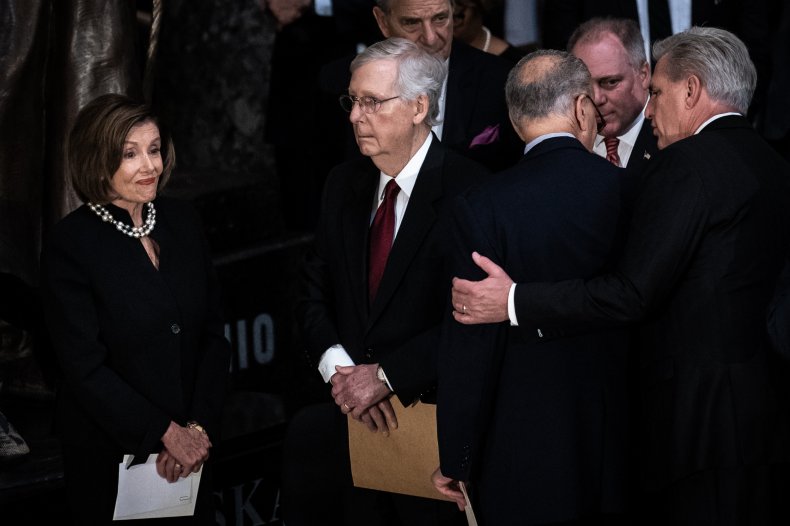 "He knew there was only one reason why a son of sharecroppers, a child who had literally had to bear the injuries of bigotry, and segregation, could graduate from law school, and eventually chair, a powerful committee in Congress.
"Only one reason, because principle leaders had fought to give kids like him a chance."
McConnell also praised Cummings for his actions during the 2015 unrest in his native Baltimore following the death of Freddie Gray, a black man who died after falling into a coma while in police custody.
"By day, the congressman was here in the Capitol working and leading in these hallways of power. But every night, he rode the train back home, and walk the neighborhoods, bullhorn in hand, encouraging unity and peace."
Elsewhere, House Speaker Nancy Pelosi described Cummings as "truly a master of the House."
"He respected its history and in it, he helped shape America's future," Pelosi said. "I have called him our North Star, our guide to a better future for our children."
Former presidents Barack Obama and Bill Clinton are among those who will talk at Cummings' funeral in Baltimore on Friday.
Following his death, Obama said Cummings' time as Chairman of the House Oversight Committee showed the county the "importance of checks and balances within our democracy, but also the necessity of good people stewarding it."
"Steely yet compassionate, principled yet open to new perspectives, Chairman Cummings remained steadfast in his pursuit of truth, justice, and reconciliation. It's a tribute to his native Baltimore that one of its own brought such character, tact, and resolve into the halls of power every day," Obama added.
Correction (10/25/19): The article originally stated Elijah Cummings is the first black person to lie in state at the Capitol. He is the first black lawmaker.