Mitch McConnell Hospitalized: What We Know So Far
Senate Minority Leader Mitch McConnell has been hospitalized after falling at a Washington, D.C. hotel.
The extent of McConnell's injuries are unknown. In 2019, the 81-year-old suffered a shoulder fracture after falling outside on a patio at his home in Kentucky.
McConnell's injury is the latest incident of a Senate member requiring hospital treatment. Democratic Senator Dianne Feinstein, 89, was taken to hospital last week to be treated for shingles, with Pennsylvania's John Fetterman, 53, who suffered a stroke during his campaign in 2022, currently being treated for clinical depression.
"This evening, Leader McConnell tripped at a local hotel during a private dinner. He has been admitted to the hospital where he is receiving treatment," David Popp, communications director for McConnell, said in a statement.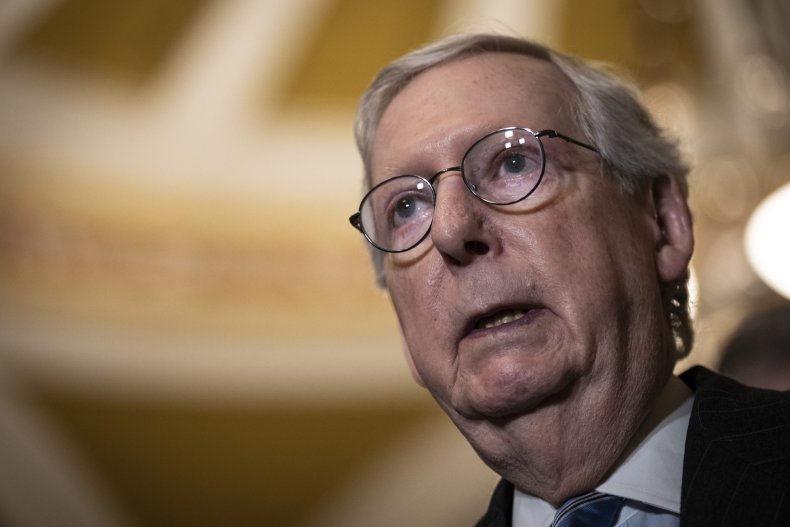 No other details about McConnell's fall have been released, including how long he is expected to remain in the hospital.
McConnell was dining at the Waldorf Astoria when he fell, according to a tweet from John Bresnahan, co-founder of political daily Punchbowl News, who first reported on the news.
The Senate minority leader, a survivor of childhood polio, is one of oldest lawmakers currently serving in the Senate.
In a 2018 interview with Roll Call, McConnell cited his own experience with the disease as motivation to help eradicate it across the world.
"I think it's under-appreciated outside the public health community just how much hard work and innovation has to continue after a disease has dropped off the front pages," McConnell said. He also warned that without continued support that "progress could erode rapidly."
McConnell was 2 years old when he was diagnosed with polio, 10 years before a vaccine would become available.
He was first elected to the U.S. Senate in 1984 and became the Senate GOP leader in 2006, serving as the Senate majority leader from 2015 to 2021.
Earlier this year, McConnell took over from Democrat Montana Sen. Mike Mansfield to become the longest-serving party leader in Senate history.
In a speech on the Senate floor on January 3, 2023, McConnell praised Mansfield for his service to the role.
"This scholarly Montanan was not an exciting idealist who transformed our national discourse, nor a policy entrepreneur who brought to the leader's role his own sweeping wish list of federal programs," McConnell said. "Mansfield made a huge impact through a different road: by viewing the role of leader as serving others."
Newsweek has contacted McConnell's spokesperson via email for an update on the Senate minority leader's condition.