Mitch McConnell on Impeachment: 'I'm Not an Impartial Juror. This Is a Political Process.'
Senate Majority Leader Mitch McConnell told reporters Tuesday not to expect him to behave in a bipartisan fashion during President Donald J. Trump's impeachment trial.
"I'm not an impartial juror," McConnell said. "This is a political process. There's not anything judicial about it. Impeachment is a political decision."
"The House made a partisan political decision to impeach." McConnell continued. "I would anticipate we will have a largely partisan outcome in the Senate. I'm not impartial about this at all."
"I think it's pretty safe to say in a partisan exercise like this people sort of sign up with their own side," McConnell said. "I think we're going to get an almost entirely partisan impeachment. I would anticipate an almost entirely partisan outcome in the Senate as well."
Newsweek reached out to McConnell for comment but did not receive a response in time for publication.
McConnell's statement came after telling Fox News last week that he planned to coordinate impeachment trial proceedings with White House lawyers.
As Newsweek previously reported, McConnell told Sean Hannity that "there will be no difference between the president's position and our position as to how to handle this. The case is so darn weak coming over from the House. We all know how this is going to end."
Senate Democratic Leader Charles Schumer responded to McConnell's comments by questioning the fairness of having an admittedly "impartial juror" involved in the impeachment process.
"He was asked if he was an impartial juror," Schumer said. "He seemed to proudly say no. I would ask every one of our Republican colleagues, 'Do you want someone who proudly says they're not impartial to be on a jury? Do the American people want Mitch McConnell not to be an impartial juror in this situation?'"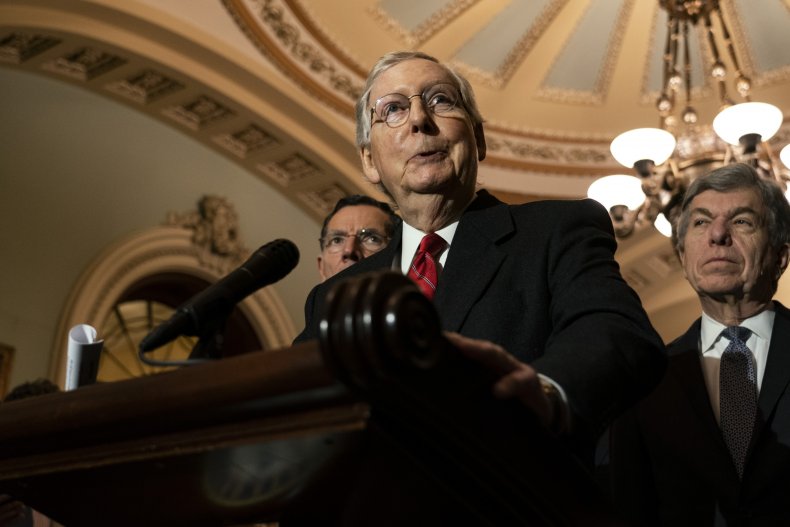 McConnell rejected the Democrats' request to call additional witnesses during the impeachment trial, including acting White House Chief of Staff Mick Mulvaney and former National Security Adviser John Bolton.
"The Senate is meant to act as judge and jury, to hear a trial, not to rerun the entire fact-finding investigation because angry partisans rushed sloppily through it," McConnell said before Congress. "The trajectory that the Democratic leader apparently wants to take us down, before he's even heard opening arguments, could set a nightmarish precedent for our institution."
"The fact that my colleague is already desperate to sign up the Congress for new fact-finding which House Democrats themselves were too impatient to see through, well, that suggests something to me," McConnell continued. "It suggests that even Democrats who do not like this president are beginning to realize how dramatically insufficient the House's rushed process has been."
Schumer responded by saying he wanted to hear McConnell give specific reasons for rejecting the request for new witnesses.
"What is Leader McConnell afraid of?" Schumer asked. "What is President Trump afraid of? The truth? But the American people want the truth."
"A fair trial is one that allows senators to get all the relevant facts and adjudicate the case impartially," Schumer continued. "There is a grand tradition in America: speedy and fair trials. We want both. The Leader seems obsessed with 'speedy' and wants to throw 'fair' out the window."