Senate Minority Leader Mitch McConnell (R-KY) has said that former President Donald Trump doesn't seem to be a "fan" of his as he joked about the many nicknames the former president has given him.
McConnell made the remarks at a Kentucky Chamber of Commerce event on Tuesday where he also warned that Republicans could still lose the upcoming 2022 midterm elections.
Trump and McConnell have been at odds for more than a year, with the former president publicly criticizing the Kentucky senator for refusing to back objections to the certification of Electoral College votes on January 6, 2021.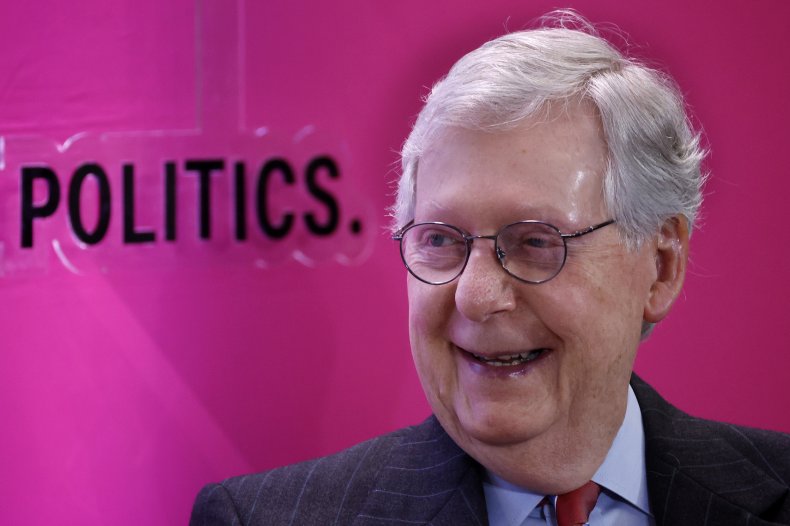 McConnell is hoping the GOP can retake the Senate in November and allow him to return as Majority Leader, while Trump is likely to play a key role in the midterms through endorsements of his preferred candidates.
On Tuesday, moderator Scott Jennings asked McConnell about the nicknames he's been given, offering a list including "Cocaine Mitch," "Grim Reaper" and "Old Crow."
McConnell responded that "Old Crow" was his favorite and explained why.
"Some of you may not have heard that my latest nickname is Old Crow. It was given to me by the former president, who's apparently not a fan," McConnell said.
"And my response was, I wanted to thank him because this was Henry Clay's favorite bourbon," the senator said to a round of applause from the audience.
Henry Clay (1777-1852) represented the state of Kentucky in both the House of Representatives and the Senate, as well as serving as speaker of the House and secretary of state.
Trump has repeatedly referred to McConnell as "Old Crow" in public statements and called for him to be replaced as leader of Republicans in the Senate.
McConnell criticized Trump on Tuesday for opposing a $1.2 trillion bipartisan infrastructure bill, which the senator said was a good law.
"'Our former president apparently did not want anything to happen during his successors' administration, so he came out against it," he said. "I never felt if you don't have the White House you can do nothing."
Newsweek has asked former President Trump's office for comment.
McConnell also warned on Tuesday that it was possible for Republicans to lose the midterm elections despite the party's apparently positive position heading into the crucial contests.
"This atmosphere for Republicans is better than it was in 1994. So from an atmospheric point of view it's a perfect storm of problems for the Democrats because it's an entirely Democratic government," he said.
That's a reference to a famous Republican victory in the 1994 midterm elections that saw the GOP take the House for the first time in 40 years, while also taking control of the Senate.
"Which leads you to ask the question, how could you screw this up? It's actually possible," McConnell went on. "And we've had some experience with that in the past."
McConnell said that in competitive races: "You can't nominate somebody who's just sort of unacceptable to a broader group of people and win," citing examples from the 2010 and 2012 elections such as controversial Senate candidate Christine O'Donnell, who is perhaps best remembered for denying that she was a witch.