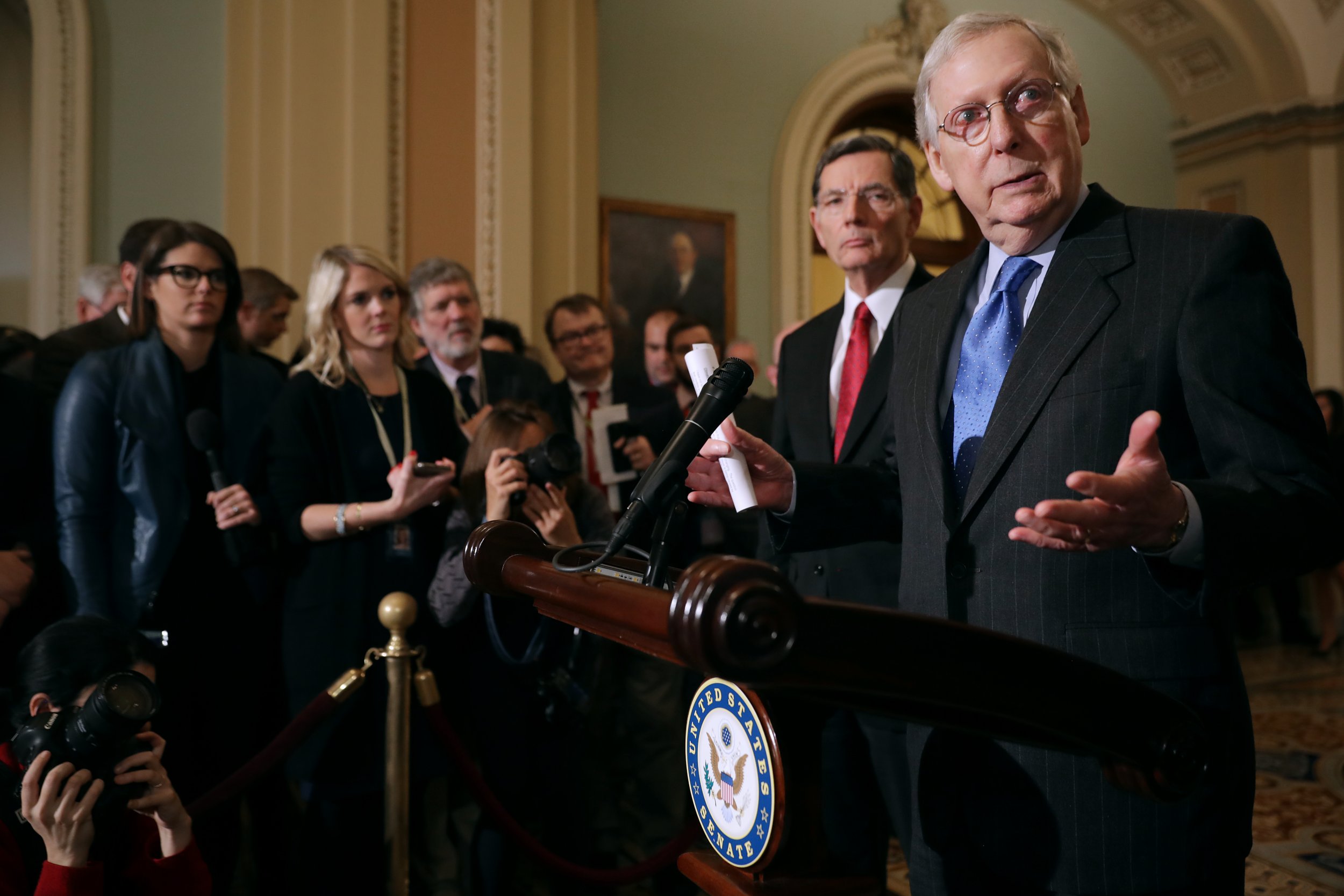 WASHINGTON–Republican Senate Majority Leader Mitch McConnell took aim at outgoing GOP Senator Jeff Flake Tuesday night, calling Flake's attempt to block judicial nominees until a vote is held on a bill to protect special counsel Robert Mueller a "futile gesture."
"I'm perplexed, frankly, by his pushing for the Mueller protection bill," McConnell said at the Wall Street Journal CEO Council event Tuesday evening in Washington, D.C.
McConnell believed the measure to protect Mueller, a bipartisan bill that would curb Trump's ability to interfere with Mueller's investigation or to fire the special counsel, is "blatantly unconstitutional."
McConnell added that the House "would never pass it" and the president "would never sign it."
"It strikes me as, what I would call, a futile gesture, and we're hoping that [Flake] will change his view on that," McConnell said. "I believe we could confirm the judges that are already out on the floor."
McConnell's comments only solidified the notion that the Senate leader has no plans to hold a vote on such a bill.
The majority leader said they have 31 more of Trump's federal judicial nominees on the calendar for this year, and hope to confirm them during the lame duck session before the new Congress is ushered in at the beginning of 2019.
Last week, Democratic Senators Chris Coons and Cory Booker, along with Flake, attempted to force the passage of the Mueller protection bill in the Senate by unanimous consent. It was blocked by GOP Senator Mike Lee, prompting Flake to vote against advancing the nomination of controversial federal judicial nominee Thomas Farr. The measure to push the nomination forward for Farr, who's been vehemently opposed by Democrats for previously helping North Carolina Republicans institute voter suppression measures, was passed by one vote thanks to Vice President Mike Pence.
Later that evening, Senate Judiciary Committee Chairman Chuck Grassley, a Republican, rescheduled future committee meetings for other judicial nominees. A confirmation vote on Farr was later postponed after GOP Senator Tim Scott joined Flake in opposing the nominee and GOP Senator James Inhofe said he would be absent for the vote.
Flake's decision to vote against advancing Farr was consistent with his previous threat to vote against all judicial nominees made by Trump until the Senate votes on the Mueller protection bill.
"Some of my colleagues have said this legislation isn't necessary because there hasn't been any indication that Mr. Mueller will be removed from office," Flake said on the Senate floor last week. "But when the president is tweeting on a daily basis that the special counsel is conflicted, that he's leading so-called '12 angry Democrats,' and demeaning and ridiculing him in every way, to be so sanguine about the chances of him being fired are folly for us."