Mitch McConnell Re-elected for 7th Term in Kentucky, Despite Being Vastly Outspent by Democratic Senate Challenger
Senate Majority Leader Mitch McConnell has defeated Democrat Amy McGrath to win reelection in Kentucky.
The Associated Press called the race for McConnell at 8:01 p.m. ET on Tuesday—a victory that lands him a seventh consecutive term in the upper chamber. The state also went for President Donald Trump just moments after the polls closed.
"The people of Kentucky had a clear choice and they sent a clear message: Tonight, Kentuckians said challenging times need proven leadership," McConnell said in an election night speech.
He added, "Tonight, Kentucky said we're keeping our front-row seat in the Senate."
McConnell staved off a competitive challenge from McGrath, a former fighter pilot who raked in nearly $90 million in donations in her bid against him. She was one of the top fundraisers of the Democratic Party, but the resources still weren't enough to dethrone McConnell. McGrath spent more than $73 million in the race, while McConnell spent nearly $44 million.
In a video statement posted after the race was called, McGrath thanked her supporters. She said that while "we didn't get the result we wanted, the energy and optimism I saw in every corner of this state gives me so much hope for the future of our great commonwealth."
McGrath added, "Today, the country can start to heal after these ugly and divisive four years. I'm proud of my contributions in helping Democrats take back the House in 2018 and now hopefully the Senate in 2020. While we didn't win these campaigns, we were able to shore up efforts up and down the ticket in Kentucky—and on the national stage, make Republicans fight every battle we could."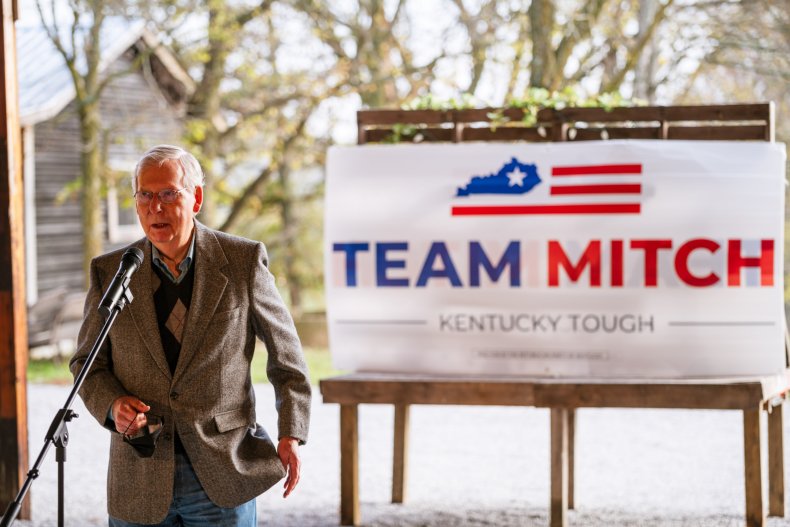 Early polls showed a tight race between the two. One survey of likely voters conducted shortly after McGrath announced her campaign in August 2019 found her just one point behind McConnell.
But McGrath was slightly bruised from an unexpectedly competitive Democratic primary. McGrath had long been seen as a lock to win the contest but at the last minute was forced to fend off a serious surge from state lawmaker Charles Booker. In the end, she only won the primary by three points.
After that McGrath made some shake-ups to her campaign, including appointing a new campaign manager and refocusing her efforts on traveling across the state to meet with leaders and voters. Still, the polls continued to widen and just a few weeks before the election she was down by 10 points in a Cygnal survey of likely voters.
McConnell spent much of the campaign asserting McGrath was too liberal for Kentuckians. During the first debate, the Republican asserted McGrath would stack the Supreme Court with more justices and admit new states to the union if she was elected.
"In short, there's not a dime's worth of difference between my opponent and all the national Democrats you've watched. If you give them control of the government, that's what they'll do," McConnell said.
In a tense exchange later in the debate, McConnell highlighted his top Senate leadership post as an asset for Kentuckians and fired back at McGrath's attacks on his legislative record.
"I think her entire campaign is: She's a Marine, she's a mom, and I've been there too long," McConnell said.