Mitch McConnell Refuses to Condemn Trump Foreign Dirt Comments in Fox News Interview, Instead Blames Democrats
Senate Majority Leader Mitch McConnell refused to condemn President Donald Trump for saying he would hear out a foreign power that came to him with dirt on an opponent. Instead, McConnell blamed Democrats for being unable to move beyond the report from Special Counsel Robert Mueller on Russian meddling in the 2016 election.
As Democrats and some Republicans recoiled in response to comments Trump made during an ABC interview, McConnell sought to dismiss the concerns, depicting them as unjustified outrage.
"They just can't let it go, Laura," McConnell said Thursday night while speaking with Fox News' Laura Ingraham. "I said weeks ago, case closed. We got the Mueller report, the only objective evaluation that will be conducted.... He gets picked at every day over every different aspect of it."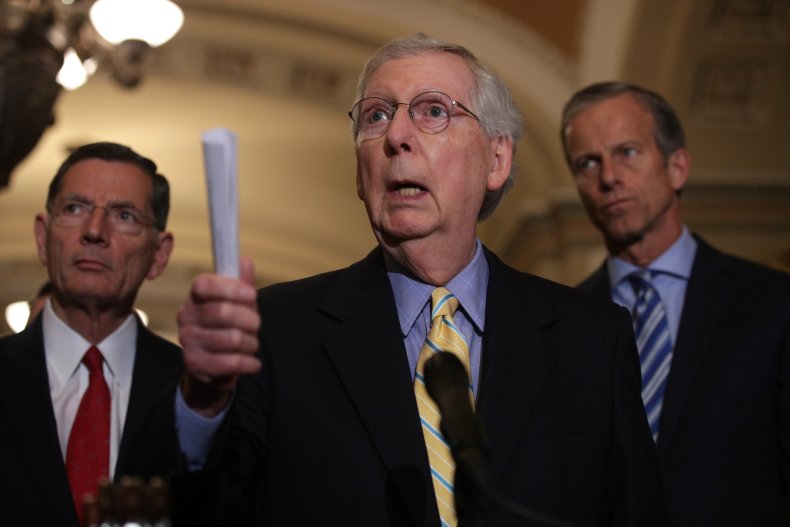 McConnell criticized the Democratic response to the Mueller report, which has led to intensified oversight and Congressional subpoenas. Republicans have sought to shift conversations beyond the Mueller report, while Democrats have focused on the investigation's findings that indicate Trump attempted to obstruct the probe.
"But the fundamental point is that they are trying to keep the 2016 election alive and the investigation alive when the American people have heard enough," McConnell argued. "They got the Mueller report; they would like for us to do some business. I would ask the Democrats in the House this: Is there anything you're willing to do other than harass the President for the next two years? Anything at all?"
McConnell has previously claimed that Democrats are "consumed by unhinged partisanship" in continuing to focus attention on the Mueller report. While the senator's claims echoed Trump's own statements that he is being subjected to "presidential harassment," a number of Republicans rebuked the president this week for his remarks about accepting information from a foreign
"I think that's wrong," South Carolina senator Lindsey Graham, who has established a position as a loyal Trump ally, said. "That's a mistake." However, Graham then pivoted and pointed the fingers at Democrats for hiring former British intelligence officer Christopher Steele to do opposition research on Trump during the 2016 campaign.
Utah Senator Mitt Romney also pushed back on the president's comments, saying that it would be "unthinkable" and "totally inappropriate" to deal with a foreign government that was trying to influence an election. The former GOP presidential nominee says his campaigns would have immediately notified the FBI if they had been approached in such a manner.
Democrats, not surprisingly, issued much stronger criticism of the remarks.
Senate Minority Leader Chuck Schumer and House Speaker Nancy Pelosi both blasted Trump.
"The president's comments, again, are undemocratic, un-American...disgraceful. The president's comments suggest that he believes winning an election is more important than the integrity of the election," Schumer said in a statement. Pelosi said that "the president gave us evidence once again that he doesn't know right from wrong."
Senators Bernie Sanders and Elizabeth Warren, who are both running for president, used Trump's comments to renew calls for impeachment. However, neither have the authority to bring articles of impeachment against the president, as that process must begin in the House of Representatives, where Pelosi has repeatedly expressed reluctance toward the idea.
Correction, 6/24, 10:00 a.m.: This story originally identified Nancy Pelosi as House Majority Leader; she is House Speaker.