Mitch McConnell Says Modest Stimulus Will Probably Be Needed at 'Beginning of the Year'
Senate Majority Leader Mitch McConnell said Friday that the U.S. economy will likely need a scaled-down economic stimulus package "at the beginning of the year"—a strong signal that more coronavirus relief will not reach the pockets of struggling Americans during Congress' lame-duck session in November and December.
"We probably need to do another package, certainly more modest than the $3 trillion Nancy Pelosi package," McConnell told conservative radio host Hugh Hewitt. "I think that'll be something we'll need to do right at the beginning of the year."
The remarks from the Kentucky Republican implied that he does not expect ongoing talks between House Speaker Pelosi and Treasury Secretary Steven Mnuchin to yield a bipartisan deal that can pass the current Congress and land on President Donald Trump's desk.
McConnell held firm on his stance that a more targeted measure is needed than the $1.9 trillion package Mnuchin has offered and the $2.2 trillion measure that Pelosi is demanding.
"We could target it particularly at small businesses that are struggling and hospitals that are now dealing with the second wave of the coronavirus, and of course the challenges for education, both K-12 and college," McConnell added.
His comments were just the latest sign of the dwindling probability that another stimulus agreement will be reached and passed before a new Congress—and possibly a new president—is sworn into office in January.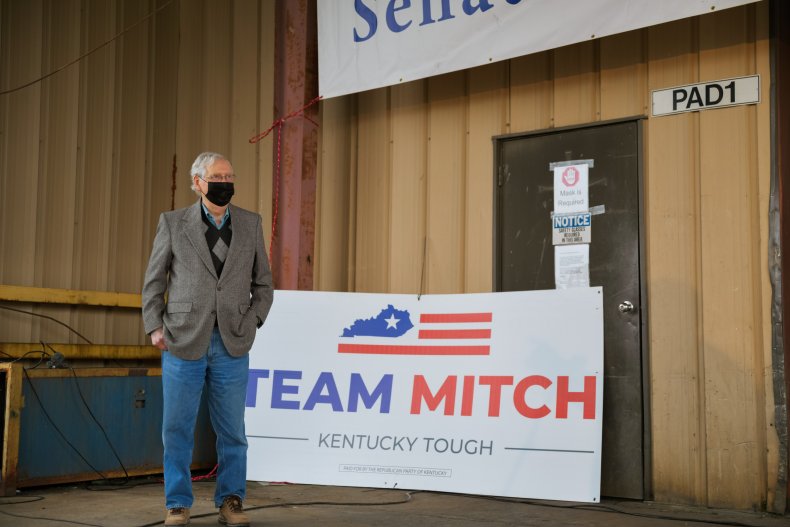 Pelosi and Mnuchin traded barbs on Thursday and accused one another of stalling negotiations, which indicated that talks were moving nowhere fast.
The idea that Democrats would accept a smaller relief bill during the lame-duck session and then pass additional legislation next year when—and if—Joe Biden takes office was out of the question, Pelosi told reporters. She remains unmoved on her position for a comprehensive bill.
"We're not talking size. We're talking quality," Pelosi said. "And we are not going to take a small bill that had the fault of forcing funds to the richest people in America while questioning the integrity of people on unemployment insurance."
Still, Pelosi said her preference is to strike a deal and pass legislation before year's end, regardless of the election winner. The reason was two-fold.
"The American people need help. They need real help," she said. "Second of all, we have plenty of work to do in a Joe Biden administration.... We want to have as clean a slate as possible going into January."
"Why would we be talking to them if we didn't want a bill?" Pelosi added.
She said Mnuchin has yet to respond to several of the Democrats' proposals regarding money for schools, coronavirus testing and tracing, federal unemployment benefits, state and local government aid and tax credits. But Mnuchin denied those assertions, and the frustration from the mild-mannered Treasury secretary was apparent.
"Your ALL OR NONE approach is hurting hard-working Americans who need help NOW," he told Pelosi in a letter.
The impasse has persisted for months, but so too has the economic strain from the pandemic as virus cases surge to all-time highs in many states.
The third-quarter gross domestic product was promising, growing at an annualized and seasonally adjusted rate of about 33 percent. From the second to the third quarter, the GDP rose by 7.4 percent. But the economy remains in a recession. Economists, including some Trump administration officials, have warned the downturn will be prolonged without more federal assistance.
Trump has touted the GDP numbers while not acknowledging that the economy remains below pre-pandemic levels, with nearly 11 million fewer jobs.
"33.1% GDP - BEST IN USA HISTORY," Trump wrote in a Friday morning tweet. "IF I AM ELECTED, NEXT YEAR WILL BE OUR BEST EVER!"
On Thursday, he attacked the media for not portraying the GDP growth in a more positive light. Along with the GDP news came a slight decrease in new jobless claims last week. However, the number of new unemployment filings remained high—roughly 750,000.
"The Fake News refuses to cover the fact that GDP went up 33.1% for the 3rd Quarter, the best number by far in our Country's history!" Trump tweeted Thursday.