Mitch McConnell Says There's 'No Reason' Congress Can't Deliver Another Relief Package Before End of Year
After months of stalled negotiations, Senate Majority Leader Mitch McConnell said Monday there's "no reason" Congress can't come to an agreement on another stimulus package to help Americans amid the coronavirus pandemic.
In remarks from the Senate floor, McConnell outlined his priorities for the final few weeks of the legislative session. Lawmakers are set to adjourn for the year on December 21.
"The American people are counting on us to finish strong," the Kentucky Republican said.
McConnell said lawmakers have to come to an agreement on government funding and the National Defense Authorization Act, as well as continuing to confirm the judicial appointees of President Donald Trump.
"These are important assignments but they aren't the only things that Congress should get done before the end of the year," he said. "There is no reason—none—why we should not deliver another major pandemic relief package to help the American people through what seems poised to be the last chapter of this battle."
It's been eight months since Congress passed it's first COVID-19 relief package, the historic $2 trillion CARES Act. Negotiations for a much-needed second stimulus have stalled as Republicans and Democrats have offered competing plans.
In May, the Democratic-controlled House passed the $3 trillion Health and Economic Recovery Omnibus Emergency Solutions (HEROES) Act, but the legislation was deemed dead on arrival in the GOP-controlled Senate. In October, the House passed a revised, scaled-down Heroes Act that included a second round of stimulus checks and enhanced unemployment benefits for tens of millions of Americans.
Meanwhile, Republicans in the Senate have pushed for smaller, more targeted legislation. The GOP has advocated spending about $500 billion for the next relief bill, but an attempt to pass a smaller bill failed in late October.
Both parties were criticized for leaving Capitol Hill for Thanksgiving without coming to a deal.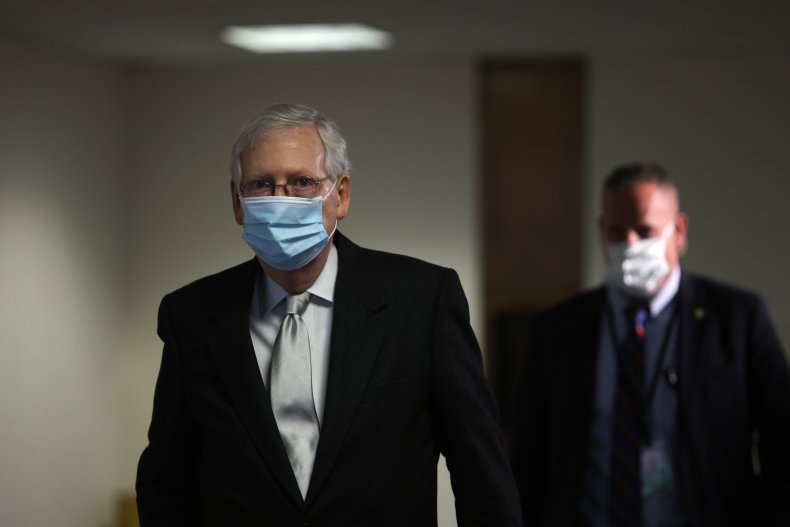 Calls are mounting for Democratic leaders, including House Speaker Nancy Pelosi and Senate Minority Leader Chuck Schumer, to accept a smaller relief package and push for more aid later. During her last press conference before the Thanksgiving break, Pelosi acknowledged "we have to get something done."
McConnell said Monday that Democrats' "all or nothing" approach to the stimulus deal backfired and now they've lost power in the 2020 election.
"Democrats did not pick up seats in the House, but instead appear to have lost seats," he said. "They have not gained any leverage. They have lost leverage."
Pelosi spokesperson Drew Hammill wrote to Newsweek in an email Monday:
"For six months, Democrats have been pressing Republicans to agree to the next round of coronavirus relief, and for six months, Leader McConnell has insisted on a 'pause' while the White House's negotiators accused vulnerable families of lying about not being able to pay the bills. House Democrats sent the GOP Senate the Heroes Act back in May, and compromised by $1.2 trillion to send an updated Heroes Act to the Senate in October. But as millions of families fall deeper into despair, McConnell's emaciated proposal gives no stimulus checks, no rental assistance, no nutrition assistance, but does give liability immunity to employers who get their workers sick."
President-elect Joe Biden has repeatedly urged Congress to pass another piece of legislation as quickly as possible and members of his newly announced economic team have highlighted the need for more fiscal stimulus to help the economy recover.