Mitch McConnell Says Senate Won't Pass Further Coronavirus Relief Unless Businesses Protected From Lawsuits
Senate Majority Leader Mitch McConnell has said the Senate will not pass future coronavirus relief unless businesses are protected from health and safety lawsuits related to the disease.
The Kentucky Republican told Fox News' Your World with Neil Cavuto on Tuesday that passing liability protection was the "only way" America would "get past" the shock of the COVID-19 pandemic.
He also argued that state-level liability protections would be "integral" to recovering the U.S. economy, which has been rocked by pandemic shutdowns and mass jobless claims.
Speaking to Fox News yesterday, McConnell said: "We are open to considering another bill, but my red line going forward on this bill is we need to provide litigation protection for those who've been on the frontline: hospitals, doctors, nurses.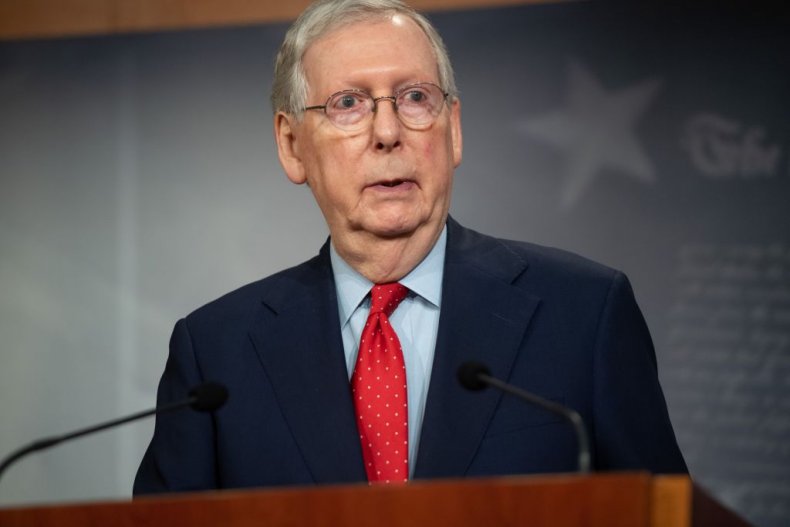 "And imagine you're a businessman thinking about reopening, and you've heard that lawyers all over the country are sharpening their pencils, getting ready to sue you, claiming you didn't engage in proper distancing or other issues related to health and safety.
"We can't pass a bill unless we have liability protection, and that's the only way we're going to begin to get past this."
The Senate majority leader added that he was "glad" to see some states already moving toward reopening, and argued that liability protection would be "integral" to getting the U.S. economy restarted.
"We have a red line on liability," McConnell added. "It won't pass the Senate without it."
Fox News host Neil Cavuto asked the Kentucky Republican what would happen if a business failed to adhere to the most basic coronavirus guidelines and protections because it felt immune from legal action.
"You have to carefully craft a liability protection to deal with the money that would be provided to state and local governments conditioned upon them enacting at the state level the kind of legislation that would provide liability protection for those who are seeking to go forward and get the economy back up to work," McConnell replied.
The Senate majority leader went on to claim that there was "fear" of lawsuits among businesses as the country looks at routes to reopening.
Newsweek has contacted McConnell's office for further comment and will update this article with any response.
The Kentucky Republican vowed to block future coronavirus relief funding without litigation protection yesterday. He told Fox News radio on Monday that he wanted businesses to be protected from coronavirus litigation.
Speaking to Politico, McConnell also fretted that a "lawsuit pandemic" could follow the ongoing coronavirus crisis. He added: "We need to prevent that now when we have the opportunity to do it."
The Senate majority leader has changed his tune on coronavirus relief funding over the last week, having suggested last Tuesday that he was not interested in further short-term coronavirus bailout measures.
"The future of our country in terms of the amount of debt we're adding up is a matter of great concern," he said. "Until we can begin to open up the economy, we can't spend enough to solve the problem."
Mitch McConnell Says Senate Won't Pass Further Coronavirus Relief Unless Businesses Protected From Lawsuits | U.S.