Mitch McConnell Sides With Joe Biden Against Extreme Republicans
Senate Minority Leader Mitch McConnell dismissed the idea of "sunsetting" Social Security and Medicare in an interview on Thursday where he also appeared to take aim at Republican Senator Rick Scott of Florida.
A plan released by Scott last year that would see all federal legislation subject to reauthorization by Congress every five years has been the subject of scrutiny after President Joe Biden referred to it in his State of the Union address on Tuesday.
Biden accused Republicans of wanting to cut Social Security and Medicare, which Republicans including Scott have strongly denied, but McConnell appeared to suggest Scott's plan would affect those programs.
Other prominent Republicans have also expressed support for cuts to Medicare and Social Security, including Senators Mike Lee, Lindsey Graham and Ron Johnson.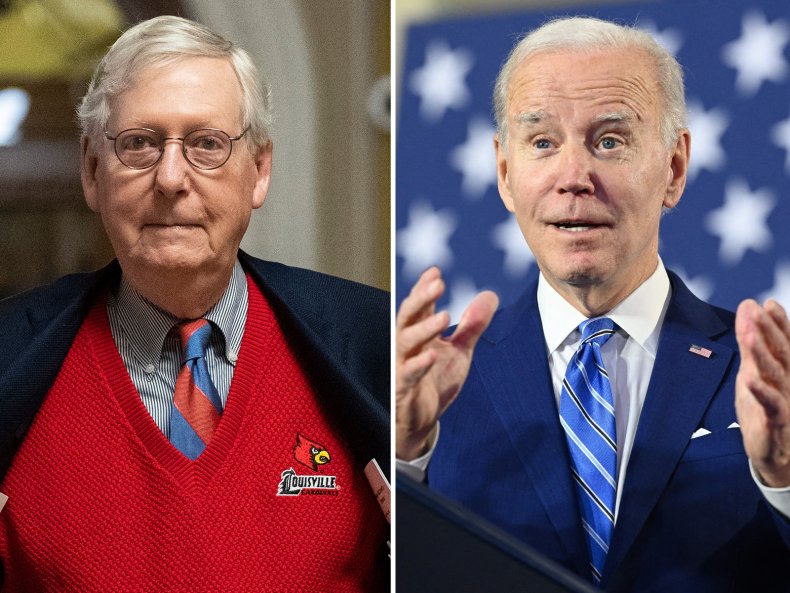 The White House Twitter account on Wednesday shared a thread naming GOP lawmakers who have threatened to cut the programs.
Speaking on The Terry Meiners Show, McConnell was asked about Scott's proposals and Biden's claims that Republicans "want to sunset Social Security and Medicare. So is that true?"
"Unfortunately, that was the Scott plan; that's not a Republican plan. That was the Rick Scott plan," McConnell said. "The Republican plan, as I pointed out last fall, if we were to become the majority, there were no plans to raise taxes on...the American people or to sunset Medicare or Social Security."
"So it's clearly the Rick Scott plan, it is not the Republican plan," McConnell continued. "And that's the view of the speaker of the House, as well."
Meiners said that Scott "is out saying that's not his plan at all" and asked McConnell about the "Republican answer" on Medicare.
McConnell pointed to Speaker of the House Kevin McCarthy, saying McCarthy has said "Social Security and Medicare are not to be touched, and I've said the same, and I think we're in a more authoritative position to state what the position of the party is than any single senator."
Meiners suggested to McConnell that Scott wasn't yet "back in the fold" after he ran against McConnell for the GOP Senate leadership.
"Well, this doesn't have anything to do with that," McConnell said. "It's just a bad idea. I think it will be a challenge for him to deal with this in his own re-election in Florida, a state with more elderly people than any other state in America."
Senator Scott has said his proposals were not about cuts to Social Security and Medicare and has criticized President Biden for suggesting otherwise. He also took aim at Biden, accusing the president of wanting to cut the programs.
"This is clearly and obviously an idea aimed at dealing with ALL the crazy new laws our Congress has been passing of late," Scott told Newsweek in a statement on Wednesday. "Joe Biden is confused...to suggest that this means I want to cut Social Security or Medicare is a lie, and is a dishonest move."
"This is the kind of fake, gotcha BS that people hate about Washington," he said. "I've never advocated cutting Social Security or Medicare and never would."
Scott tweeted on Thursday: "The only person who wants to cut Social Security and Medicare is @JoeBiden. He pushed for it for over 20 YEARS. He can lie about me all he wants but he can't run from his own record."
Newsweek reached out to Scott's office for further comment.