Video of Biden Calling to Freeze Social Security Resurfaces After SOTU
A 28-year-old video of Joe Biden calling to freeze government spending has resurfaced after the president blamed some Republicans for wanting to sunset federal programs.
Biden delivered his State of the Union speech Tuesday night and accused some Republicans of wanting federal programs like Social Security to sunset. He seemed to be referencing a plan proposed by Republican Senator Rick Scott, who suggested a five-year sunset clause for federal legislation last year. Under Scott's proposal, federal programs like Medicare and Social Security would require regular renewal to remain law. Several Republicans denied the accusation, with some exhibiting outbursts during the speech.
The accusation caused other Republicans to do some digging and has led to a newly resurfaced video of Biden calling for a freeze on government spending, including Social Security.
The 20-second clip was shared on Twitter by Republican Representative Lauren Boebert. In the video, Biden—then a senator—called to freeze spending on government programs. The video had been viewed more than 20,000 times as of 2 p.m. ET Thursday.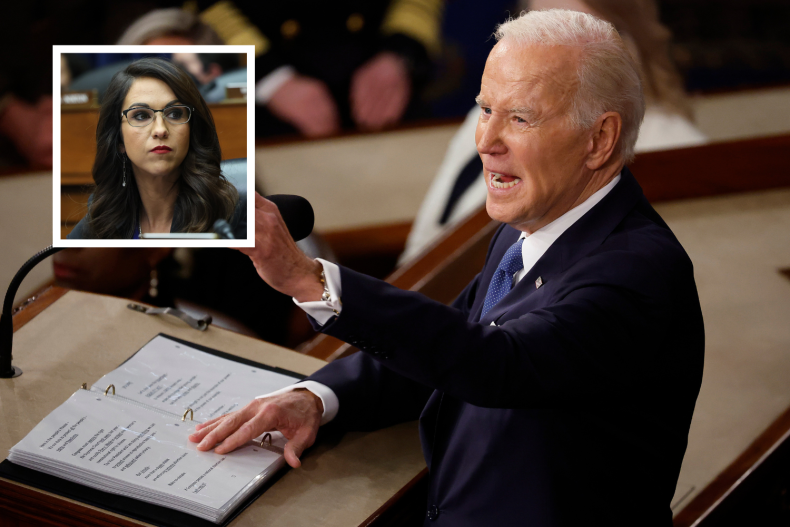 "When I argued if we should freeze federal spending, I meant Social Security as well," Biden said in the video, adding that he tried to freeze all government spending four times. "I meant Medicare and Medicaid. I meant every single solitary thing in the government."
Boebert tweeted the video two days after Biden targeted Republicans during his State of the Union speech.
"Yet Biden accuses Republicans of trying to cut Medicare and Social Security," Boebert tweeted with the old clip. "Give me a break."
Boebert faced pushback for sharing the video, with some Twitter users arguing that "freeze" and "cut" have different meanings. Other Twitter users said the video of Biden was too old to be taken seriously, and the proposal by Scott was a danger because the senator was advocating for the sunset clause "right now."
A day before the State of the Union, House Speaker Kevin McCarthy assuaged fears that Social Security and other government-funded programs would be cut when he called on Biden to agree to other spending cuts before lifting the debt ceiling.
"Cuts to Medicare and Social Security are off the table. Defaulting on our debt is not an option. But neither is a future of higher taxes, higher interest rates, and an economy that doesn't work for working Americans," McCarthy tweeted Monday.
In the past, other Republicans have suggested that welfare payment programs like Social Security and Medicare drove the nation's debt and others have called for changes to the way government spending supports the programs.
Other Republicans denied cutting Social Security as a party goal. The topic is already becoming a hotly debated one for the 2024 presidential election, with candidate and former President Donald Trump advocating to keep funding the programs.
Newsweek reached out to the White House for comment.