Mitch McConnell Mocks 'Political Genius' Steve Bannon for 'Throwing Away' Alabama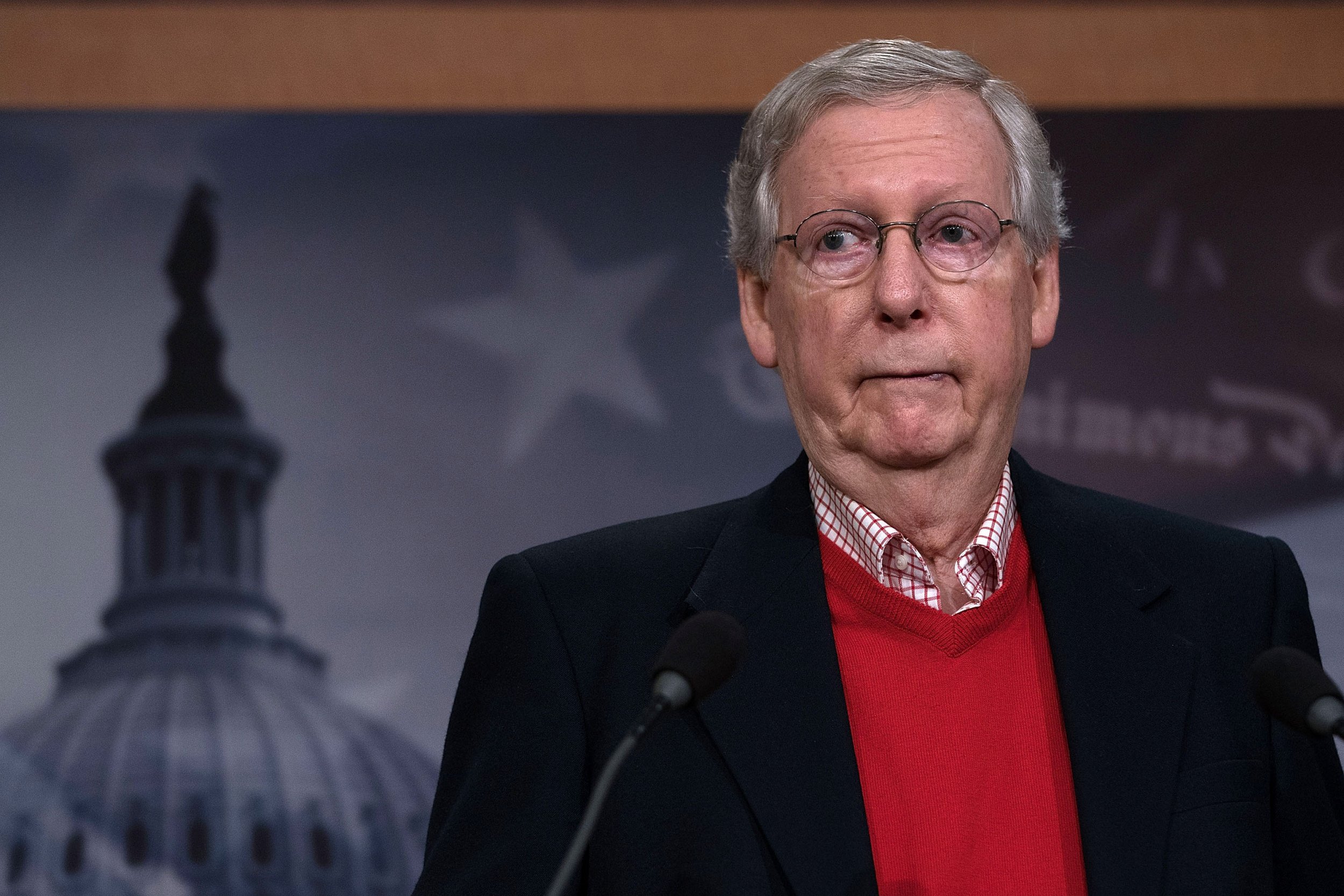 Senate Majority Leader Mitch McConnell took aim at former White House chief strategist Steve Bannon on Friday morning, essentially blaming him for the Republican Party's loss in the Alabama Senate race.
Related: Steve Bannon to Mitch McConnell: You're not fit to lead
"Let me just say this: The political genius on display throwing away a seat in the reddest state in America is hard to ignore," McConnell said at a press conference when asked if he blames Bannon for Democrat Doug Jones being the senator-elect.
Jones narrowly defeated Republican candidate Roy Moore in the Alabama Senate race in a historic upset in one of the most conservative states in the country. Bannon, who departed the White House in mid-August to once again become the executive chairman of Breitbart News, was one of Moore's most vocal supporters throughout the race, endorsing Moore in the Republican primary against the McConnell– and President Donald Trump–backed incumbent Luther Strange. When accusations of sexual misconduct and pedophilia were levied against Moore, Bannon and Breitbart both stood with him, attacking the women who came forward with their allegations as well as The Washington Post, which initially broke the news.
McConnell and Bannon have been sparring partners dating back to before the 2016 election, and each man blames the other for many of the problems Republicans face today. Bannon has made clear many times that he doesn't believe McConnell should be Senate majority leader and in November, even called on McConnell to resign while talking to Fox News host Sean Hannity.
"I think Mitch McConnell, to really bring unity to the Republican Party and get things done, I think Mitch McConnell ought to tender his resignation," Bannon said. "What he ought to do is to offer to resign as soon as taxes are done."
McConnell, who often refuses to mention Bannon's name, has recently seemed more emboldened to go after the former White House strategist after Moore's embarrassing loss in Alabama. Thursday morning at an event hosted by Axios, McConnell was asked about Bannon and tried to sidestep the question by saying, "I don't have any observations on him at all." When pushed further, McConnell engaged, but just a little, adding that Bannon "has no impact on our ability to function in the Senate, nor will it have any impact on the campaign."
Bannon, however, does not intend to go quietly in the battle for the soul of the Republican Party, and has been working on recruiting candidates to challenge Republican Senate incumbents who he feels do not support the president's populist agenda. The battle is likely to continue through the 2018 midterms.
Bannon's most recent criticism came in a Vanity Fair profile out Thursday.
"The GOP establishment, as personified by Mitch McConnell, has not done a good job supporting the president's agenda," he said.