Mitch McConnell's Revised Stimulus Proposal Still Not Enough, Economists Say
Last ditch efforts are currently underway in Washington as lawmakers ruminate on another potential round of coronavirus stimulus.
Senate majority leader Mitch McConnell has been in private discussions with House minority leader Kevin McCarthy, Treasury secretary Steven Mnuchin and White House chief of staff Mark Meadows for days, looking at what outgoing President Donald Trump will be willing to sign into law in his final days in office.
Proposals for a new round of stimulus checks have now been delayed for months, held up by political deadlock in Congress and the election, and experts are skeptical about the noises being made by top decision-makers. Some believe the moves being made are still not enough.
"Most political observers remain (very) skeptical, pointing out that the respective positions of the Senate leader Mitch McConnell and House of Representatives leader Nancy Pelosi do not seem to have moved much," Stephen Innes, chief global market strategist at Axi told Newsweek in emailed comments.
"More noise than political substance then at this juncture," he continued. "When I woke up to the stimulus sirens, I was very optimistic but now not so much but welcome to be proven wrong."
"If it does go through, it would reduce the likelihood of a quick and sizeable stimulus under the Biden administration," he continued.
Innes thinks that the probability of a lame duck deal remains at less than 50 percent and that the primary focus will turn to the Georgia Senate runoff in January. If Republicans hold the Senate we could be "back to square one," he concluded.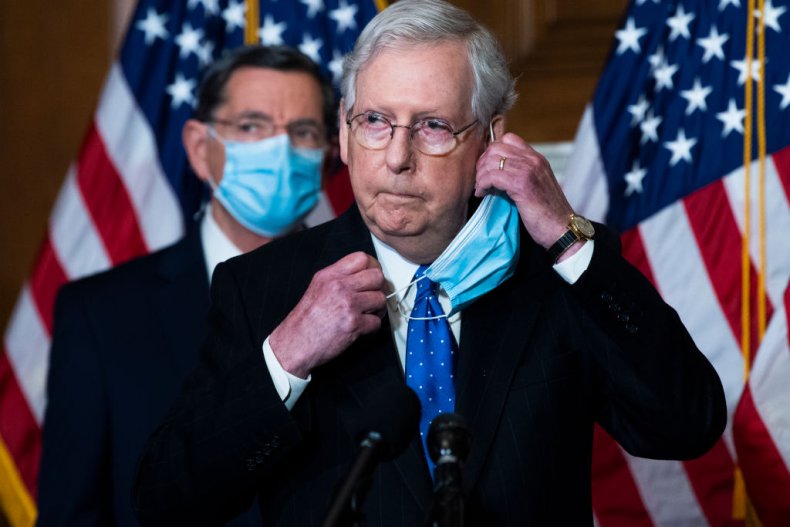 Democrats are looking at their own counteroffer to McConnell's deal. House speaker Nancy Pelosi spoke to Mnuchin for the first time since late October on Tuesday.
"Fiscal policy is really the only game in town now," Gayle Allard professor of economics at IE business school told Newsweek.
"$908bn may be enough to turn around growth and incomes in the last quarter of the year, if it is passed quickly and if consumers and businesses spend the money received rather than saving it."
"It could be a bridge to the new year, when confidence will hopefully return thanks to the vaccine and falling infection and death rates," she continued.
But Allard notes that economists are concerned that the initially fast pace of the recovery is slowing: incomes are down, jobless claims are up and the fourth quarter looks weak. Both Fed chairman Jerome Powell and President-elect Joe Biden say fiscal measures are urgently needed.
The package McConnell has circulated totals $908 billion and looks to include $332.7 billion in small business relief, including $257.7 billion earmarked for the Paycheck Protection Program. It also includes a $10 billion Treasury loan to USPS, $105 billion to "help students get back in school", $16 billion for testing and contact tracing, $31 billion vaccine-related costs including development and distribution and $20 billion of additional farm assistance.
A draft shows that the proposal does not include a second round of checks.
McConnell said that Trump would sign the bill, and additional assistance could be passed in the near future. However, the draft was only a modest revision of an earlier partisan plan that had already been blocked twice. Some Democrats, and one Republican, quickly moved to indicate resistance to McConnell's draft.
The price tag was almost double the $500 billion "targeted" package proposed by McConnell and less than half of the $2.2 trillion that House Speaker Nancy Pelosi has demanded, but it fell flat with leaders from both sides of the political aisle.
"We don't have time for messaging games, we don't have time for lengthy negotiations. The way you get a result is you have to have a presidential signature," McConnell said at his weekly news conference on Tuesday. "We don't have time to waste time."