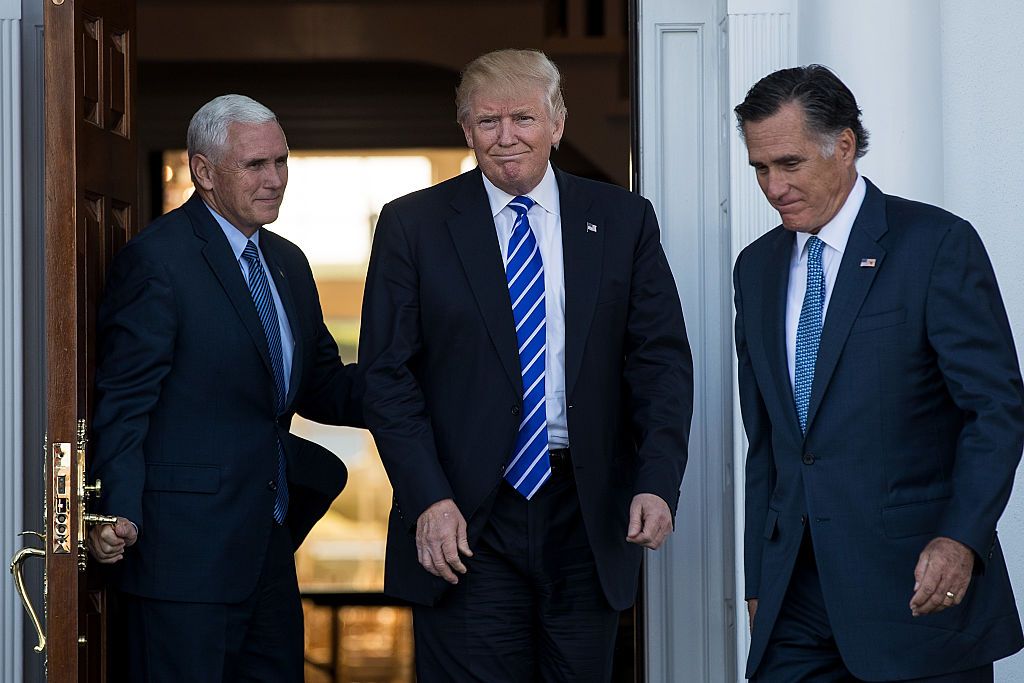 Two days before he is sworn in to the United States Senate, incoming Utah Senator Mitt Romney is blasting President Donald Trump's character.
In an op-ed for the Washington Post, Romney criticizes the president, saying that he hoped when Trump was elected in 2016 that he would "rise to the occasion" as leader of the free world.
"On balance, his conduct over the past two years, particularly his actions this month, is evidence that the president has not risen to the mantle of the office," Romney wrote.
Related: Mitt Romney is jealous of Trump, says president's 2020 campaign manager
The senator stated that he had confidence that Trump would succeed early in the presidency as he appointed Rex Tillerson, Jeff Sessions, Nikki Haley, Gary Cohn, H.R. McMaster, John Kelly and Jim Mattis to positions in his administration.
None of the names Romney listed are still working for Trump; Mattis, Kelly, and Haley all left their posts in December 2018. Haley announced her departure in October.
"To a great degree, a presidency shapes the public character of the nation. A president should unite us and inspire us to follow 'our better angels.' A president should demonstrate the essential qualities of honesty and integrity, and elevate the national discourse with comity and mutual respect. As a nation, we have been blessed with presidents who have called on the greatness of the American spirit. With the nation so divided, resentful and angry, presidential leadership in qualities of character is indispensable. And it is in this province where the incumbent's shortfall has been most glaring," Romney writes.
Romney mentions that Trump has established some good policies for America, including the appointment of conservative judges, cracking down on China's trade practices and criminal justice reform.
"These are policies mainstream Republicans have promoted for years. But policies and appointments are only a part of a presidency," Romney said.
Romney writes that across the world America has been looked to for leadership and at a time when many European allies are experiencing "political upheaval" that leadership is more important than ever.
"Trump's words and actions have caused dismay around the world. In a 2016 Pew Research Center poll, 84 percent of people in Germany, Britain, France, Canada and Sweden believed the American president would "do the right thing in world affairs." One year later, that number had fallen to 16 percent," Romney said.
The senator goes on to say that in order to be a political leader on the world stage, politics in the United States must first be repaired. He also calls on Trump to "inspire and unite us."
"It includes political parties promoting policies that strengthen us rather than promote tribalism by exploiting fear and resentment. Our leaders must defend our vital institutions despite their inevitable failings: a free press, the rule of law, strong churches, and responsible corporations and unions, Romney said.
"The world needs American leadership, and it is in America's interest to provide it. A world led by authoritarian regimes is a world—and an America—with less prosperity, less freedom, less peace."
Romney frequently criticized Trump in the run-up to the 2016 election, and has remained vocal about his discontent with some of the president's behavior and policies since Trump entered the White House.
In response to the op-ed, Trump's 2020 campaign manager Brad Parscale responded on Twitter, writing, "The truth is @MittRomney lacked the ability to save this nation. @realDonaldTrump has saved it. Jealously is a drink best served warm and Romney just proved it. So sad, I wish everyone had the courage @realDonaldTrump had."
Romney served as the governor of Massachusetts from 2003 to 2007 and was the Republican nominee for president in 2012.