President Donald Trump's 2020 campaign manager accused Mitt Romney of jealousy after the Republican 2012 presidential nominee and senator-elect from Utah wrote a scathing article on Trump for The Washington Post.
Romney, who takes office on Thursday, wrote that Trump's presidency had made a "deep descent" in December, and that the president was "thoughtless" and "has not risen to the mantle of the office."
Read more: Why the Trump presidency cannot be annulled: "It is a fantasy"
He also promised to "speak out against significant statements or actions that are divisive, racist, sexist, anti-immigrant, dishonest or destructive to democratic institutions."
Brad Parscale, who has run the Trump 2020 campaign since February, hit back at Romney on Twitter.
"The truth is @MittRomney lacked the ability to save this nation," Parscale tweeted. "@realDonaldTrump has saved it. Jealously [sic] is a drink best served warm and Romney just proved it. So sad, I wish everyone had the courage @realDonaldTrump had."
Despite his loss in 2012 to the Democratic incumbent Barack Obama, Romney is seen as a potential Republican challenger to Trump in 2020.
The 71-year-old former Massachusetts governor is about to enter the U.S. Senate after comfortably winning the Utah seat in the 2018 midterm elections. Trump endorsed Romney.
"To a great degree, a presidency shapes the public character of the nation," Romney wrote in The Washington Post, before taking aim at what he called Trump's incendiary rhetoric, lies and penchant for name-calling.
"A president should unite us and inspire us to follow 'our better angels.' A president should demonstrate the essential qualities of honesty and integrity, and elevate the national discourse with comity and mutual respect.
"As a nation, we have been blessed with presidents who have called on the greatness of the American spirit. With the nation so divided, resentful and angry, presidential leadership in qualities of character is indispensable. And it is in this province where the incumbent's shortfall has been most glaring."
Trump responded to Romney's critique on Twitter.
"Here we go with Mitt Romney, but so fast!" Trump tweeted on Wednesday morning. "Question will be, is he a Flake? I hope not. Would much prefer that Mitt focus on Border Security and so many other things where he can be helpful. I won big, and he didn't. He should be happy for all Republicans. Be a TEAM player & WIN!"
In recent weeks, the Trump administration was rocked by two departures, of Defense Secretary James Mattis and White House Chief of Staff John Kelly.
Mattis, a retired four-star general, used his resignation letter to make a thinly veiled rebuke of Trump and his damaging trade and defense policies toward U.S. allies, including the European Union and NATO. The president has accused allies of taking advantage of the U.S. in trade and military spending.
"One core belief I have always held is that our strength as a nation is inextricably linked to the strength of our unique and comprehensive system of alliances and partnerships," Mattis wrote in his resignation letter.
"While the U.S. remains the indispensable nation in the free world, we cannot protect our interests or serve that role effectively without maintaining strong alliances and showing respect to those allies."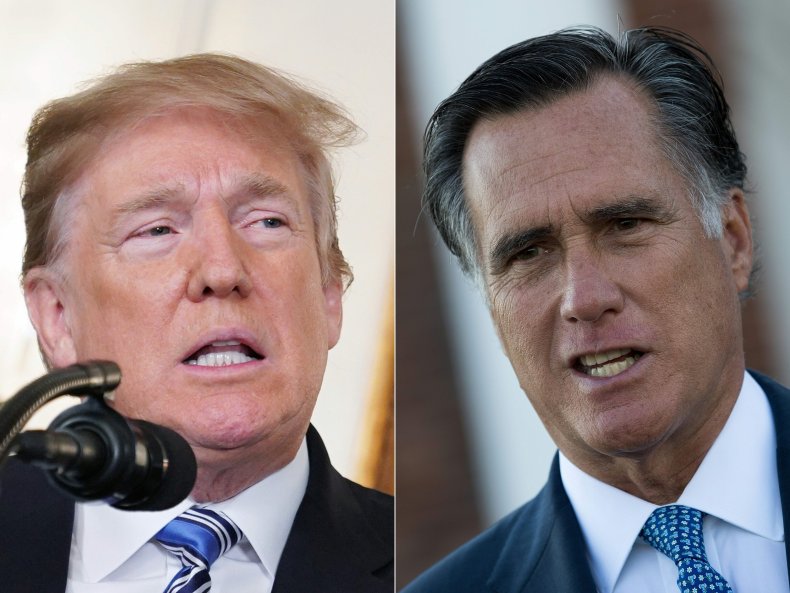 This article was updated to include Trump's response on Twitter to Romney.