Mitt Romney Jeered Repeatedly at Republican Convention in Utah: 'Boo All You Like'
Senator Mitt Romney, a Utah Republican, was loudly booed at a Republican convention in Utah on Saturday, as some in the crowd called him a "traitor" and a "communist."
A significant portion of Republican voters are staunchly opposed to Romney due to the Utah lawmaker's opposition to former President Donald Trump. Romney, who did not vote for Trump in 2016 or 2020, was the only Republican lawmaker to support both of Trump's impeachments.
The GOP senator voted to convict Trump alongside his Democratic colleagues during the former president's first impeachment trial in February 2020, and then again joined with six other GOP senators to vote "guilty" against Trump in February of this year.
On Saturday, more than 2,100 Republicans attended the GOP convention at the Maverick Center in West Valley City, Utah. When Romney rose to address those in attendance, he was greeted by boos and people yelling out insults. Some referred to the Republican lawmaker as a "traitor" and a "communist," The Salt Lake Tribune reported. Meanwhile, video of Romney's remarks showed that some in attendance did also stand and applaud.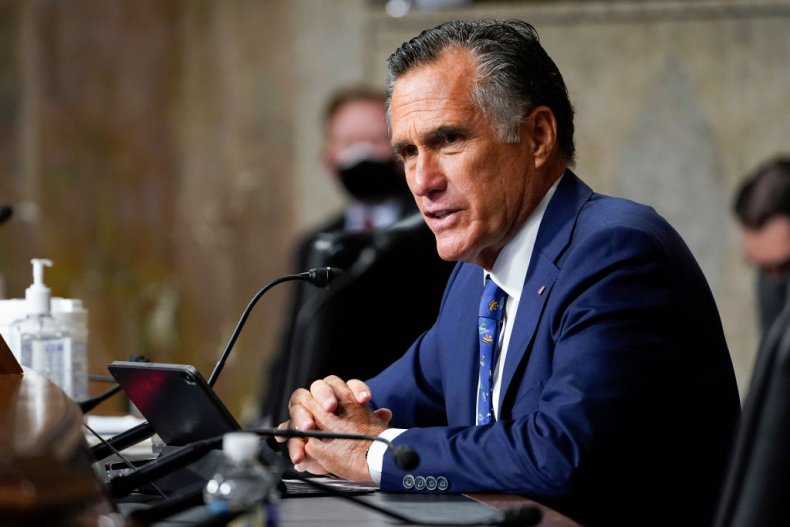 "Aren't you embarrassed?" Romney asked those booing his remarks.
Then Utah's GOP chair, Derek Brown, arose and asked those in attendance to "show respect."
"You can boo all you like," Romney told the crowd. "I've been a Republican all of my life. My dad was the governor of Michigan and I was the Republican nominee for president in 2012."
At points in his speech, Romney did draw resounding approval from the crowd as well.
"So yeah, I understand that I have a few folks that don't like me terribly much and I'm sorry about that. But I express my mind as I believe is right and I follow my conscience as I believe is right," Romney said, soliciting loud cheers and applause.
In addition to Romney, six other Republicans voted to convict Trump for allegedly inciting his supporters to attack the U.S. Capitol on January 6. Although this marked the most bipartisan Senate conviction vote against a president in U.S history, it failed to reach the high constitutional threshold of a two-thirds majority required for a successful "guilty" verdict.
GOP Senators Lisa Murkowski of Alaska, Susan Collins of Maine, Ben Sasse of Nebraska, Richard Burr of North Carolina, Bill Cassidy of Louisiana, and Pat Toomey of Pennsylvania all joined Romney in voting against Trump.
Although many of the House and Senate Republicans that backed Trump's second impeachment faced censure from their respective states' Republican parties, the Utah GOP voted not to censure Romney over his opposition to the former president. However, the decision was relatively split with 711 voting to censure the senator while 798 voted not to censure him this weekend.
Newsweek reached out to Romney's press representatives for further comment.