GOP Support of Jackson Spurs Another 'Pedophiles' Slur From Conservative
Another conservative has suggested that Republican senators voting in support of Supreme Court nominee Ketanji Brown Jackson indicates support for pedophiles.
Mollie Hemingway, editor-in-chief of the conservative online magazine The Federalist, called Utah Republican Senator Mitt Romney's support for the allegedly "soft-on-pedos" Jackson "super interesting" in a Monday tweet. The comment came as Representative Marjorie Taylor Greene, a Georgia Republican, claimed that Romney and other GOP senators backing Jackson were "pro-pedophile."
"The only new info since he voted against her a few months ago was increased awareness of her 'soft-on-pedos' approach, which makes this new Romney position super interesting," Hemingway wrote on Twitter in response to Romney's tweet announcing he would vote to confirm Jackson, noting that the senator had not voted to confirm the judge to the U.S. Court of Appeals for the District of Columbia Circuit last year.
During Jackson's Senate confirmation hearings, multiple Republicans said that the judge had a record of being too lenient in sentencing child porn cases, although fact-checking articles published by the Associated Press, The Washington Post, and other news outlets deemed those claims to be misleading.
Jackson, the first Black woman nominated to serve as a justice on the Supreme Court, responded to the allegations by insisting that "nothing could be further from the truth," describing the cases as "some of the most difficult" to preside over.
On Monday, Romney joined follow Republican Senators Susan Collins of Maine and Lisa Murkowski of Alaska in voting to move Jackson's nomination forward after the Senate Judiciary Committee deadlocked. The senators have also indicated that they intend to support Jackson when a final confirmation vote is likely held later this week.
Greene responded to Monday's vote with a tweet that called all three Republicans "pro-pedophile" by supporting the judge.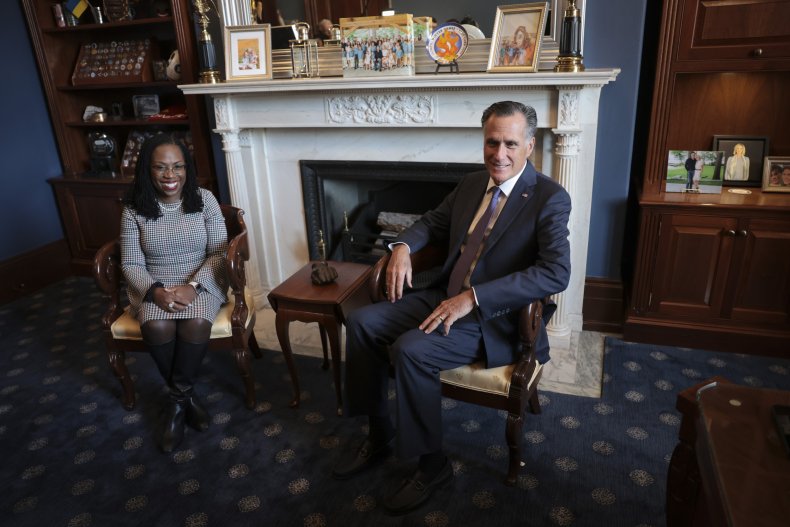 "Any Senator voting to confirm #KJB is pro-pedophile just like she is," Greene said in a series of subsequent tweets. "@MittRomney votes for #KJB after he finds out she made these soft lenient judgements for horrific crimes."
"The line is clearly drawn when it comes to voting to confirm #KJB or not," she added. "You are either a Senator that supports child rapists, child pornography, and the most vile child predators. Or you are a Senator who protects children and votes NO to KJB!"
During the confirmation hearings, Donald Trump Jr. accused Democrats in a tweet of being "pro-pedophile" after repeated questioning from Republican Senator Ted Cruz of Texas about the allegedly light sentences was shut down by Senate Judiciary Committee Chairman Dick Durbin, an Illinois Democrat.
Trump aimed similar accusations toward Jackson in a tweet on Saturday, calling the judge "a leftwing radical, who is soft on pedophiles" and "doesn't belong anywhere near the Supreme Court."
Newsweek reached out to Senator Romney's office for comment.