Senator Mitt Romney, a Utah Republican, pointed to what he saw as double standards within his own party after GOP lawmakers complained about the growing national debt, concerns that were largely ignored under the administration of former President Donald Trump.
During a Tuesday interview with the Utah Politics podcast, Romney said that Republicans were "spending massively" when they controlled the government. The moderate GOP senator also highlighted that members of his party are now frustrated that Democrats are ready to pass President Joe Biden's massive $1.9 trillion COVID-19 relief package through the Senate budget reconciliation process, despite Republicans doing the same thing with key priorities when they controlled the House and Senate.
"There's no question that if you begin doing things which break precedent or break tradition, the other side is going to do that when they're in charge," Romney said. "When we've put a tax program on that basis that did not require any Democrat votes through reconciliation, we have a difficult time explaining why we're not happy with what they would be doing at this stage."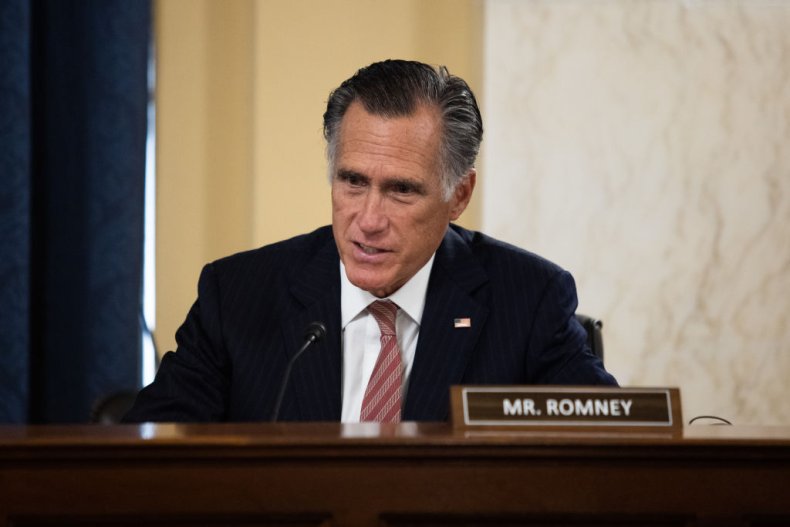 Using the budget reconciliation process only requires a slim majority of senators to approve legislation, meaning Democrats can potentially pass their $1.9 trillion package without a single Republican vote. Typically, legislation is subject to the filibuster rule, which means 60 senators must vote to approve it. Republicans used the reconciliation process to push through Trump's 2017 tax cuts without any Democratic support. They also attempted to use the process to repeal the Affordable Care Act, although that was ultimately unsuccessful.
Romney went on to critique the fact that a number of his GOP colleagues are now raising concerns about the debt Biden and Democrats could add in the coming years.
"When we had a Republican president and House and Senate, we kept on spending massively and adding almost a trillion dollars a year to the national debt. Now we say this is outrageous adding so much to the debt? They say we did the same thing when we were in charge. It does show that you have to be consistent in your arguments," the Republican senator said.
Although Trump vowed to eliminate the national debt when he was campaigning for president in 2016, the U.S. actually added about $7.8 trillion in debt during his four years in the White House. When Trump took office, the debt stood at about $19.9 trillion, and reached about $27.7 trillion by the time he departed from the White House—an increase of more than 39 percent. Although much of that spike came as a result of COVID-19 stimulus spending in 2020, the debt had already increased by about $3.3 trillion before the pandemic hit the U.S.
Senate Minority Mitch McConnell, a Kentucky Republican, slammed Democrats' plan to start the budget reconciliation process to push through Biden's new relief package on Monday. McConnell called it a "totally partisan path," describing it as "unfortunate." However, the GOP leader used the same method to push through the 2017 tax cuts—as Romney pointed out.
Last month, Senate Minority Whip John Thune, a South Dakota Republican, complained that there wasn't more concern about the national debt. "The one thing that concerns me that nobody seems to be talking about anymore is the massive amount of debt that we continue to rack up as a nation," he said.
"Nobody seems to care much about it," Thune lamented, questioning the high price tag of Biden's relief package.
Newsweek reached out to McConnell for further comment but did not immediately receive a response.