Mitt Romney Says Trump's Repeated Refusal to Condemn QAnon 'Continues an Alarming Pattern'
Senator Mitt Romney on Friday continued his criticism of President Donald Trump, this time for the commander-in-chief's continued refusal to rebuke the dangerous conspiracy theory known as QAnon during a townhall event the prior night.
"The president's unwillingness to denounce an absurd and dangerous conspiracy theory last night," the Utah Republican said in a statement, "continues an alarming pattern. Politicians and parties refuse to forcefully and convincingly repudiate groups like antifa, white supremacists and conspiracy peddlers."
Romney added a caution for the future.
"As the parties rush down a rabbit hole," he expounded, "they may be opening a door to a political movement that could eventually eclipse them both."
During an NBC News townhall Thursday evening, President Trump continued his trend of refusing to condemn QAnon, the baseless theory that the president is working to save the country from a secret deep-state network of Satan-worshipping pedophiles that run a global child sex-trafficking ring that's operated by prominent Democrats, reporters and others.
The FBI has labeled QAnon a potential domestic terror threat and tied it to several violent and deadly events.
"I know nothing about QAnon," Trump claimed, even after NBC's Savannah Guthrie explained the theory. "I know very little—you told me, but what you tell me doesn't necessarily make it fact... I do know they are very much against pedophilia, they fight it very hard."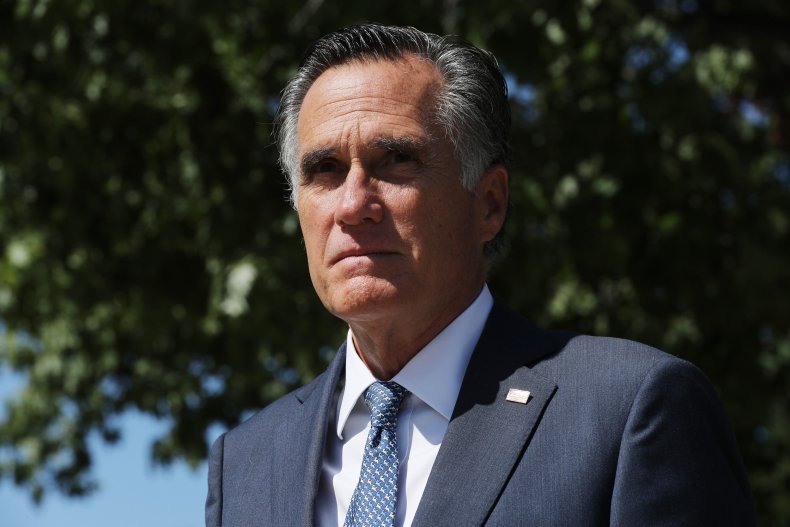 Trump then pivoted to discuss the "radical left" and antifa.
In the past few days, Trump has again spread a false conspiracy from QAnon-linked accounts on Twitter, this time one that falsely said Osama bin Laden was still alive, Barack Obama and Joe Biden had the Navy Seals who conducted the raid on bin Laden killed, and that the man killed in the operation was actually a body double and not bin Laden.
Trump has also refused to directly condemn white supremacy, including during the first presidential debate. He did, however, denounce white supremacists during the townhall, while refusing to do so for QAnon.
Congressional Republicans have done little to prevent QAnon-linked candidates from entering their ranks. Up and down the ballot, there are at least 44 Republican candidates—some of them running for Congress—who are linked to the theory. GOP lawmakers have warmly embraced Marjorie Taylor Greene, a congressional candidate in Georgia who appears poised to win. She's since tried to distance herself from her past support of QAnon.
Romney went on in his statement to criticize both sides of the aisle for controversial rhetoric and their "troubling... silence" on things like anti-vaxxers, militias and anarchists.
"Rather than expel the rabid fringes and the extremes, they have coddled or adopted them, eagerly trading their principles for the hope of electoral victories," Romney said.
Romney's dislike for the president is no secret. But he's become one of many current and former prominent Republicans who have come to speak out against rhetoric from Trump just weeks before the election, a group that includes Sen. Ben Sasse (R-Neb.), Massachusetts Gov. Charlie Baker, Maryland Gov. Larry Hogan, former Ohio Gov. John Kasich, former Secretary of State Colin Powell, former Sen. Jeff Flake (R-Ariz.) and Cindy McCain, the wife of the late Sen. John McCain (R-Ariz.).
Sasse eviscerated Trump in a phone call with constituents on Thursday. In audio published by The Washington Examiner, the first-term Republican called the president a "TV-obsessed, narcissistic individual" who's "flirted with white supremacists," "kisses dictators' butts" and "regularly sells out our allies."