QAnon Linked to at Least 44 Election Candidates in 2020—and Some Could Win
Dozens of political candidates linked to followers of the QAnon conspiracy theory are up for election at several layers of government in 2020. Although most have little or no chance of winning, some of them are in a strong position ahead of the election.
Newsweek has tallied at least 44 people who have at some point shared information and messages around QAnon, or suggested they are open to the theory, running in races for Congress, state legislatures, and mayoralties.
Many are running for a position they are unlikely to win because it is a safe seat for their opponent or they are not the favored GOP candidate. The bar to becoming a candidate in uncompetitive races is low; there is little interest from aspiring mainstream politicians.
But a handful of candidates with ties to QAnon are on course to win their races, elevating them to elected office and giving the conspiracy theory a mainstream political platform from which they could spread it further. Winning may also open new resources to them.
"I don't see QAnon going away any time soon," Sophie Bjork-James, assistant professor of the practice in anthropology at Vanderbilt University, told Newsweek.
"Elections are key platforms for conspiracy theories to reach a wider audience, and elected officials who espouse conspiracy theories can have even a greater reach. This can provide a sense of legitimacy to ideas that have no factual basis."
The QAnon theory began with anonymous posts by a figure named "Q," who claims to have insider knowledge of the White House, on the internet forum 4Chan in 2017.
Q's messages revolve around baseless, wide-ranging, and disturbing claims that President Donald Trump is working against a satanic "deep state" opposed to him which engages in the sex trafficking of children.
Trump has not validated the QAnon conspiracy directly, though he has welcomed the support of those who follow it. "I don't know much about the movement, other than I understand they like me very much, which I appreciate," the president said in August.
The FBI has suggested QAnon could be a terror threat and a bipartisan resolution condemning the theory has been put forward in the House of Representatives.
While distancing himself to an extent from the conspiracy theory, Trump has also promoted candidates with links to it.
One of those praised by Trump is Marjorie Taylor Greene, who is currently running unopposed for Georgia's 14th congressional district after her Democratic rival dropped out.
As it stands, in what is already a strongly Republican district, Greene will most likely enter Congress this coming January. After she won the Republican primary, Trump called her "strong on everything" and said she "never gives up—a real WINNER!"
Greene has previously branded Q a patriot and said their messages are "something worth listening to and paying attention to."
In Colorado, Lauren Boebert is running as the Republican candidate for the state's 3rd congressional district, a seat the party currently holds, putting her in a good position to take it again at the next election.
Boebert, who was a guest to Trump's RNC acceptance speech in August, said in May she hopes the QAnon theory "is real because it only means America is getting stronger and better, and people are returning to conservative values, and that's what I am for."
She also drew attention for her tweet about a Joe Biden event with "newly minted Greek citizen Tom Hanks...no comment." Her campaign denied it was any reference to one strand of the QAnon conspiracy theory involving false claims about Hanks and Greece.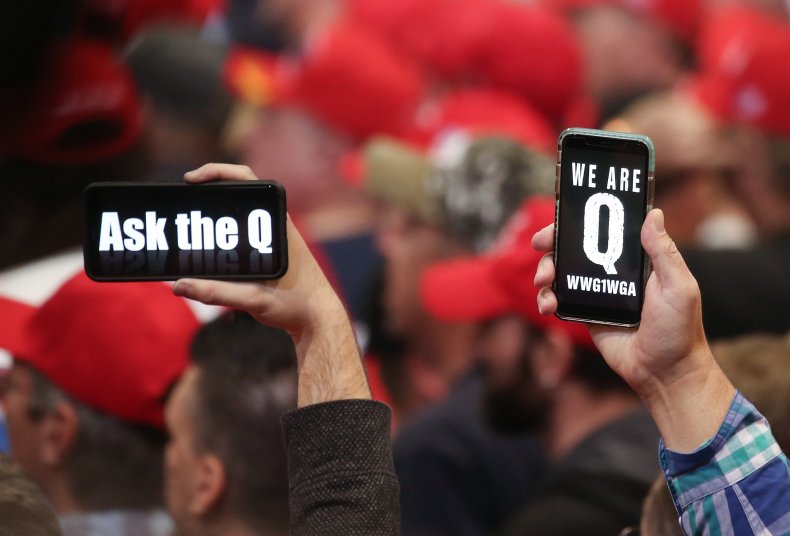 She has distanced herself from the movement, stating in an email to Newsweek earlier this year: "At this point it's reporters who are indulging in conspiracies.
"I am on the record multiple times stating I am not a follower of the group you and others so desperately want to connect me to."
A spokesperson for Boebert told Newsweek: "Lauren has gone on the record multiple times stating she does not follow QAnon."
In state legislature races there are also Republican candidates who have been linked with Q with a good chance of winning the seats they are contesting.
Dave Armstrong, who has engaged with the QAnon conspiracy on social media, is running as a Republican for a seat in the Wisconsin Assembly that is currently held by the party, putting him in a firm place to become a state lawmaker.
He told the Associated Press he found some parts of the theory credible, though not necessarily all of it: "I don't know if we'll ever know the answer to that, nor can we prove it. That's the biggest thing with QAnon is you can't prove any of it."
Suzanne Sharer, Republican candidate Arizona State Senate District 18, has repeatedly shared QAnon messages and videos on social media.
Earlier this year, responding to a thread of QAnon videos, she said Q had "been quiet" for a period. She also shared a message with a QAnon slogan hashtag.
Sharer faces a tougher battle than other QAnon-adjacent candidates; the seat she is running for has been won by Democrats in 2016 and 2018. It was, however, Republican prior to that.
Elsewhere, there are incumbents that have been linked to the theory and, depsite their proximity to QAnon, are poised to enter office again.
Susan Lynn, a Republican member of the Tennessee House of Representatives representing the 57th district, previously had a flag with a Q made up of stars and WWG1WGA underneath it as her cover photo on her Facebook page.
She has also tweeted regularly using that hashtag, which is widely used among QAnon supporters and seen as a signal of support for the theory. It stands for: "Where we go one, we go all."
Eric Berthel, a Republican state Senator in Connecticut for the 32nd senatorial district, had a bumper sticker with the hashtag #WWG1WGA.
He distanced himself from some of the group's messaging after this was questioned, though expressed sympathy for the motivations of some of its followers.
In a statement to Connecticut Public Radio, Berthel said: "I don't believe in many of the wild-eyed theories reportedly associated with the QAnon movement about pedophile conspiracies or satanic cults.
"However, stopping corruption in politics, holding government accountable and protecting individual freedoms are values I do believe in which the movement has come to represent.
"Like many movements occurring across our nation today, I think it has allowed for people who have previously felt disconnected from public policy and government to be part of the conversation."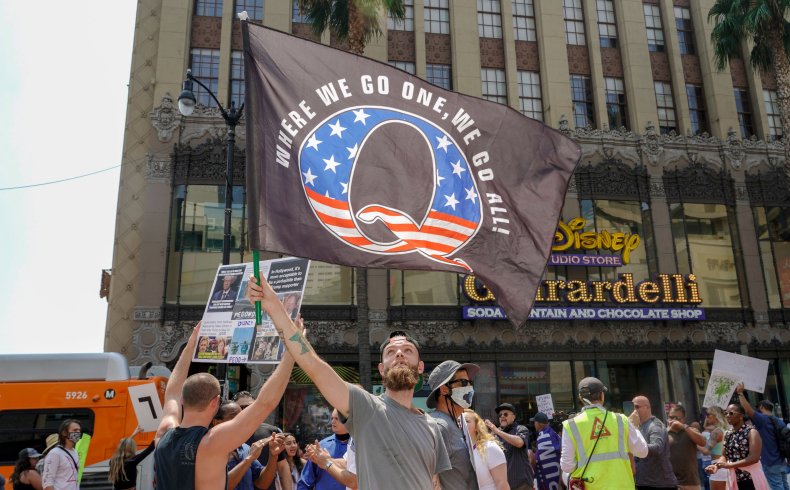 Away from Congress and state legislatures, there is also a QAnon supporter running as a candidate to be mayor of the city of Seaside, California. Joseph Smith's Twitter profile has the #Qanon in his bio, as well as #MAGA and #WWG1WGA.
In comments to Newsweek, Smith said he found the information from Q "kind of fascinating at first," which led him to look into it further. He claimed to have seen several "Q drops"—unevidenced allegations and predictions made by Q—come to fruition.
The majority of the candidates with QAnon links are Republicans—inevitable given Trump's central importance to the theory—though some are independents or affiliated with a minor party.
Vanderbilt's Bjork-James suggested instability in the nation could lead to conspiracy theories gaining more traction.
"Conspiracy theories in general tend to gain popularity during crises," she told Newsweek.
"A classic, and possibly corollary to our present, case is the dominance of anti-Semitic conspiracies accompanying the spread of the plague in 14th-century Europe, when many Christians blamed Jews with conspiring with Satan to spread disease.
"The continued instability caused by the pandemic, along with the election, may very well propel QAnon's growth even further."
Given the FBI's concern over the theory, Bjork-James said: "There is thus concern that a larger movement poses a greater threat of violence."
William Partin, a disinformation analyst at research group Data & Society, previously told The Guardian that followers with mainstream platforms could spread the theory further, when discussing QAnon-linked candidates.
"If these people do get into office–and I think several probably will, because of the nature of the districts they're running in–this potentially gives them a platform to spread QAnon," he said.
Newsweek has contacted the candidates named and the Republican National Committee for comment.