Miz and Maryse Talk the Return of 'Miz and Mrs' and Their Favorite Moments
WWE fans know Miz and Maryse as the classic heel couple who love the limelight and lavish lifestyles. But on their reality television series, Miz and Mrs., they're not anything like their on-screen personalities.
Recently, Miz has transformed himself into a babyface in the WWE after years of being one of the top heels in the company. A lot of that has to do with Miz and Mrs., which shows fans and non-fans the family man known as Mike Mizanin. Maryse is also very different from her on-screen personality; she's more shy than you'd expect, but is always quick to put Mike in his place.
Their adventures in life as one of the WWE's perfect couples return with the second half of Miz and Mrs. Season 1 and an upcoming second season.
Newsweek caught up with the "It" couple ahead of the return of Season 1 to talk about their experiences this season and what's to come in Season 2.
Note: This interview has been lightly edited for clarity and length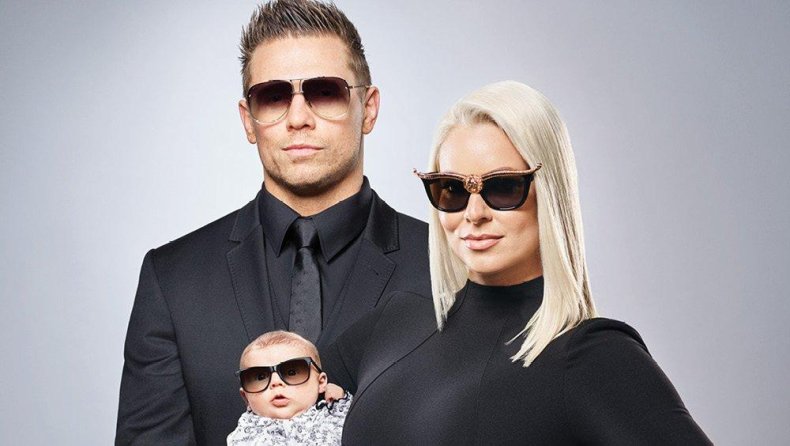 How do you feel now that the season is returning?
Maryse: It's really exciting. It's one of those things where we generally love filming Miz and Mrs. We've been playing bad guys on television for so long and the comments aren't always great. But now it's crazy how many positive reviews [we get] from people and even family and friends. We're really proud of the show.
Miz: People like me. They really really like me.
You talk about being heels on WWE television, but the show pulls the curtains back to show viewers your lives. Are there moments where you sit and think about how you're letting thousands of people into your lives?
Maryse: It's an interesting question. I've been on television for so long [laughs]
Miz: Everything is reality nowadays.
Maryse: Yea I was going to say everyone is on the internet.
Miz: Facebook, Twitter, you name it. I know what everyone is doing now anyways.
Maryse: It's not like 10-15 years ago. Now you're aware of what and where everyone is at all times. So we live in a different time and I think it's crazy to see where it's going to go.
Miz: We enjoy it because we get to do what we want to do. And get to showcase our lives and who we are and show a different side of us. People know us from WWE and they see Maryse and they think "what a bitch" and they see me and go "he's so egotistical, and arrogant and a jerk." And it's nice, it's a breath of fresh air to see us in a home setting instead of a WWE ring.
You feel now that those preconceptions about you two have changed?
Miz: I'm a good guy in the WWE now, aren't I? I was a bad guy for 13 years. And suddenly Miz and Mrs. comes out and now I'm a good guy. See what I mean? That's the power of people being able to see who you are. On top of the fact that I feel like I got respect for being in the WWE for so long and I look at the roster now and not a lot of people surpass me in length and time.
Maryse: Yea, I still get the "I used to hate you when you were on WWE. I used to despise you." And now I get "I look up to you, I have kids too and I want to see what you're doing." And now they are just interested in my life [laughs].
What have your friends and family said about the show? Any feedback?
Maryse: They love the show. [Miz's dad] George always has comments on what he likes and doesn't like. He has comments about everything. But in general they want to be a part of it, and see how positive it is. It's a feel-good show. It's not dramatic, there's no fighting or screaming or pulling hair.
Miz: I mean there is, but it's not filled with venom. It's not lethal, no one is throwing water in my face.
Maryse: Yea I'm not throwing hot water in your face [laughs]. And there may be "pulling of hair" but five minutes later we're OK.
What are the most memorable moments from the first half of the season?
Maryse: There's too many. I'm going to go with the baby shower and the cake.
Miz: How about the episode when your mom was about to punch me on the bus. We have a 60-year-old lady about to [expletive] knock me out.
Maryse: I mean, I'm your wife so I wasn't going to say that [laughs]. I'm used to her, so it's common.
Miz: There's the time MarJo got butt-naked because we were spying on her. My eyes have never been burned like that before. I can go all day. You're going to see us at the Renaissance Faire. If you think I'm loud and obnoxious now, just you wait.
Maryse: There's a cheese wheel.
Miz: Yea, we have cheese wheel. Maryse wanted a friggin' cheese wheel.
Maryse: I always wanted a cheese wheel.
Miz: Who wants a cheese wheel? People don't wish for one.
Maryse: Well they make them because people want them, obviously. I wanted one and I went to Costco and I got one and it didn't last very long. You guys are going to see what happens with that. The announcement of the second baby. Talking about the big changes in our lives. Moving back to Los Angeles [laughs].
Miz: We're the stupidest people you've ever met. When you're pregnant and most stressed out, let's move, let's do it. I don't know why.
Yea and you get on a bus to make that move, which makes it worse.
Maryse: I said I wanted a private jet this time. I was Maryse-WWE-style. Absolutely not, I'm not taking a bus, it was terrible. You know this time I have a baby I have Mar Jo, Barbara, Pumpkin Spice Latte, Mocha.
Miz: Oh like they're real hard to take care of.
Maryse: And you have a baby, and another on the way and your husband is going overseas. So yea I will take the plane [laughs]. I said I will never do this again, we did it when Monroe was 17 days old and I said never again. And this year, we did it again exactly a year later. We're just ridiculous like that, I don't know.
Your second child's due date is coming soon. How are you two feeling?
Miz: We're filming Season 2 right now and she's going hardcore. I don't know how she's doing it.
Maryse: I don't know either [laughs]. Now that we have a baby, Monroe is 15 months old, I'm looking after her all day and I'm just like we might as well start filming because there's no downtime for a baby. It's just what it is. The first time, I thought that I could just go to sleep, but this time I can't. The second time around you know what to expect. Heartburns are so bad now, if I wasn't pregnant I would check in at the ER. But I know I'm pregnant so it's ok.
Are there days that you want to tell the camera crew to go away?
Maryse: It's not really me. I don't think so, I would have to be really sick and feel really bad to do that.
Miz: Our production company is there to work. We schedule a date and the only way we are not going to work is if we're really ill or something is going on. We film. We go.
In the first half, there were episodes where Mike's doing a show and then when he gets backstage something is up with you. We're getting closer to the due date how are you both taking it?
Miz: I'm nervous.
Maryse: Monroe was two weeks early and I don't know with this baby.
Miz: It's a different pregnancy, though.
Maryse: It's a different pregnancy, but you never know. The fact that Mike is on the road every single week in different states, there's not a lot of room to play. If she decides to come three weeks early then Mike's going to get a phone call.
Miz: We got lucky last time, to be honest. I literally just got home and she wasn't due and I wasn't going to do anything for another three days.
Maryse: I was early. Mike got home and I lost my water an hour later. That day he got back from SmackDown and when he got back to LA that was the day [laughs].
That must be especially nerve wracking now that WWE is ramping up to SummerSlam.
Miz: It's one of the biggest shows we have in the summer. There's always something big going on. I plan on, like I always do, to set out to steal the show. Make sure everyone is talking about the Miz afterwards. Then have my wife who is literally ready to go so its nerve wracking.
Maryse: Well, not literally.
Miz: If you look at her now, she looks like she's ready to go
Maryse: Thanks....
Miz: You say that, not me.
Miz and Mrs. returns on the USA Network starting Tuesday, July 23 at 10:30 p.m. EDT