The Miz Says He Doesn't Want to be in WWE PPV Matches "No One Cares About"
The WWE roster is so deep that it's impossible for every superstar to have a spot on a pay-per-view even with double digit matches on the card.
The Miz saw a second pay-per-view in a row - Stomping Grounds and Extreme Rules - pass by without a spot on it, a point that was brought up on the July 15 episode of Monday Night RAW by Dolph Ziggler. But it doesn't seem to bother the 13-year WWE veteran.
"I have a problem with being the center of attention. I don't want to just be thrown in a cold match that no one cares about," Mike "The Miz" Mizanin told Newsweek. "What we are as WWE superstars are storytellers. If I'm not involved in a story that people are invested in, that people want to see, then no. You rather let people who are in-story to get the time that they need to tell that story. To be the people to steal the show."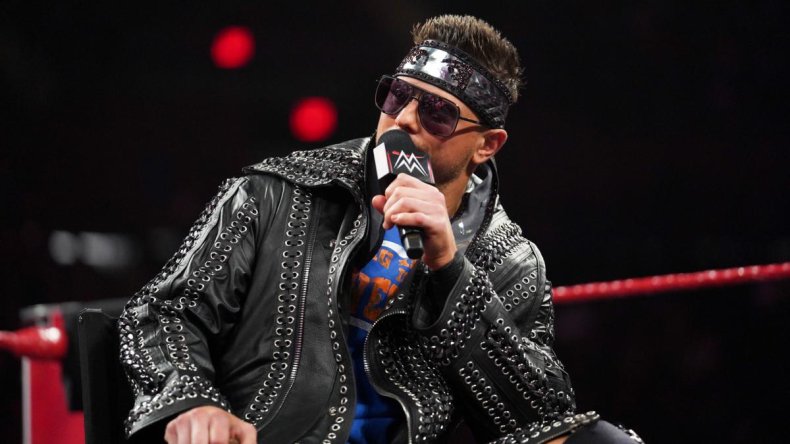 Miz has been a fixture on WWE television and pay-per-views for most of his career, but he acknowledges the time in the spotlight comes in waves. He says his feud with Shane McMahon heading into WrestleMania was a story the fans were "primed up and ready" for. However, Shane has moved on from Miz to team up with Drew McIntyre in a match with Roman Reigns and Undertaker at Extreme Rules. It now seems Shane is on a collision course with Kevin Owens heading into SummerSlam.
With Shane doing his thing, Miz feels his personal story is "slowly but surely" moving forward and it may put him at odds with Ziggler.
Viewers of Miz and Mrs, starring The Miz and his wife Maryse, know that he and Dolph are close friends off-camera. But on-camera they've had feuds that pushed both to the limit; most notably at No Mercy 2016 where Ziggler put his career on the line to have one last chance at Miz's Intercontinental Championship.
In that match, Miz was firmly in the heel camp while Ziggler was the plucky babyface. In 2019, roles have reversed. Miz has leaned into this new "family man" version of himself and has gained the admiration from fans while Ziggler's character is more entitled.
"Dolph and I are friends. I don't know what's gotten into him or what's going on. Sometimes I feel that Dolph is very bitter. And when someone else has success he feels like it should be him," Miz said. "[He feels] he's more talented, athletic, better, smarter, wittier. He's one of those people that says 'why not me?' so he tries to project that on people and that person just happened to be me because I'm happy."
Miz feels that things are finally lining up for him on a personal and professional level. And this type of success, both in and out of the ring, may be too hard for Ziggler to ignore. The result is that Miz can now take stock of what he has, and what's really important.
"For the first time in my career, I can sit down and legitimately say I'm happy. I'm doing very well with WWE. I feel like the audience has finally taken to me and cheering me and respecting me as a WWE superstar. It took a long time to do that, and not only that we have [Miz and Mrs.], a movie I'm about to film for Netflix. I have a friend for life, I have a daughter who is amazing, why shouldn't I be happy? But his realm is that we always fought. We both wanted to be better and bigger. But I started realizing that negativity isn't where I want to be. So him coming out there and try and get a rise out of me kinda pissed me off. So that's why that all kinda happened."
Miz and Mrs. returns Tuesday, July 23 at 10:30 p.m. on USA.