Extreme Rules was an eventful pay-per-view that changed the landscape of Monday Night RAW and SmackDown Live.
RAW, especially, had its foundation rocked when Brock Lesnar cashed-in the Money in the Bank briefcase on Seth Rollins following his and Becky Lynch's victory in the main event of Extreme Rules. Lesnar is now a three-time Universal Champion which leaves Seth Rollins pondering his next move.
How will Seth Rollins react on Monday Night RAW tonight now that he's title-less? With SummerSlam just a month away, will he try and get a rematch for the Universal Championship? Or will someone else step up to take on The Beast?
Extreme Rules saw another title change after AJ Styles defeated Ricochet for the U.S. Championship. With the help of his faction The Club, Styles is a champion again which elevates The Club to a better standing on RAW. How will the new U.S. Champion and his cohorts act backstage and in the ring. Ricochet's loss puts him in the back of the rest of the RAW roster that includes Cesaro, Braun Strowman The Miz and more. Who is ready to step up to Styles and The Club?
Now that Becky Lynch defeated Lacey Evans to retain the RAW Women's Championship, who is next in line? Alexa Bliss and Nikki Cross could go after the RAW title after they lost to Bayley for the blue brand's women's championship. Perhaps someone like Sarah Logan will be elevated to the main event of the division?
Speaking of Bliss and Cross, after Nikki took the pin at Extreme Rules where does it leave their friendship? Is Bliss as manipulative as Bayley and the rest of the women's division says she is or will their bond forge forward?
It's looking to be an eventful night of WWE programming, so here's everything that happened on the July 15 episode of RAW.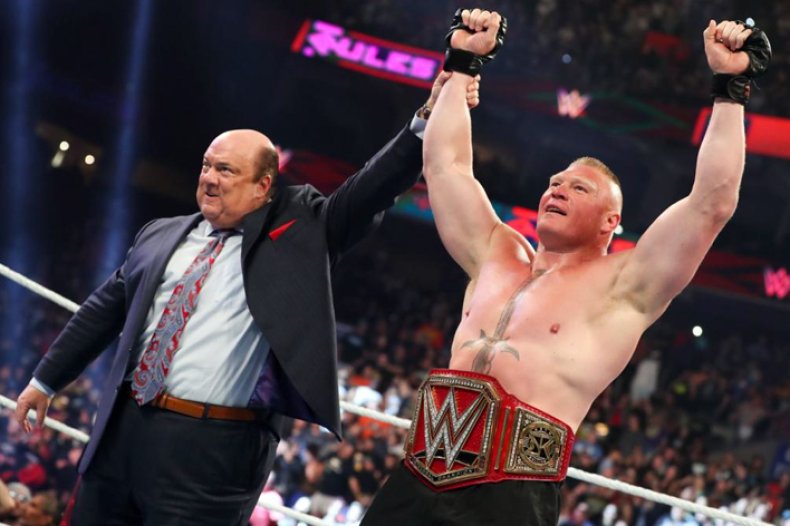 MONDAY NIGHT RAW RESULTS
Opening Segment
The night opens with Brock Lesnar and Paul Heyman coming to the ring. After a recap package of the end of Extreme Rules, Heyman says that he tells the truth and people would rather he lie. He says he told the WWE Universe exactly what would happen. Heyman even says that he has the stroke on Monday Night RAW now and he has made a cross-brand battle royal with 10 superstars. The winner of the battle royal will take on Lesnar at SummerSlam.
The 10 superstars are: Seth Rollins, Randy Orton, Big E, Cesaro (who Heyman is personally interested in, Braun Strowman, Rey Mysterio, Baron Corbin, Sami Zayn (Heyman says he hopes wins it), Bobby Lashley, and Roman Reigns.
Heyman says that Seth Rollins walked into Extreme Rules like a stud, but afterward he's not anymore. And the same will happen to any superstar who gets into the ring with Brock Lesnar because you will lose your health and your manhood.
Ricochet and The Usos vs Bob Roode and The Revival - 2 Out of 3 Falls Match
Ricochet pins Scott Dawson after a Recoil (Codebreaker) and a stand up shooting star press for the first fall
Scott Dawson pins Jimmy Uso after a Shatter Machine for the second fall.
Ricochet pins Bob Roode after a 630
After the match, AJ Styles and The Club make their way to the ring. Ricochet launches himself and hits Styles. The Club start to beat down Ricochet, with The Usos making the save. The Revival help The Club and The Usos clear everyone out with Superkicks. Everyone gets their licks in (even Bob Roode) but AJ Styles hits Ricochet with a Phenomenal Forearm and The Club hit the Magic Killer. They stand over Ricochet in the ring.
The Viking Raiders vs Local Enhancement Talent
Viking Raiders win via pinfall after The Viking Experience
Drew McIntyre Promo
Drew angrily walks into the locker room earlier in the day and approaches Cedric Alexander who was talking with No Way Jose, Finn Balor and the Street Profits. McIntyre says that he's here to humble Alexander after what he did last week. Cedric says that he doesn't joke when opportunity comes along.
Drew McIntyre vs Cedric Alexander
Alexander wins via pinfall after a reversal of the Alabama Slam into a roll up
Finn Balor and Samoa Joe Promo
Finn says that losing to Shinsuke at Extreme Rules was hard but he doesn't dwell on the past. He wants his title back and Samoa Joe stands in his way. He doesn't care if he has to go through Joe to do it.
Samoa Joe says that Finn needs to call on everyone to get through him and he'll be waiting to hand Finn another loss.
Roman Reigns Interview
Reigns is asked about caring the momentum into tonight's battle royal.
Reigns says he doesn't care about what anyone says, even Seth Rollins, it's his week. He'll cap off this week strong by winning tonight's battle royal.
Samoa Joe vs Finn Balor
Samoa Joe wins via pinfall after a roll up reversal.
Immediately after the bell, Joe attacks Finn and puts him in the Coquina Clutch. Finn gets out and strikes back, finishing Joe with the Coup de Grace.
When he's celebrating, the lights go in and out and Bray Wyatt appears and hits Finn with the Sister Abigail.
24/7 Segment
Drake Maverick and Renee Michelle are checking into a hotel. He has them down as "Mr. and Mrs. 24/7" which annoys Drake's wife. They check in so they can consummate their marriage.
R-Truth walks in with a referee and asks for Hornswoggle. The hotel employee doesn't know who he is talking about.
Street Profits are watching this segment and make fun of Drake's size and not consummating his marriage. They then hype up the women's fatal fourway. Angelo Dawkins is crushing on Nikki Cross. The Street Profits then hype up the 10-man battle royal.
Zack Ryder vs Mike Kannellis
Before the match, Maria goes up to Mike in gorilla and says that she will fight Ryder.
Mike says she can't but Maria says that even pregnant she can defend their honor better than Mike can.
Ryder wins via pinfall after a Rough Ryder in under a minute
After the bell, Maria says that Mike should have let her wrestle. She then says that her unborn child had a better chance to win than Mike did.
The Club and AJ Styles vs Lucha House Party
During the match, Ricochet grabs AJ Styles and beats him up on the apron. Referee tosses him to the back which leads to a commercial break
Styles wins via submission after a Calf Crusher on Kalisto
After the bell, The Club stop Lince Dorado and Gran Metalik from getting Kalisto out of the submission. AJ eventually lets go of the Calf Crusher and kicks Kalisto out of the ring.
Seth Rollins Interview
Seth says he's spent and hurt from last night but what hurts the most is standing there without the Universal Championship and seeing Lesnar have a title he doesn't deserve.
He says that Becky Lynch is the toughest person he knows and doesn't know if she'll show up tonight. But Baron Corbin saw firsthand on Sunday that he will do anything to get the Universal Championship back.
Alexa Bliss (with Nikki Cross) vs Carmella vs Natalya vs Naomi - Fatal Fourway Elimination Match
Before the match begins, Becky Lynch comes out to watch it.
Bliss pins Carmella after Alexa was waiting on the outside. Carmella hit Naomi and Natalya with Superkicks and then Alexa rolls her up.
Natalya pins Naomi
The crowd is noticeably against Alexa Bliss. Nikki gets on the mic to
Natalya wins via submission
After the match, Natalya is interviewed and is happy to face Becky Lynch at SummerSlam in Canada.
Becky Lynch gets on the mic and says that Natalya better step up her game or she will lose in her own country. Nattie tells Becky that if she wants a war she'll get one.
Miz TV
Dolph Ziggler is Miz's guest
Dolph says he came to RAW to see if the rumors about Miz are true. He wants to see if Miz is really a company man. Ziggler is trying to get a rise out of Miz.
Miz brings up Dolph losing to KO in 17 seconds after Ziggler says he wasn't on the pay-per-view. Dolph says that Miz has become everything he's hated. He has become a walking yes man.
24/7 Segment
In Drake and Renee's hotel, they are ready to consummate the marriage when room service shows up. The man coming in is a referee and R-Truth comes out. After a failed roll up, Truth pins Drake in bed and wins the 24/7 championship.
Big E vs Sami Zayn vs Seth Rollins vs Bobby Lashley vs Rey Mysterio vs Baron Corbin vs Roman Reigns vs Cesaro vs Braun Strowman vs Randy Orton - Over the Top Battle Royal
Lashley eliminates Cesaro
Strowman eliminates Lashley
Sami Zayn eliminates Big E
Randy Orton eliminates Sami Zayn
Corbin eliminates Rey Mysterio
Rollins eliminates Corbin
Rollins eliminates Strowman and Reigns
Rollins eliminates Orton
After the match, Heyman gets on the mic and announces that Seth Rollins is the number one contender to be victimized by Brock Lesnar.
Seth tells Heyman to shut up and talks directly to Lesnar. Seth says that SummerSlam will be a lot like WrestleMania when he Stomps Lesnar's head into the mat and becomes Universal Champion again.