MLB, Cuban Baseball Federation Proposing Deal for Cuban Players To Play in U.S.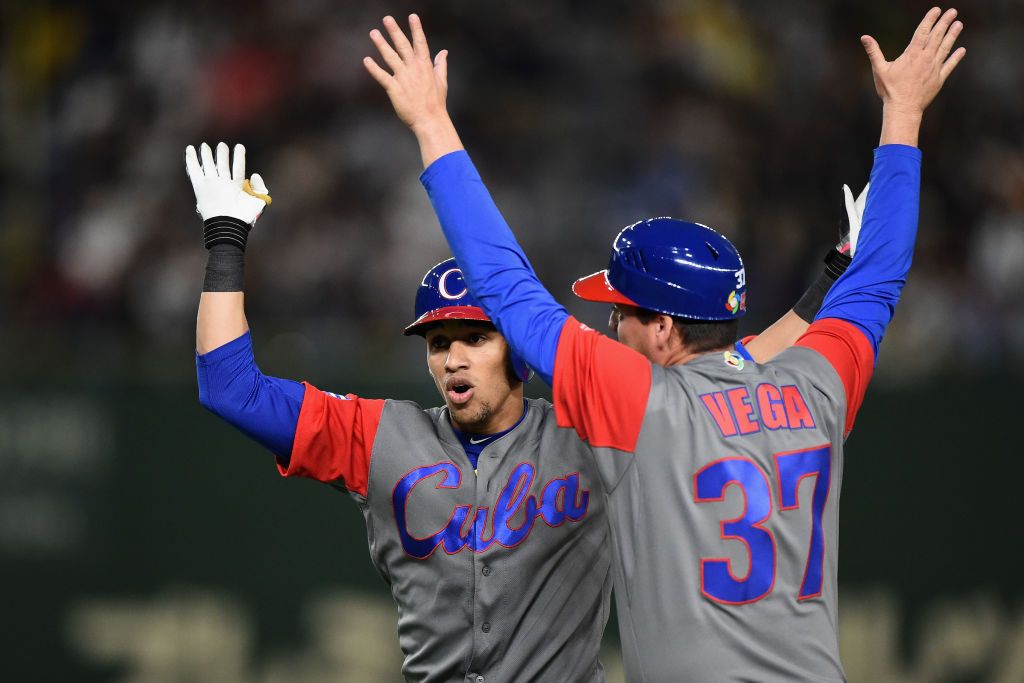 Cuban baseball players can now play Major League Baseball without defecting from Cuba.
Yahoo Sports reports that a deal between the MLB and the Cuban Baseball Federation is imminent after more than two years of negotiations. The agreement carries the hope of deterring players from being smuggled into the United States after numerous stories of dangerous instances of illegal immigration among some professional baseball players.
Similar deals are already in place between the United States and Japan, Korea and Taiwan.
The terms of the agreement include players coming to the U.S. with work visas and the MLB paying the CBF to release them. The contract will run through 2021, Yahoo Sports said.
Players 25 years and older would be granted a mandatory release from the CBF, while players under 25 will be released at the discretion of Cuban Baseball.
The MLB reportedly spent $1.32 million in 2017 to lobby for "matters dealing with Cuba," Yahoo reports. The agreement also has support among players and others employed in the MLB.
However, there is concern that those who oppose the agreement could pressure the Trump administration not to approve the deal. Much of the progress made to the deal is tied to former President Barack Obama and policy changes related to Cuban that were made during his two terms in the White House.
The Trump administration has already made changes to Obama-era policies, including restricting most individual travel by Americans into Cuba. Most travel to Cuba must be done by groups who register with the Treasury Department and are going to the country for a specific purpose.
While the Trump administration has not yet commented on the agreement, sources told Yahoo Sports that the point of the deal is "to make the path safer for players" and that "outweighs any concerns from the National Security Council or other governmental entities that could oppose the deal."
Numerous players have documented their journey to defect from Cuba to the United States, including Cleveland Indians outfielder Leonys Martín who testified in federal court in 2017 that he was afraid of being kidnapped. Chicago White Sox first baseman José Abreu ate his fake passport before coming to the United States after defecting from Cuba to Haiti.
Under current rules, players must establish residency in a third country before they are eligible to sign a contract with the MLB. Under the proposed deal, players who defect from Cuba will be required to wait until a certain time period has elapsed before they could sign a contract, depending on their age.