Stimulus Checks of $600 in White House's $916 Billion Offer To Pelosi
Treasury Secretary Steven Mnuchin offered House Speaker Nancy Pelosi a $916 billion stimulus proposal on Tuesday afternoon as hope for further relief before the end of year grows. The new stimulus package includes a provision for a $600 stimulus check for Americans.
In a statement, Mnuchin said that White House Chief of Staff Mark Meadows, President Donald Trump, Senate Majority Leader Mitch McConnell and House Minority Leader Kevin McCarthy have reviewed that proposal that's a "slightly larger package than the bipartisan proposal of $908 billion."
"Speaker Pelosi and I spoke today at 5 p.m., and on behalf of the President, I presented a $916 billion proposal," Mnuchin said in a statement. "This proposal includes money for state and local governments and robust liability protections for businesses, schools and universities."
The Trump administration official explained that the plan will be funded with $140 billion in unused funds from the Paycheck Protection Program and $429 billion in Treasury funds."
"I look forward to achieving bipartisan agreement so we can provide this critical economic relief to American works, families and businesses," he said.
In addition, the plan includes a second round of stimulus checks for Americans. The new checks would be $600, half the amount of the checks issued at the beginning of 2020, according to the Associated Press. Earlier plans without a provision for more stimulus checks were opposed by both progressives and some conservatives, with GOP Senator Josh Hawley of Missouri telling Trump to "veto any bill that did not have direct payments in it."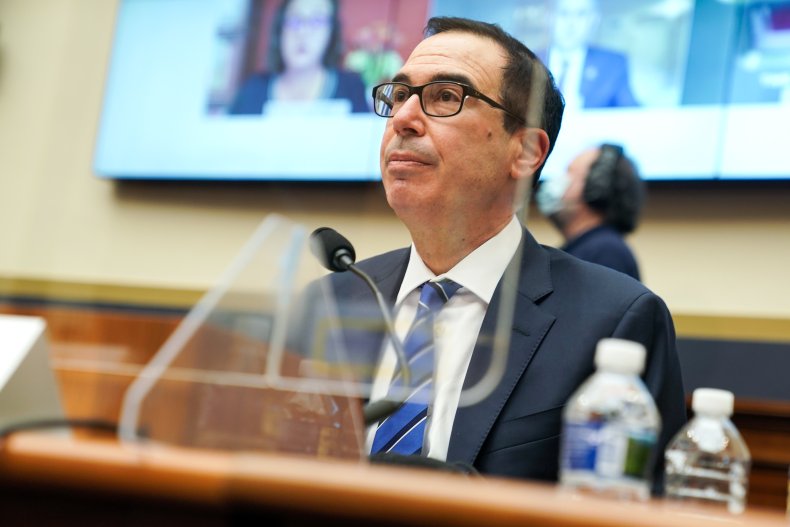 Newsweek reached out to Pelosi's office for comment.
McCarthy on Tuesday called the Trump administration's proposal "a great offer."
Democrats have pushed for funding for states and local governments and Republicans have demanded COVID liability protections for businesses. But apart from those details, Mnuchin did not disclose any other provisions to their proposal.
Democratic leaders, including Pelosi, President-elect Joe Biden and Senate Minority Leader Chuck Schumer, have backed a $908 bipartisan framework, introduced by a group of Republican and Democratic senators, that includes funding for state and local governments, further unemployment benefits and relief for small businesses.
The new White House proposal is $8 billion more, however, it is unclear whether Pelosi would support a measure that includes liability protection for companies. McConnell, who's been holding out for a $550 billion GOP measure, has also yet to comment on the proposal.
McConnell previously said that both parties could compromise by excluding both funding for states and local governments, as well as liability protections. But Democrats quickly rejected the suggestion, with some indicating that both parties could reach a deal by including both.
"We are moving forward on both state and local and liability," a Democratic aide familiar with ongoing bipartisan discussions told Newsweek earlier on Tuesday. "Excluding both isn't on the table."
In a statement, Pelosi said "the bipartisan negotiations involving Senators and Members of the House have made good progress and must be allowed to proceed without Leader McConnell's obstruction."
Update (12/8/2020, 9:00 p.m.): This article has been updated to include information about the proposed $600 stimulus checks.