Mo Brooks Backpedals After Trump Rally-Goers Boo Him for Saying Move Past 2020 Election
After being booed at former President Donald Trump's rally on Saturday when he told attendees to put the 2020 election behind them, Congressman Mo Brooks, a Republican from Alabama, backtracked and assured them he believes last year's race was "fraught with voter fraud & election theft on a massive scale."
During the rally Saturday evening in Cullman, Alabama, Brooks at first told rally-goers to "put that behind you" with regards to disputing the 2020 contest and "look forward" to upcoming elections.
"There are some people who are despondent about the voter fraud and election theft in 2020...Beat them in 2022, beat them in 2024," he said.
As boos erupted, Brooks said, "All right, well, look back at it, but go forward and take advantage of it."
He eventually joined in with the crowd's chant of "Fix it now!" in reference to the 2020 election.
AL.com first reported on Brooks' comments on Saturday.
Later, Brooks took to Twitter and made clear that he believes Trump should have won the election in 2020.
"Let me be clear, the 2020 election was fraught with voter fraud & election theft on a massive scale," he wrote. "If only legal votes cast by eligible American citizens were counted, Trump won the election. I support audits of state 2020 election results, & I eagerly await their findings."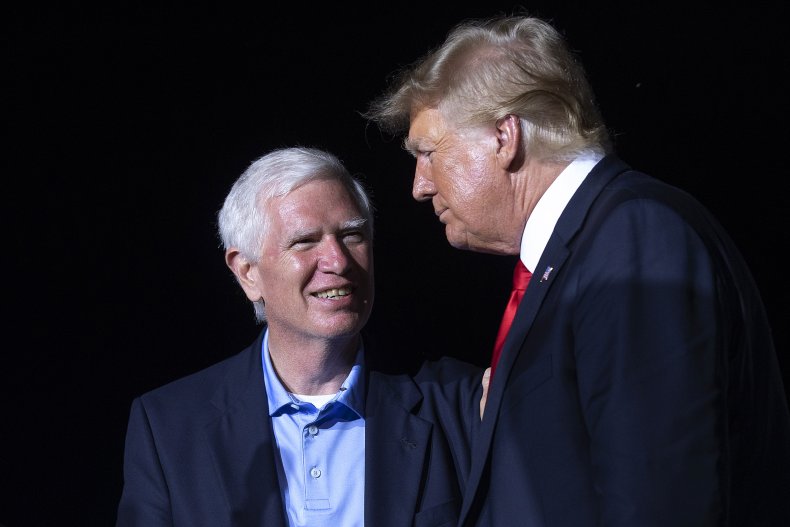 Brooks is currently running for U.S. Senate, vying to replace Senator Richard Shelby, who is stepping down. He has been endorsed by Trump.
During the rally, Trump praised Brooks, calling the congressman "a fearless warrior for your sacred right to vote."
"He's going to be an incredible senator, and we're proud of him," Trump said.
Brooks' office did not immediately respond to a request for comment from Newsweek on Sunday.
It wasn't the first time Brooks put a focus on upcoming elections. On Thursday, after a man claimed to have a bomb in his truck parked outside the Library of Congress in Washington, D.C., Brooks released a statement saying that while the "terrorist's motivation is not yet publicly known, and generally speaking," he understands "citizenry anger at dictatorial Socialism and its threat to liberty, freedom and the very fabric of American society."
He added, "The way to stop Socialism's march is for patriotic Americans to fight back in the 2022 and 2024 elections."
Brooks' comments were criticized by fellow legislators. Representative Adam Kinzinger, an Illinois Republican, blasted the remarks in a tweet on August 19.
"The GOP has a decision to make. Are we going to be the party that keeps stoking sympathy for domestic terrorists and pushes out truth, or finally take a stand for truth. I've made my decision, so has Mo. Now it's up to GOP conference leadership to make theirs," Kinzinger wrote.