Mo Brooks: 'I Understand Citizenry Anger' After Suspected D.C. Domestic Terrorist's Arrest
GOP Representative Mo Brooks said he understands "citizenry anger" after a man claimed to have a bomb in his truck parked outside the Library of Congress in Washington, D.C., on Thursday.
The suspect, who was taken into custody, has been identified a Floyd Roy Roseberry, 49. He posted several videos to his social media accounts as he drove to the Library of Congress in the morning, police said. One clip contains the words "F***ing revolution starts today, Joe Biden"—implying opposition to the current administration.
Brooks, a staunch supporter of former President Donald Trump, released a statement about the incident on Thursday afternoon.
"Although this terrorist's motivation is not yet publicly known, and generally speaking, I understand citizenry anger at dictatorial Socialism and its threat to liberty, freedom and the very fabric of American society," the Alabama congressman said.
"The way to stop Socialism's march is for patriotic Americans to fight back in the 2022 and 2024 elections. I strongly encourage patriotic Americans to do exactly that more than ever before," Brooks said, adding that the country's "future is at risk."
Police said that the suspect's motives were not clear but confirmed he'd uploaded videos to social media. In the videos, Roseberry expressed dissatisfaction with Biden and Democrats.
The incident began at around 9:15 a.m. The suspect drove his black pickup truck onto the sidewalk outside of the Library of Congress, starting an hours-long standoff with police. He eventually surrendered peacefully, Chief J. Thomas Manger of the Capitol Police said during a news conference.
Brooks was among the Trump loyalists who spoke at a January 6 rally just before the president's supporters marched and attacked the U.S. Capitol in an effort to keep him in office. During his speech at that event, Brooks attacked fellow Republicans who were unwilling to defy the Constitution in a bid to keep Trump in office.
"Today is the day American patriots start taking down names and kicking ass," Brooks said in that fiery speech.
"Now, our ancestors sacrificed their blood, their sweat, their tears, their fortunes and sometimes their lives to give us—their descendants—an America that is the greatest nation in the world's history," the congressman said. "So I have a question for you: Are you willing to do the same?" he asked the crowd, receiving loud applause.
"My answer is yes!" Brooks said. Some Trump supporters did go on to die later that day as they attacked the U.S. Capitol.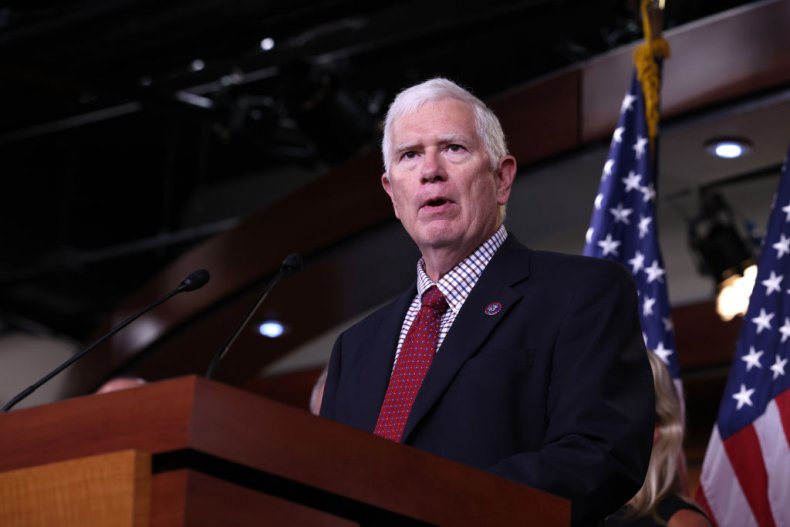 Brooks was strongly criticized by Democrats and some fellow Republicans for his remarks ahead of the violent assault. But he went on to make similar statements during a speech at the Conservative Political Action Conference (CPAC) in Texas last month.
"Our choice is simple: We can surrender and submit or we can fight back," Brooks said at CPAC. The congressman attacked what he described as "dictatorial socialists" under Democrat control. He went on to reference soldiers in the Revolutionary War, suggesting Americans should fight and be willing to die in the same way against Democrats.
Newsweek reached out to Brooks' press secretary for comment but did not immediately receive a response.