Mo Brooks Delivers CPAC Speech Reminiscent of 1/6 Address: 'Are You Willing to Fight?'
Alabama Republican Representative Mo Brooks asked audience members at the Conservative Political Action Conference (CPAC) in Texas Friday if they would be "willing" and ready "to fight" for America, echoing his controversial remarks ahead of the January 6 attack on the U.S. Capitol.
Brooks, who is running for U.S. Senate with the backing of former President Donald Trump, said during his speech Friday, "Our choice is simple: We can surrender and submit, or we can fight back" against "dictatorial socialists" and Democratic control.
The Alabama lawmaker referenced soldiers in the American Revolution who "fought at Valley Forge," adding, "that's the kind of sacrifice we have to think about."
Those soldiers "didn't fight the British—they fought for survival," Brooks said at the political conference. "Twelve thousand Continental soldiers arrived. Five, six months later, 2,000 died. Think about what they went through. Burying your brothers, your fathers, your sons, 10 to 15 a day, every day for six months."
He went on to ask attendees whether America is "worth fighting for" and declared that the audience should "Do it! Do it! Do it!"
Brooks' statements came months after he gave a speech on January 6 in which he told Trump supporters that "today is the day American patriots start taking down names and kicking ass."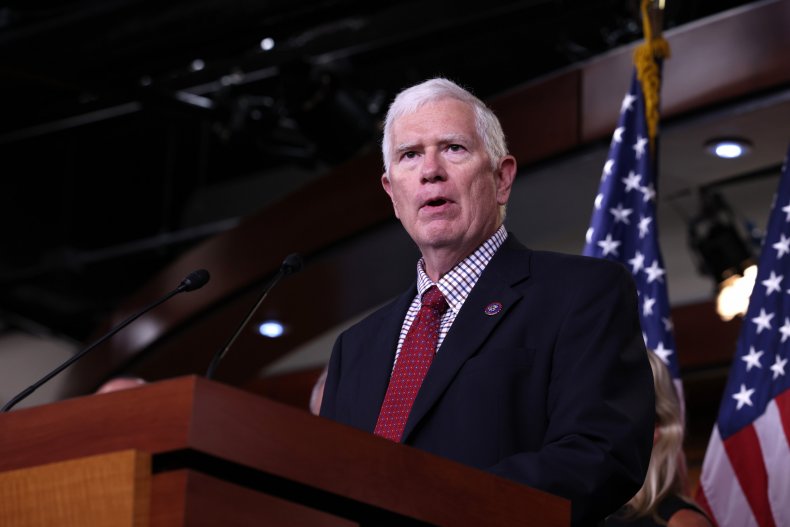 Shortly after that speech, a mob of those supporters violently stormed the U.S. Capitol building in an attempt to stop the election certification of President Joe Biden. Five people died as a result of the violence, including a Capitol Hill police officer.
Following the attack, Representative Eric Swalwell (D-NY) filed a lawsuit against Brooks, Trump, Donald Trump Jr., and Rudy Giuliani for allegedly inciting the riot using incendiary language. Brooks also faced calls from several Democratic lawmakers to be censured or resign from his position over his remarks.
Brooks has since defended the speech by claiming it was taken out of context by the "fake news" media. In court documents filed last week, Brooks argued that the Swalwell lawsuit should be dismissed since the speech was made within "the scope of his office" as a U.S. Congress member, reported The Hill.
Brooks's attorney said that his duties as a congressman include "making speeches (on the House floor and in public) on public policy issues, current events, American history, American civics, election events and issues, and the like," according to the news outlet.
During his Friday CPAC speech, Brooks doubled down on claims the 2020 election was stolen due to widespread voter fraud. The Alabama lawmaker was one of the first Republicans to challenge Biden's electoral victory after the November election.
"They attack our republic by engaging in unparalleled voter fraud and election theft activities," he said of Democrats on Friday.