Representative Mo Brooks, an Alabama Republican, blasted Donald Trump after the ex-president endorsed his opponent in the GOP Senate primary runoff, Katie Britt, on Friday.
Trump had previously endorsed Brooks, but withdrew the endorsement in March, and criticized the congressman for "going woke" after he urged Republicans to put the results of the 2020 presidential election behind them.
In a statement on Friday, Trump said that Brooks' "words caused me to withdraw my Endorsement, and Mo has been wanting it back ever since—but I cannot give it to him!"
"Katie Britt, on the other hand, is a fearless America First Warrior...Katie is an Incredible Fighter for the people of Alabama," Trump stated.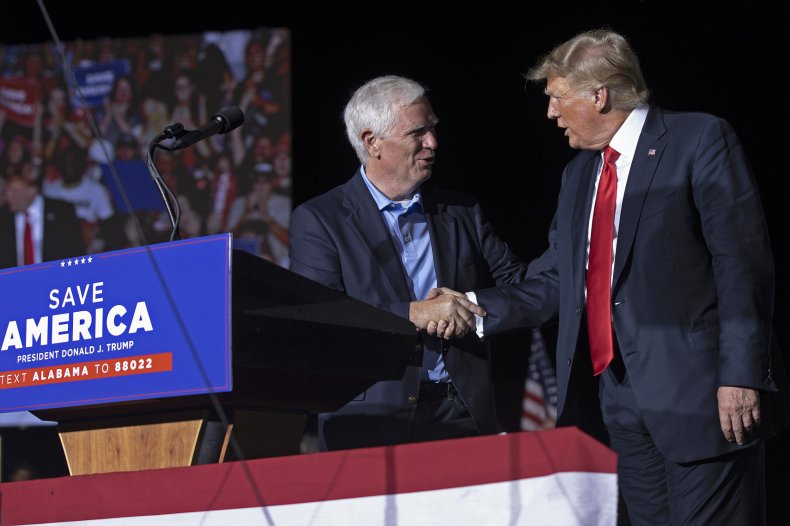 Britt previously served as a chief of staff to retiring GOP Senator Richard Shelby.
'Trump Endorses the Wrong People Sometimes'
Responding late on Friday to the endorsement, Brooks criticized both Trump and Britt.
"This is weird: last time Donald Trump talked about Katie Britt, he said she was unqualified for the Senate. Donald Trump is the only man in American politics who could get conned by Mitch McConnell twice in an Alabama Senate race," Brooks tweeted.
"Let's just admit it: Trump endorses the wrong people sometimes. He endorsed Mitt Romney, he endorsed John McCain and now he's endorsed Katie Britt, who his own son, Don Jr. called 'Alabama's Liz Cheney,'" Brooks added.
Donald Trump Jr., in a tweet last year responding to a CNN story about Britt entering the Senate race, wrote: "CNN seems to be very excited about the Alabama Liz Cheney jumping in against MAGA Mo Brooks."
In statement to Newsweek on Saturday, Sean Ross, a spokesperson for Britt's campaign said: "The more desperate Congressman Brooks gets, the more sad his behavior becomes and the more lies he tells."
"Mo Brooks is the only man in American politics who could blow a 50-point lead and blame everyone but himself," Ross added.
Britt in a statement said she's "thankful to have President Trump's endorsement and strong support."
"President Trump knows that Alabamians are sick and tired of failed, do-nothing career politicians. It's time for the next generation of conservatives to step up and shake things up in Washington to save the country we know and love for our children and our children's children," she continued.
Newsweek has also reached out to Trump's press office for comment.
Last Sunday, before Trump had endorsed Britt, Brooks urged his supporters to help convince the former president to re-endorse him.
"MAGA Nation, here is my story," he tweeted. "Join me in asking President Trump to #ReEndorseMo so that we can send a message to Mitch McConnell by sending a real America First conservative to the Senate on June 21."