Freshmen Democrats Aren't All Outspoken Progressives: Moderate Veterans Unite to Bolster Re-Election Hopes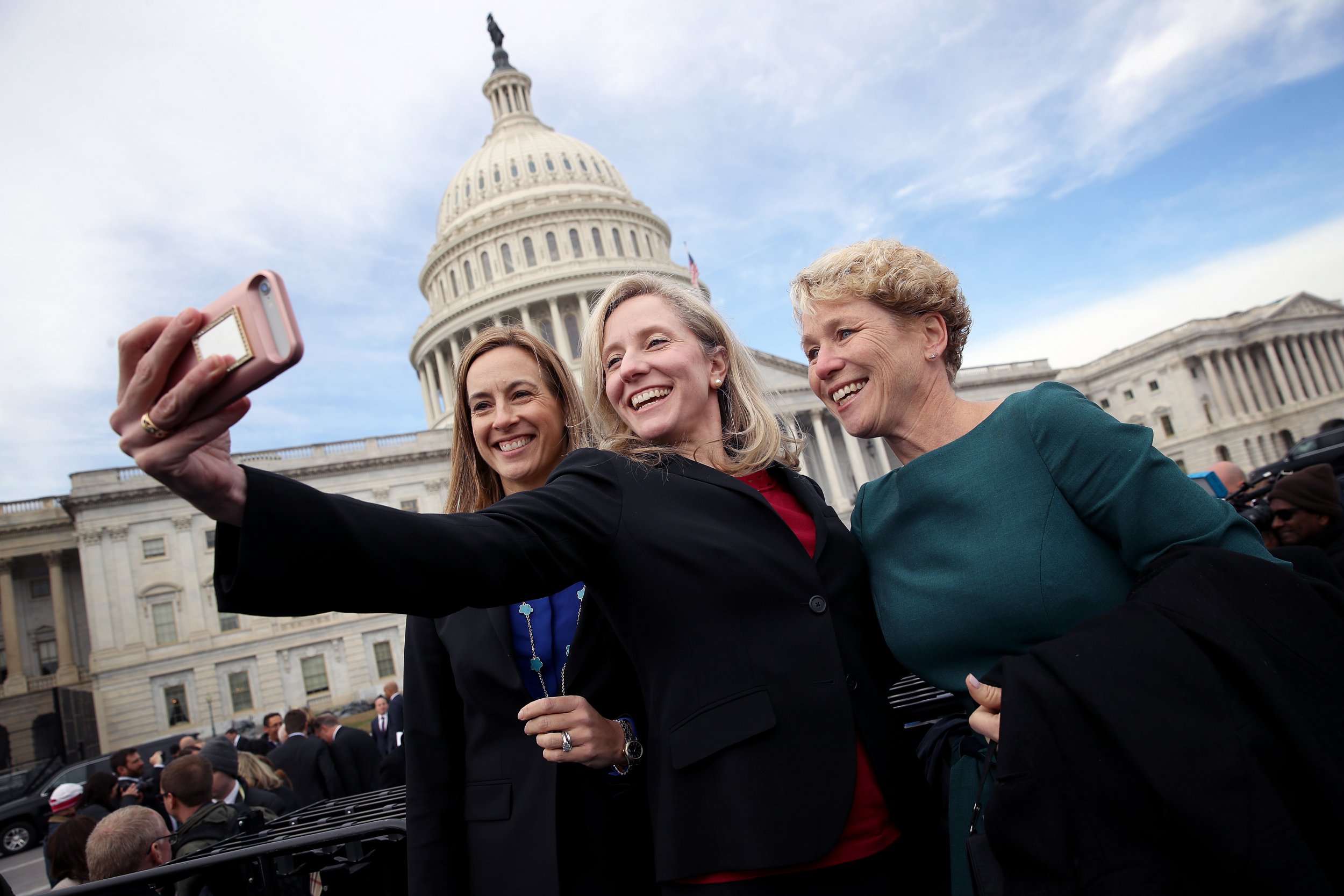 Unapologetically moderate, they consider themselves pragmatic and are proud to be labeled "boring." And it's why they say it's so vital that their 2020 re-election campaigns succeed.
Five freshmen female Democrats—Chrissy Houlahan of Pennsylvania, Abigail Spanberger and Elaine Luria of Virginia, Mikie Sherrill of New Jersey and Elissa Slotkin of Michigan—have teamed up to help make sure their center-left voices don't vanish from a Congress that has become more polarized in each of the past few elections.
"Our main goal is first and foremost to work together, to elevate the idea or power or just the fact that you can work as a team in this environment," Luria said. "We're not here to recruit new people. We're a group working together to support each other's campaigns."
The small group of lawmakers has formed a joint fundraising committee—Service First Women's Victory Fund—a practice used in Washington to pool and grow candidates' resources for the campaign trail while sharing the costs. It's a cohesiveness that will not only aide in re-election bids, they argue, but will also be used as a motivator for future women candidates with parallel backgrounds to run for office and to establish similar coalitions.
"It's to keep our seats and work together," Luria said. "Every man for himself, but every woman together."
The committee raised $56,000 in the first three months of this year, according to the Federal Election Commission.
A Shared Background
But these lawmakers share more than just their political ideologies and freshman status in one of the most diverse Congresses in history: They all come from military or intelligence backgrounds, an attribute that was partly responsible for their getting recruited to run for political office in the first place.
Houlahan served in the Air Force, Luria and Sherrill both graduated from the Naval Academy, with Luria going on to serve for two decades as an officer and Sherrill spending nearly a decade flying helicopters for the Navy. Spanberger and Slotkin did not serve in the armed forces but had careers at the CIA before getting into politics.
"I always think that veterans and people who've worked in government and service are really, in some ways, uniquely able to deal with Congress," Sherrill said. "Because we are all so incredibly proactive, we love our country, but we've all worked in government. It's not this huge roadblock when we come up against the bureaucracy."
This group of moderate women helped Democrats take back the House, not just winning their elections but flipping their five districts from Republican to Democrat.
"These are the leaders who will transform and save our democracy," said Emily Cherniack, the founder and executive director of the nonpartisan organization New Politics, which has partnered with the Democratic lawmakers to help raise money. Its mission is to recruit and support candidates who once served in the military and intelligence communities, as well as from national service programs like Americorps and the Peace Corps.
Once strangers who never imagined a life in politics, the freshmen United States representatives were now side-by-side describing their ideas and motivations for helping one another win re-election, genuine friends who joked around and knew each other well enough to finish one another's sentences.
They sat at a large table across from a handful of national media outlets, including Newsweek, as they unveiled their partnership in a seventh-floor conference room of New Politics' office building in southeast Washington, with floor-to-ceiling windows that offered a bird's eye–like view of the Washington Monument and the Capitol building.
"The fact that we can do this together is icing on the cake," Slotkin said. "You get to work with people you respect, but also people you have a really fun time with."
Not Every Freshman Democrat Is Ocasio-Cortez
The 62 freshmen Democrats from the 2018 election included some of the most progressive and diverse new voices in politics. Young, liberal members with large social media followings, such as Alexandria Ocasio-Cortez of New York, Ilhan Omar of Minnesota and Rashida Tlaib of Michigan, took the party by storm, ushering in an era of making provocative statements—both to the press and on social media—that quickly brought new enthusiasm, but also divisiveness, to the party.
These five freshmen women, however, believe there's too much focus planted on select individuals, and they want voters to know they disagree with some of their freshmen colleagues' ideologies and the way they present their ideas to the public.
"There's been an overwhelming focus on a small number of members in our caucus, who did not flip seats, who did not help win the House, who are doing what is right for their districts but don't represent my district," Slotkin said. "Being a Democrat is more than being a far-left progressive. You can be many things and be a Democrat."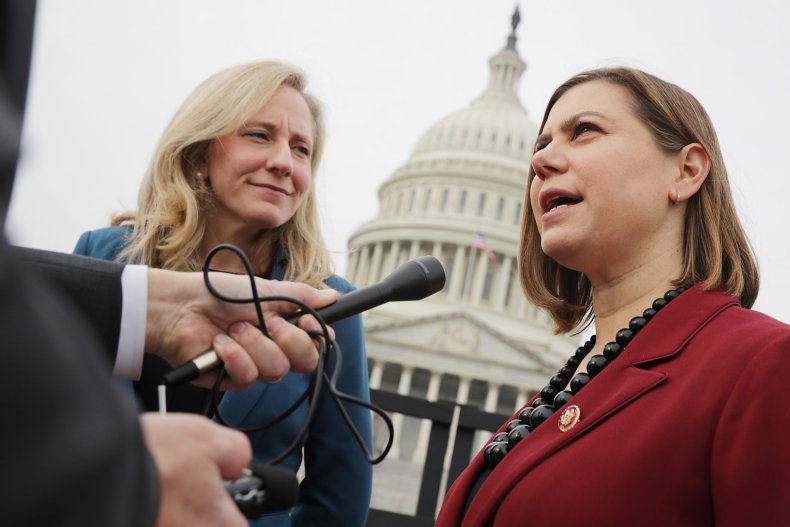 It was a sentiment echoed by her four colleagues, all whom refrained from referring to any other Democrat by name. More moderate members of Congress, including these five, are finding themselves having to balance their anti-showboat demeanors with not allowing their message to be drowned out by all the shouting.
"I'm just kind of boring," said Spanberger, earning laughs from her colleagues, drawing a contrast with how some of the other freshmen Democrats in Congress act on a day-to-day basis, constantly putting out "tweetable sound bites," as Spanberger called them, about Trump's latest remarks or taking aim at Republican counterparts in Congress on social media.
These five legislators agreed that going on Twitter to constantly swat at the president in the hopes of having their names slapped in a news story was not the way they would operate.
"I'm not going to do anything outrageous that's going to garner attention, because how does that serve my district?" Spanberger asked. "It doesn't serve my district's legislative priorities, and, frankly, I have three kids that I'm trying to be a model for behavior, and we teach them to work together, focus on the goals and these lessons that people learn in kindergarten. If I start a Twitter war with a colleague or say something emotionally outrageous, that doesn't move the ball along. Then I can't go to a Republican in a meeting and say, 'Hey can you co-sponsor my legislation?'"
They did, afterall, flip seats that were previously held by Republicans, and they're well aware of what their constituients would like and dislike.
"There's a tension between wanting to get the message out but inherently representing people who don't like showboats," Slotkin added.
Advice for 2020 Presidential Candidates: Be Honest
"We have lots of advice," the five women said collectively when asked if they had any tips for the 21 Democrats who have thrown their hats into the 2020 presidential ring.
The biggest one: Be honest with voters about your stances and policies.
"Honesty is refreshing for people. They just want you to tell them the truth, to stand for something and not to have broad, sweeping statements about bright shiny objects in the sky that actually won't do anything," Houlahan said. "I think people are looking for really practical, pragmatic solutions."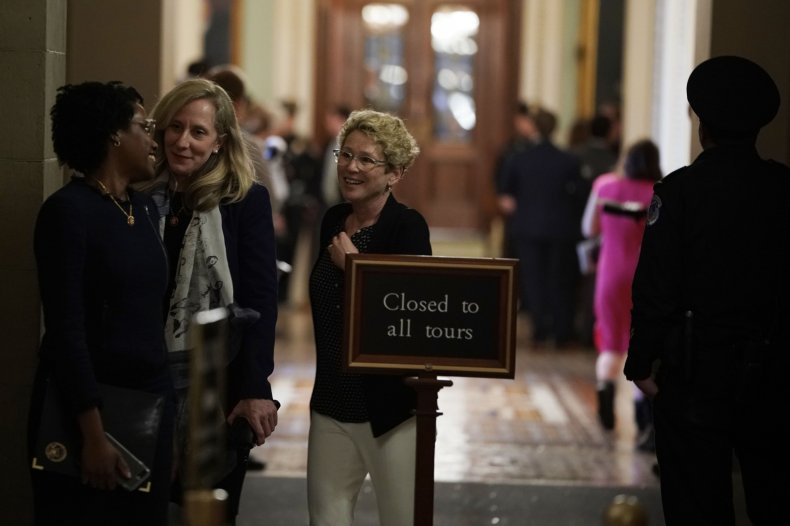 Among the hot-topic issues for 2020 Democrats are Medicare for all and the Green New Deal, policies that more progressive candidates support while more moderate Democrats have been less enthusiastic. Representatives in districts that are neither strongly Democratic or Republican don't want to alienate their base, yet publicly endorsing a proposal they don't fully support could backfire down the road.
"If someone asks a question and you know without a shadow of a doubt they want you to be all in for the Green New Deal and you're not, just be honest," Spanberger said.
The Democratic Party waded into uncharted territory this past week, not because the House Judiciary Committee voted along party lines to hold Attorney General William Barr in contempt of Congress for refusing a subpoena but because the party's top members declared a "constitutional crisis" had arrived.
"We are now in a constitutional crisis," said Judiciary Chairman Jerrold Nadler, who characterized the Trump administration as "lawless" for refusing to comply with several congressional inquiries into the president that were mounted by Democrats.
These five freshmen disagreed with this declaration of a crisis, and cautioned colleagues who may wish to take drastic measures, including impeachment.
Despite claims of a consitutional crisis, Democratic House leadership has so far tamped down calls from progressive rank-and-file members to begin impeachment proceedings, with Speaker Nancy Pelosi repeatedly saying Trump is "not worth it." Instead, Pelosi and other leaders advise continuing to conduct oversight and investigate the Trump administration.
"I do not think that we are in a constitutional crisis at this time," Houlahan said. "I do think that we are heading that way, and I think that we need to be very sober and deliberative about how we approach this as a Congress and as a nation. I'm pleased to see that we are being sober about that and we are being deliberate about the process."