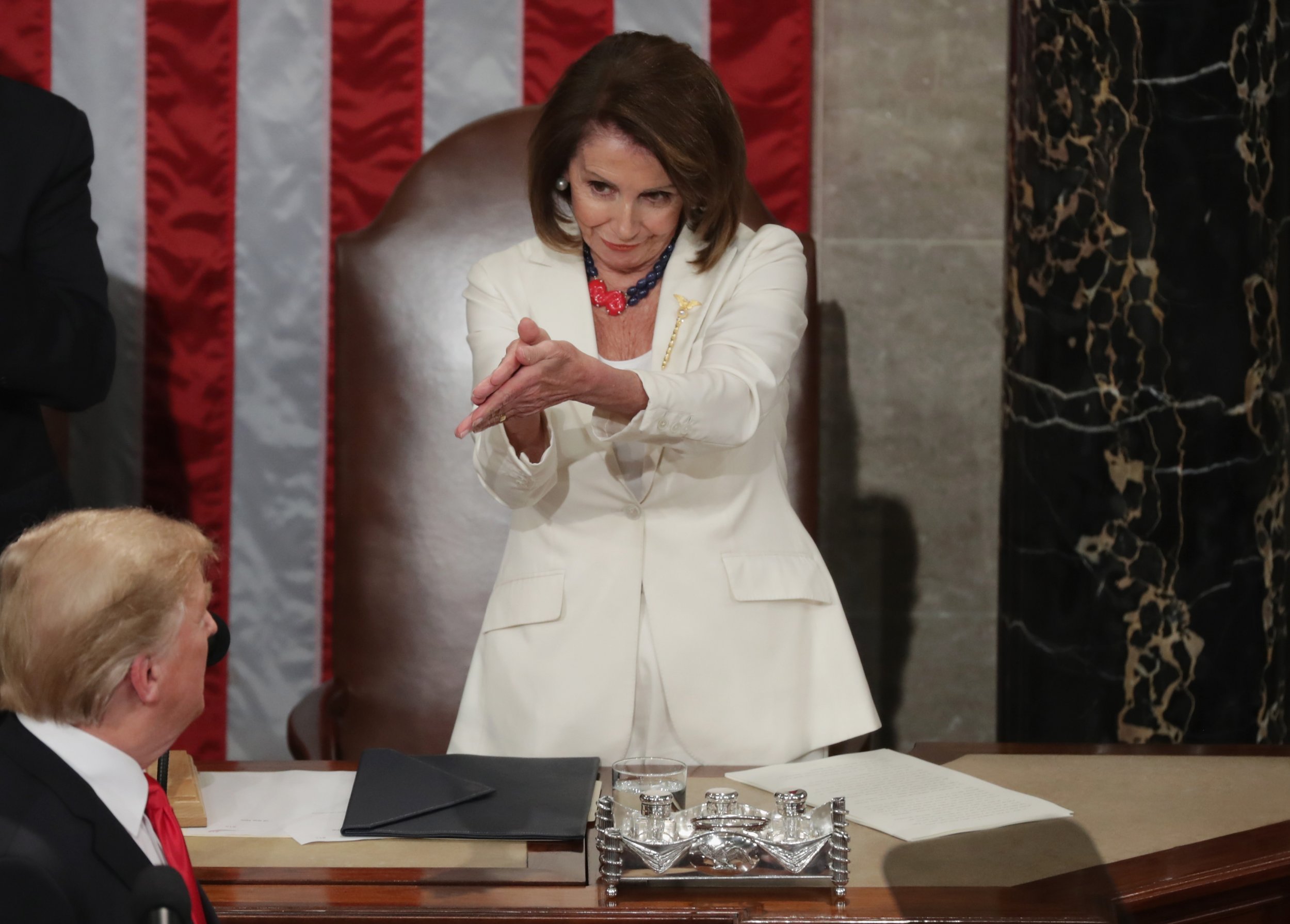 As the tension between House Democrats and the White House continued to escalate this week with a contempt citation issued to the attorney general, Speaker of the House Nancy Pelosi said Thursday she agreed with a Democratic colleague that America is in a "constitutional crisis."
The House Judiciary Committee voted along party lines Wednesday to hold Attorney General William Barr, the nation's top law enforcement official in the country, in contempt of Congress for refusing to comply with a subpoena to turn over the unredacted Mueller report and its underlying evidence. The committee's chairman, Democrat Jerrold Nadler of New York, said the administration's stonewalling had now placed America in "a constitutional crisis"—and Speaker Pelosi agreed.
"Yes, I do agree with Chairman Nadler because the administration has decided that they are not going to honor their oath of office," Pelosi told reporters Thursday. "Every day, they are advertising their obstruction of justice by ignoring subpoenas and by declaring that people shouldn't come and speak to Congress, so that the American people can find out the truth about the disruption of our election so that it doesn't happen again."
With the president's vow to "[fight] all the subpoenas" from House Democrats, several administration officials have, either at the direction of the White House or the Justice Department, refused to cooperate with congressional investigations. Most recently, that included former White House counsel Don McGahn, who refused to turn over documents subpoenaed by the House Judiciary Committee after the White House said he could not due to executive privilege protections. It is unclear whether he will comply and show for his required May 21 testimony date.
The Treasury Department on Monday missed a third deadline to release Trump's tax returns to the House Ways and Means Committee, telling the Democratic chairman that the Justice Department determined the request "lacks a legitimate legislative purpose."
"We're talking about a cumulative effect of obstruction that the administration is engaged in, and the president declaring that he is not going to honor subpoenas from the Congress," Pelosi said. "So, I support the path that our chairmen are on, and I do believe that it will establish the case for where we go from here."
Democrats have grappled with how to respond to Trump in the wake of the Mueller report, with leadership tamping down impeachment calls from more progressive, newer members, saying the correct path is to first see where congressional investigations lead them. Pelosi suggested the administration "wants" a constitutional crisis, and earlier this week, she said that "Trump is goading us to impeach him.... He's just taunting, taunting, taunting because he knows it would be divisive in the country."
Asked whether classifying the current state of affairs as a "constitutional crisis" devalued leadership's restraint from advocating for impeachment, Pelosi said, "No, I think that what we want to do is get the facts."
"We're going to do the right thing.... It's going to be based on fact, law and patriotism—not partisanship or anything else," she continued. "We want to do it in a way that's the least divisive to our country and the most productive."
As many Democrats have alluded, testimony from Mueller could determine how the party proceeds. Pelosi agreed, but in the wake of the current tensions between Congress and the Justice Department, Nadler said his certainty that the special counsel will be permitted to appear for testimony next week has diminished. The chairman said he'd issue a subpoena, if necessary.
The contempt citation against Barr will need to be approved by the full House in order to proceed with enforcement, which will likely lead to a court battle. Pelosi did not give a definitive timeline as to when the measure would be voted on, suggesting they may wait until they can deal with "some other contempt of Congress issues…at the same time." Nadler has already threatened to proceed with contempt proceedings against McGahn, if he continues to not cooperate and fails to appear for his May 21 testimony.
House Minority Leader Kevin McCarthy, a Republican, said Thursday following Pelosi's remarks that it would be "an embarrassment if the Democrat majority brings this to the floor."