Mogadishu Attack: Al-Shabab Militants Attack Government Buildings in Somalia's Capital, Killing Civilians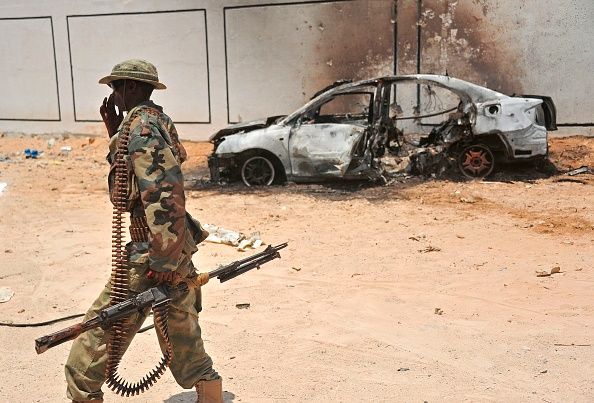 Two car bombs killed at least 18 people and wounded around two dozen more in Somalia's capital, Mogadishu, on Friday before militants assailed a pair of buildings near the presidential palace.
Ambulances arrived immediately on the scene to bring the wounded to the hospital. One suicide car hit a hotel close to the presidential palace. Armed militants reportedly stormed the building after the car exploded. The second car exploded near another government building a few minutes later.
Social media users posted videos of the explosions, which showed white clouds of smoke rising above Mogadishu's buildings.
"This is following a pattern of Al-Shabab in recent months attempting to make high-profile attacks, garnering international attention and to undermine government attempts to challenge them," Harrison Akins, a security expert at the Howard Baker Center, told Newsweek. A truck bomb in Mogadishu killed 500 people in October in one of Somalia's deadliest terror attacks.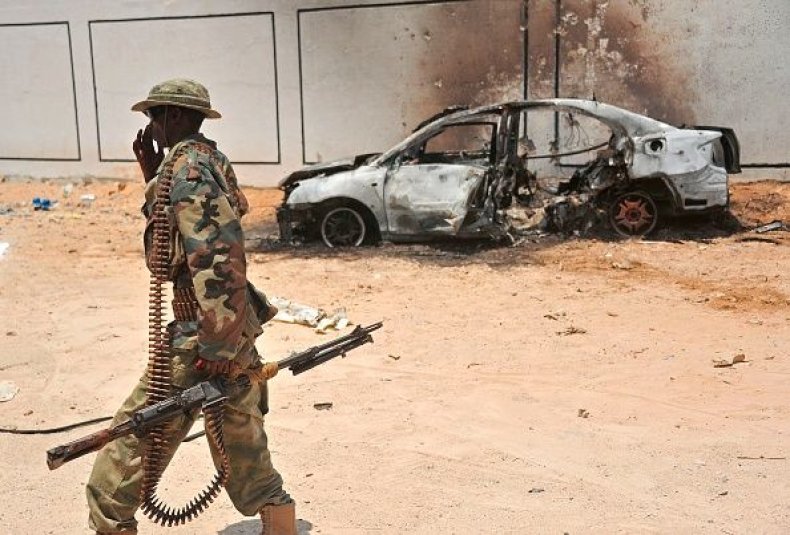 Somalia's capital is often under attack by the armed group Al-Shabab, which immediately claimed responsibility for the violence. Issuing a statement through its Shahada News Agency, Al-Shabab, which means "the youth" in Arabic, said that "fierce clashes" were raging near Mogadishu's presidential palace. A representative of the group announced that the hotel had been targeted because it belonged to a government minister.
Al-Shabab once controlled Mogadishu and large parts of the Somali countryside, but in recent years a military campaign led by the African Union pushed the group out of major population centers.
It advocates a Saudi-inspired Wahhabi version of Islam and wants to impose Sharia law in Somalia. It is currently fighting to overthrow the internationally recognized government based in Mogadishu, and two weeks ago the government issued a terror warning for the capital.
The group is also reportedly extorting huge amounts of money from impoverished communities in Somalia and recruiting armies of children. In January, Human Rights Watch issued a report claiming Al-Shabab had ordered communities in Somalia's Bay region to hand over their children for military training and Islamic education.
It also implements brutal tactics like stoning people to death for adultery and killing gay people.
"Many analysts say different factions within the group have different objectives, though Al-Shabab as a whole continues to pursue its broad aim of establishing an Islamic state in Somalia," reads a January report from the Council for Foreign Relations.
"A major cleavage among the group's leaders divides those known as nationalists, who largely seek to oust the central government, from militants with transnational aims."