Moldova Tensions Rise as Flights Canceled Over Security Concerns
Hungarian low-cost carrier Wizz Air announced late Monday that it will be suspending all flights to and from Moldova's main airport starting March 14 linked to rising tensions with Russia.
Earlier this month, a Russian missile was fired over Moldovan airspace. The pro-European republic, which is located between Romania and Ukraine, has feared that it could be caught up in the invasion launched by Russian President Vladimir Putin in 2022.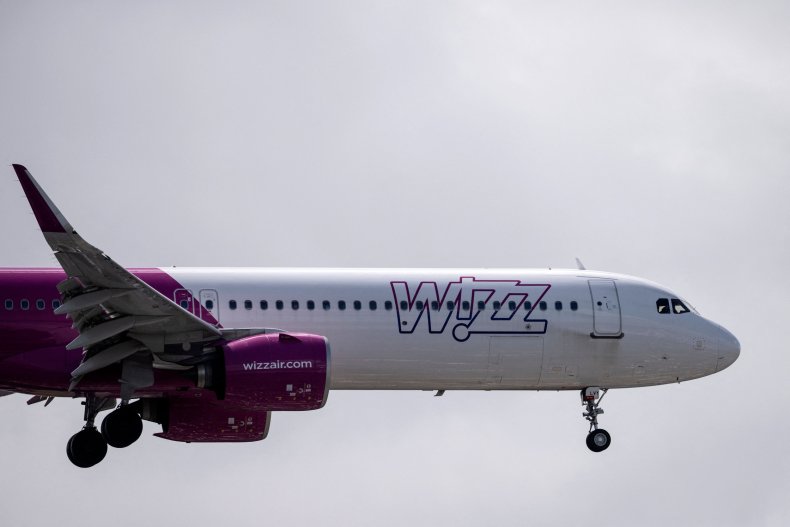 "Due to recent developments and the high, though not imminent, risk in the country's airspace, Wizz Air has taken the difficult but responsible decision to suspend all its flights to Chisinau as of March 14," the budget airline said in a statement.
Moldova's civil aviation authority described the decision as sudden and regrettable, and said in a statement that flights "which respect a number of procedures, could be carried out safely."
The decision, it said, is connected with the "recent events" in Moldova and "although not one hundred percent, but a high risk in the country's airspace."
It said that Wizz Air had sought approval for its summer flight schedule on February 14, and the agency "determined that flights in the national airspace can be carried out safely by following a number of procedures."
Wizz Air said in a statement that "safety of the passengers and crew remain Wizz Air's number one priority."
"Following the recent developments in Moldova and the elevated, but not imminent, risk in the country's airspace, Wizz Air has made the difficult but responsible decision to suspend all flights to Chisinau from the 14th of March," it said.
Tensions have been rising between Russia and Moldova in recent weeks. Moldovan Foreign Minister Nicu Popescu said on February 22 that his country was prepared for a "full spectrum of threats."
Moldovan President Maia Sandu alleged earlier this month that Russia, with the help of people posing as anti-government protesters, was seeking to overthrow her government and stop the small Eastern European country from joining the European Union.
Sandu, an ally of Ukrainian President Volodymyr Zelensky, also accused Russian counterpart Putin of wanting to use Moldova in the war against Ukraine.
Moldova, a former Soviet republic that shares a border with Ukraine, has had Russian troops in its breakaway region of Transnistria throughout Putin's invasion of Ukraine.
The Institute for the Study of War (ISW), a U.S. think tank, said last week Putin "lacks the military capability" to attack Moldova, but said Putin is actively working to undermine the Moldovan state.
Russia's foreign ministry has dismissed the allegations as "completely unfounded and unsubstantiated."
And on February 23, Russia's ministry of defense accused Ukraine of planning to stage a false flag attack as a pretext for Kyiv invading Moldova's breakaway Transnistria, a Russian-speaking region which borders Ukraine and is not recognized internationally.
Putin last week canceled a decree from 2012 that recognized Moldova's sovereignty in resolving the dispute over Transnistria.
Russia's state-run news agency Tass published a poll on Monday saying that the majority of Moldovans want their country to "stick to constitutional neutrality" amid the ongoing conflict in Ukraine.
The poll, conducted in 89 Moldovan settlements from February 6 to 23 and involved 1,100 respondents, showed 60 percent of respondents said they are afraid that the Ukraine war may spread into Moldova's territory.
Newsweek has contacted the Moldovan and Russian foreign ministries for comment.