Moldova Closes Airspace as Russia Coup Fears Grow
Moldova temporarily closed its airspace, the country's national airline said on Tuesday, just hours after Russia dismissed claims it was planning to overthrow the Moldovan government.
Air Moldova announced the closure on Facebook at about 2 p.m. local time, before issuing an update at 3:17 p.m. saying that the airspace had been reopened.
"Dear passengers, at this moment, the airspace of the Republic of Moldova is closed. We are waiting for the resumption of flights," Air Moldova announced in its initial post on Facebook.
"UPDATE - Airspace has been opened!" it said shortly after.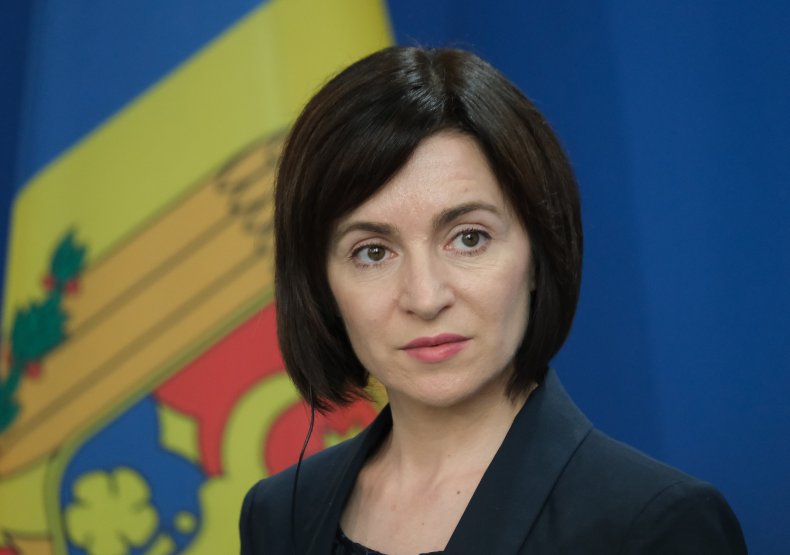 A source at Chisinau International Airport told Reuters that the country's air space was temporarily closed because of security concerns.
The development came as fears of a Russian coup grow. On Monday, Moldovan President Maia Sandu alleged that Russia, with the help of people posing as anti-government protesters, was seeking to overthrow her government and stop the small eastern European country from joining the European Union.
Sandu, an ally of Ukrainian President Volodymyr Zelensky, also accused Russian counterpart Vladimir Putin of wanting to use Moldova in the war against Ukraine.
Moldova, a former Soviet republic that shares a border with Ukraine, has had Russian troops in its breakaway region of Transnistria throughout Putin's invasion of Ukraine.
Russia's foreign ministry dismissed the allegations on Tuesday as "completely unfounded and unsubstantiated." Spokeswoman Maria Zakharova said they were based on the "classical techniques often used by the United States, other Western countries and Ukraine."
Last week, Zelensky told leaders during the European Council summit in Brussels that his country had intercepted a Russian intelligence plan "for the destruction of Moldova."
On Monday, Sandu told a press briefing that Russia's "plan" included "sabotage and militarily trained people disguised as civilians to carry out violent actions, attacks on government buildings and taking hostages.
"Reports received from our Ukrainian partners indicate the locations and logistical aspects of organizing this subversive activity. The plan also envisages the use of foreigners for violent actions."
Moldovan Prime Minister Natalia Gavrilita announced her resignation a day after Zelensky's claims. Sandu then appointed her defense and security adviser, Dorin Recean, to succeed her.
U.S. National Security Council spokesman John Kirby on Monday said the reports Putin was plotting to overthrow the Moldovan government are "deeply concerning" but noted that the United States has not verified the reports.
"Deeply concerning reports," Kirby said. "We absolutely stand with the Moldovan government and Moldovan people. We haven't seen independent confirmation, but it's certainly a page right out of Putin's playbook."
Moldova is the only European country to be fully dependent on Russian gas. The country received EU candidate status last year but has since been rocked with anti-government protests organized by the oligarch Ilan Shor, who reportedly has close links to the Kremlin and heads the Shor Party, a populist Moldovan political party.
Newsweek reached out to the Moldovan Foreign Ministry for comment.
In a separate incident on Tuesday, Romania's defense ministry announced that an aerial target that looked like a weather balloon was detected by the Romanian Air Force's surveillance system flying in the country's airspace at an altitude of 11,000 meters (slightly more than 36,000 feet). Two MiG 21 LanceR jets were unable to detect its presence, the ministry said.
Update 2/14/23, 10:08 a.m. ET: This article was updated with additional information.