Molotov Cocktails Thrown at Russian Military Enlistment Office
A fire broke out in a Russian military enlistment office after Molotov cocktails were reportedly thrown inside the building.
News outlet Baza reported that an unknown person broke into the first floor of the building in Belgorod around 3 a.m. Friday morning and threw the flammable devices inside.
A table caught alight and the blaze was quickly extinguished by responders within a few minutes, according to the regional department of Russia's emergency situations ministry, that did not list the cause of the fire and which Newsweek has contacted for comment.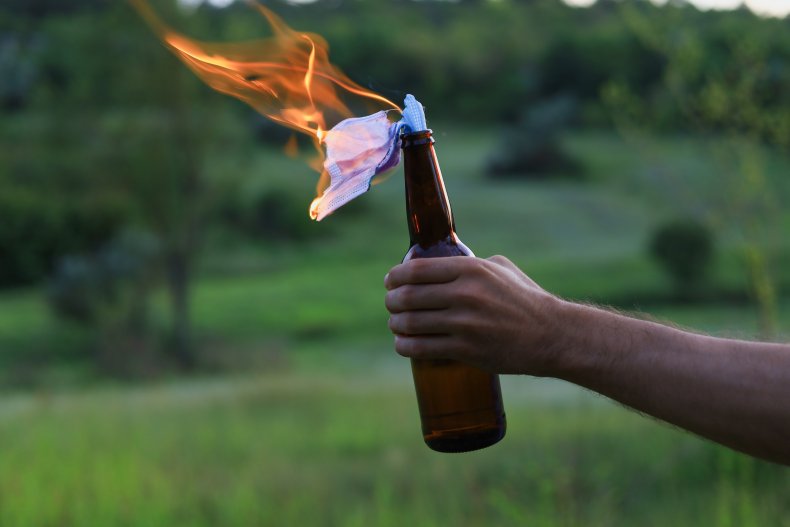 Images shared on Baza's Telegram social media channel show a glass bottle and a broken window of the two-story building on Belgorodsky Prospekt.
Belgorod is located about 25 miles north of the border with Ukraine where the war has been raging for more than four months.
The Belgorod region has been the scene of suspected sabotage attacks by Ukraine. In April, an ammunition depot caught fire near the village of Staraya Nelidovka.
Last month, Russia accused Ukraine of a helicopter attack on a fuel depot in the city where an ammunition depot was also targeted.
Russian authorities also said that an oil refinery at Novoshakhtinsk, a few miles from the border in the Rostov region, was ablaze Wednesday morning after being hit by a Ukrainian drone. Kyiv has not confirmed it was responsible for any of the attacks.
There have also been a number of attacks on military enlistment offices throughout the country. Earlier this month, an office recruiting troops in the far eastern city of Vladivostok, was reportedly set on fire by two men, according to local reports.
In April, Molotov cocktails destroyed computers and a database of conscripts in the Zubova Polyana settlement in the remote Mordovia region.
In March, military enlistment offices in the Voronezh, Sverdlovsk and Ivanovo regions were damaged by locals using Molotov cocktails. Men arrested in two of the cities said they were trying to disrupt the recruitment campaign in protest at the war.
Soon after the invasion, a 21-year-old said he set fire to an enlistment office in Lukhovitsy, in the Moscow region to destroy archives to prevent mobilization for the war, according to The Moscow Times. Those detained for such acts face criminal charges ranging from property damage to attempted murder and terrorism.
In mid-May the General Staff of the Armed Forces of Ukraine, said there had been at least a dozen instances of arson at Russian enlistment offices.
Update 06/24/22, 4 a.m. ET: This article has been updated with a further information.