Molotov Cocktail Thrown at Russian Police Bus in Moscow
A man hurled a Molotov cocktail at a riot police vehicle in central Moscow on Monday evening, according to local media reports.
Russian authorities reportedly detained a 45-year-old Moscow man after he threw the Molotov cocktail at a riot police bus that was near the Karl Marx monument on Revolution Square, according to Latvia-based Russian-language news outlet Meduza.
The vehicle caught fire, and "burned for a couple of minutes," before the blaze was extinguished and the individual was detained, an eyewitness told Russian-language independent news outlet MediaZona.
Two Russian security officials apprehended the man on a grassy area near the vehicle. Videos obtained by MediaZona and Baza, a Telegram news channel with links to Russian security services, showed that the front part of a riot police vehicle was charred in the incident.
According to state-backed Russian news website Life.ru, the detained Muscovite had previously disobeyed police officers and "held rallies."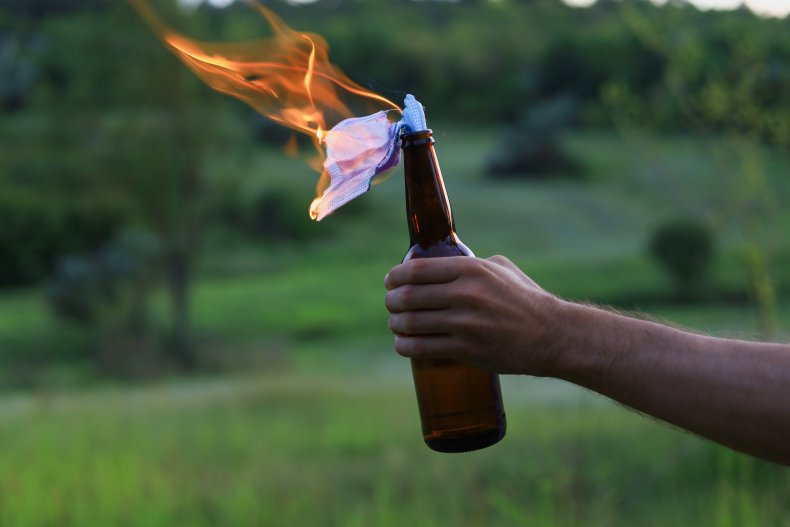 Russian authorities have been cracking down on "anti-war" protests since Russian President Vladimir Putin launched his invasion of Ukraine in February.
According to OVD-Info, an independent watchdog that monitors human rights and political persecutions in Russia, more than 15,000 anti-war protesters have been detained across the country since the invasion began more than two months ago.
Russian officials have also detained people who demonstrated with blank signs, Newsweek previously reported.
On March 28, a court in Moscow sentenced a 22-year-old university student to two years in prison, after she threw a Molotov cocktail that failed to ignite during a rally on February 24.
Russian officials accused Anastasia Levashova of hurling the Molotov cocktail toward police officers, although it wasn't clear which direction she intended the bottle to go.
Before she was sentenced in the Tver district court, Russia's Investigative Committee released a video in which the 22-year-old apologized for the incident, and said she regretted her actions.
In a separate incident last month, an unidentified man was caught on camera in Moscow hurling a Molotov cocktail at the walls of the Kremlin, the official residence of the Russian president.
A short clip of the incident, captured by someone in a moving vehicle, appeared to have first been shared on TikTok.
The video shows a small fire burning on a section of the wall, and when it is extinguished, a large scorch mark was visible.
Russia's Investigative Committee first warned citizens on February 25 that they could be arrested for organizing or participating in illegal protests.
"All such offenses, as before, will receive an adequate legal evaluation, and the persons who committed illegal actions will face appropriate punishment," the committee said.
Newsweek has contacted Russia's Ministry of Foreign Affairs for comment.
Update 05/03/22, 9:10 a.m. ET: This article was updated with additional information.