Mom-to-Be Banning 'Disapproving' Mother-in-Law From Delivery Room Backed
The internet is behind a pregnant woman who refused to let her mother-in-law in the delivery room when she gives birth.
In a viral post published to Reddit's "AmITheA**hole" forum, a woman under the username u/GoldSun777 earned over 14,000 upvotes and 3,000 comments.
The Reddit user explains she and her mother-in-law have a "bitter relationship," as she doesn't "approve" of her or her family. The original poster (OP) is six months pregnant with their second child. With their first child, the OP's husband asked if she considered letting his mother in the delivery room. When she said no, she would prefer her own mother in the room, he didn't bring it up again.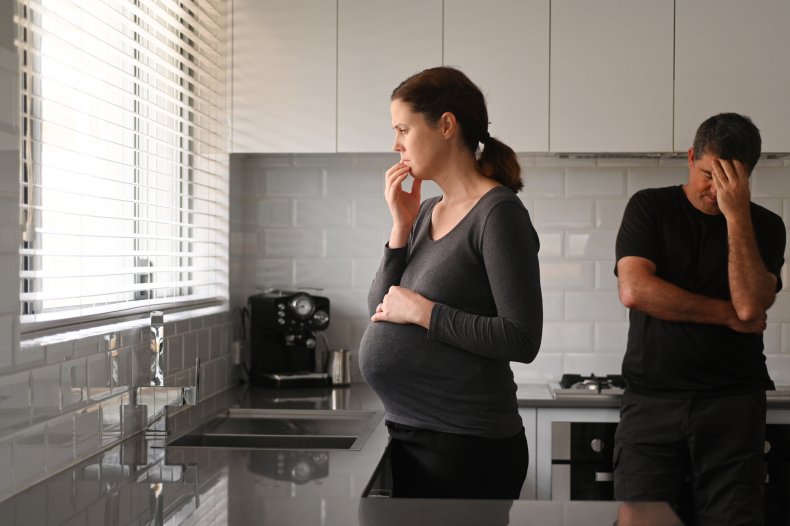 When discussing who would be in the delivery room, the OP said that her mother and her husband would be there with her. Her husband was upset that she didn't want his mother in the room, saying he should get to choose, since she chose last time.
"I told him he was insane if he thought I would let his mother see me in extreme pain. It would be an incredibly uncomfortable situation," she wrote.
Her husband left after their argument and she hasn't seen him since. She called his friends to see if he was with them, but he wasn't there. She even called her mother-in-law, who said that not only had she not seen him, she didn't know his son wanted her in the delivery room.
"Im worried that my husband isn't okay but I also can't help but to feel guilty that I drove him away," the Redditor concluded her post.
In a typical delivery room setting, people present are the partner of the person giving birth along and an additional support person, according to Main Line Health. There were about 3.6 million births in the United States in 2020, the Centers for Disease Control and Prevention reported.
Commenters were quick to defend the OP.
U/SimplySam4210 received the top comment with 26,000 upvotes, "When did squeezing a whole other person out of your vagina become a spectator sport? Of course you want your mom there (I think most women do if they have a nice relationship) for support. I'm older than you, but there have been the occasional day that frankly, I just want my mommy, damn it."
"The woman giving birth gets to decide who is in their delivery room, full stop," u/ITSlave4Decades declared.
"Hard NTA. During childbirth you are helpless and vulnerable. You should have ONLY the people YOU TRUST around you for support. If you have people you don't trust (and don't even like) there, it will only cause you more stress and problems," u/SirEDCaLot explained.
Newsweek has reached out to u/GoldSun777 for comment.