Mom Blasted for Sneaking Into Daughter's Room as She Slept With Girlfriend
A mom has been slammed for overstepping the mark and sneaking into her daughter's bedroom while she was asleep with her girlfriend.
Reddit user King31047180103 has been criticized by thousands of users. They have backed the 23-year-old daughter who was in bed with her girlfriend, 25.
Newsweek reached out to a parenting expert who explained why some parents struggle to respect their children's privacy boundaries.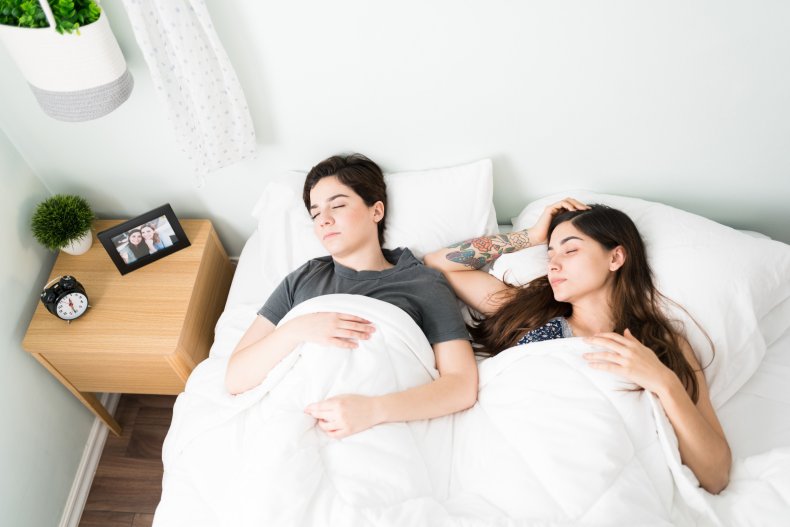 Explaining her story, the mom, 56, wrote: "In the morning I noticed I left my tablet's stylus pen in their room and I needed it to get on with my work. So I thought I'd wait for them to get up and then I'll get it. I waited an hour and they didn't wake up. So I went into their room, retrieved the pen, walked out, and closed the door. I didn't wanna wake them up because they had come a long way on a long flight."
The mom explained the situation was "not a big deal," but her daughter was infuriated and said it made her feel "extremely uncomfortable."
"She was mad and said what if none of them were wearing something appropriate, she insisted that this was an invasion of her privacy. I told her that was not the case. It really wasn't. I didn't even look but I noticed they were only cuddling and they were asleep so nothing was inappropriate in that sense.
"I don't think I did something crazy. It was just a second," added the mom.
'Parents May Feel Rejected by Their Children'
Caroline Rowett, of Caroline Rowett Parenting Coaching in London, told Newsweek that a child's desire for more privacy is usually a normal stage of development. However, it is often one that causes some discomfort for parents.
Rowett said: "It can be helpful to examine what is causing that discomfort, so that the issue doesn't create problems. Parents may feel rejected by their children, sad at the thought of their child growing up, or hurt because they are less needed. Not understanding these thoughts and feelings may lead a parent to overreact or dismiss the request for more privacy.
"If a parent can come to terms with the real reason for their reaction, they are more likely to be able to meet their child's needs respectfully," Rowett added.
"Parents may also have fears for their child's safety, concerns about their mental health or their behavior that cause them to ignore their child's privacy needs," Rowett said. "These concerns may be valid in some cases, but barging into their private space without knocking, or snooping when they aren't there, is likely to cause a trust issue.
"If a parent is concerned, it is better to improve communication and deepen their relationship with their child, so that they can help in appropriate ways."
Rowett said that parents should have a conversation about what is and isn't an invasion of privacy to prevent conflict in the future.
For this mom, the damage has already been done, and her daughter is demanding an apology before she visits again.
What Do the Comments Say?
The post has received 7,900 upvotes since it was shared on February 27.
More than 2,100 Redditors have commented, and the top comment alone has 18,900 upvotes. It read: "I am guessing your history of dismissing her feelings is one reason she's angry. And is probably why she now lives a long flight away."
Another posted: "And the 'I didn't even look but noticed they were cuddling'. So you DID look."
Newsweek reached out to u/King31047180103 for comment. We could not verify the details of the case.
If you have a personal dilemma, let us know via life@newsweek.com. We can ask experts for advice on relationships, family, friends, money and work, and your story could be featured on Newsweek's "What Should I Do?" section.