Mom Cheered for Charging Husband for Lost Earnings—'Financial Independence'
A woman has been praised for expecting her husband to compensate her for lost earnings.
In a post on Mumsnet, under the username Wiwi, the woman explained that her husband, who usually works from home, was looking at accepting a new job in an office.
With the new role four hours away from the family home, the woman was upset that the job would mean big changes for her life, too.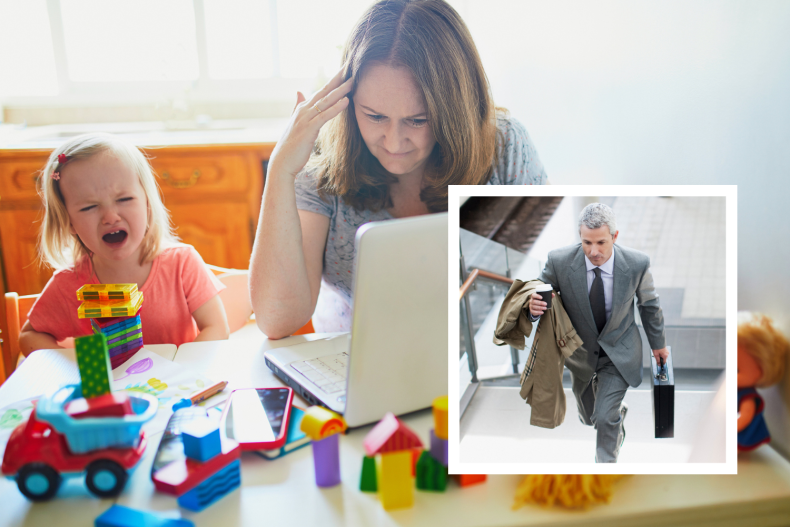 "We have never really shared finances wholly," wrote the Mumsnet user. "I work in a job with unsociable hours, I make good money but I leave work around 8-9 p.m. with compressed hours.
"If my husband takes this job my earning power will be severely impacted as I need to care for my daughter. I have no outside help," the poster explained.
A poll by the University of Chicago Harris School of Public Policy and the Associated Press-NORC Center for Public Affairs Research found that 35 percent of mothers said they are doing more than their partner around the house—a stark difference from the 3 percent of participating fathers who answered the same.
Panicking about what her husband's potential new job will mean for her daily routine, the woman wrote: "I've told husband that he will either have to top up my wages to how much I've lost or pay for a nanny."
But her husband didn't agree and told her that she was being unreasonable. "[He said] that it's good he's earning more money but I don't believe it's beneficial in anyway to my life. I would rather he took the job with less pay so I am able to work as I need too," the woman wrote.
While understanding that her husband would be making more money, she explained that she would rather feel financially secure herself.
"I feel I have financial independence at the moment and the working away would make me feel vulnerable," wrote the Mumsnet user.
Evan D. Schein, head of litigation at Berkman Bottger Newman & Schein, based in New York City, told Newsweek: "Finances and childcare sit right at the top of many marital discussions. Often, those discussions lead to arguments. For many couples, these are hot-button topics, and it can often be very difficult to have these conversations in a calm and rational way.
"It is quite common for one spouse to feel misunderstood, betrayed, and resentment, especially if one spouse feels they continue to sacrifice their needs, time and time again," Schein said.
In more than 330 replies on the now-viral post, Mumsnet users gave their opinions on the couple's work dilemma.
"I think he should pay towards extra childcare if it's needed. I don't think this will work," wrote one commenter.
Another user posted: "I wouldn't be OK with this either. He doesn't get to opt out of family life Mon to Fri. He needs to pick the job that suits his family."
Schein said: "For many people, financial independence is very important. It provides security, stability, and peace of mind. Exercising financial independence can occur while also being open to discussing and sharing finances.
"It is fair to try to find a compromise with each person feeling that their needs are being taken into consideration. The word 'fair' is in the eye of the beholder, and fairness will mean different things to different people," the litigator added.
Newsweek was not able to verify the details of the case.
Do you have a monetary dilemma? Let us know via life@newsweek.com. We can ask experts for advice, and your story could be featured on Newsweek.