Husband Disappointed by Spouse's Lack of Career Slammed: 'Not a Top Job'
A husband telling his wife—who does "everything" in the house while working part-time—to get a "better job" has received a storm of criticism on Mumsnet, the U.K.-based online forum.
In a post shared on the Am I Being Unreasonable subforum (AIBU) subforum under the username AnotherAIBU, the wife, in her mid-50s, said she became a "trailing spouse" after her husband was offered a job abroad and she followed him.
Her husband works in a "very senior" role at a "top" company, she said, adding: "Think City of London finance type role. We have no debts and he has a very good salary."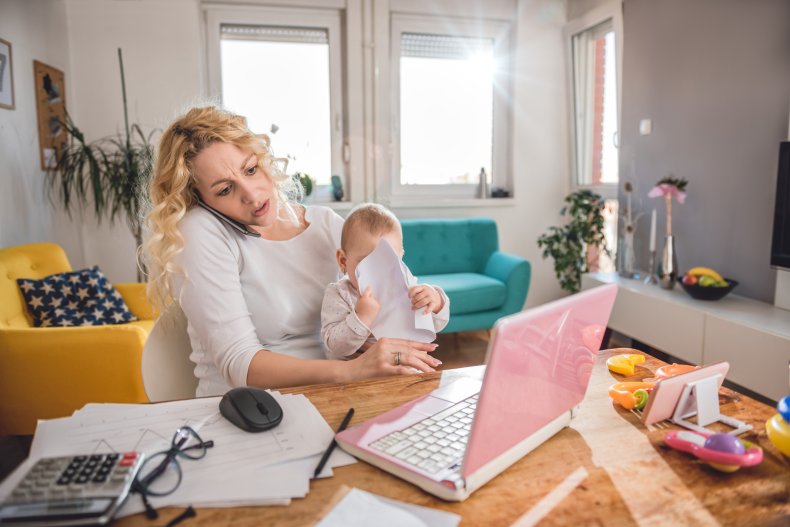 The wife said: "I did work, but as the trailing spouse, my career did not take off like his but I did have good jobs. We moved to 4 different counties with his job. Somewhere in the middle of this, I had 3 DC [dear children] and looked after them."
She said: "I do everything in this house and with the DC" while working 25 hours a week. But her husband "seems very disappointed that I am not working as a top solicitor in a law firm or something similar and is complaining at me to get a better job."
The COVID-19 pandemic had a "devastating effect" on mothers' paid labor, the U.S. Census Bureau reported in March 2021.
According to data from the bureau, 10 million mothers in the U.S. living with their school-age children were not actively working in January 2021, marking a 1.4 million rise from the same month in 2020.
The data showed that at the onset of the pandemic, the share of mothers actively working dropped more than the share of fathers in active work.
One of the two most-cited reasons for this finding was that "mothers carry a heavier burden, on average, of unpaid domestic household chores and child care, which, during a pandemic that draws everyone into the home, disrupts parents' ability to actively work for pay," the bureau said.
The other most-cited reason was that "mothers are more likely to work in service and other jobs heavily impacted by pandemic closures."
The user in the Mumsnet post said she met her husband in college while doing the same course. "We both graduated and had half-decent graduate jobs. I earned more money than him and I also volunteered for voluntary redundancy at my place of work which enabled me to put a deposit down on a house which tripled in value."
Returning home to the U.K. after 20 years abroad, the user said she found it "really difficult to find work" and volunteered for a year just to obtain a reference for a job.
She's been working in her "basic job" for the past four years, while doing "all the drop-offs, pickups, cooking, cleaning, dogs and all the other things" that come with having three kids who are not of college age.
The wife said: "I am trying to get a better job, but just got flat rejections. I just feel really stressed out now, and have been crying.
In a later post, the user said: "He is making me feel lazy, whereas I am run-ragged. I get to sit down at 9pm" and any money she earns "goes straight into our savings account as I want to feel I am contributing."
Michelle Shivers, a licensed family and marriage therapist, told Newsweek that the poster should talk to her husband about the load she's taken on.
Shivers said: "If he is ready to help you in the household and take care of the children, then ask him if he could help you find a better job because he is successful and he must have contacts. If he wants to see you succeed and do a better job, which is not a bad idea, he must contribute.
"I can understand you have tried a lot and faced rejection which is also hard but finding yourself in a better place is not a bad idea. So also ask him to help you upskill yourself," she added.
When it comes to the relationship between a husband and wife, Shivers said there is no "50-50 percent...when your spouse needs you, you give your 100 percent."
Shivers also noted: "I would not say he [the husband] is absolutely unreasonable and arrogant. Perhaps he sees women on the high post but does not know how much support they get from their husbands, friends and other family members."
Perhaps since he "never takes care of his home and children," he does not know how much the poster has "sacrificed."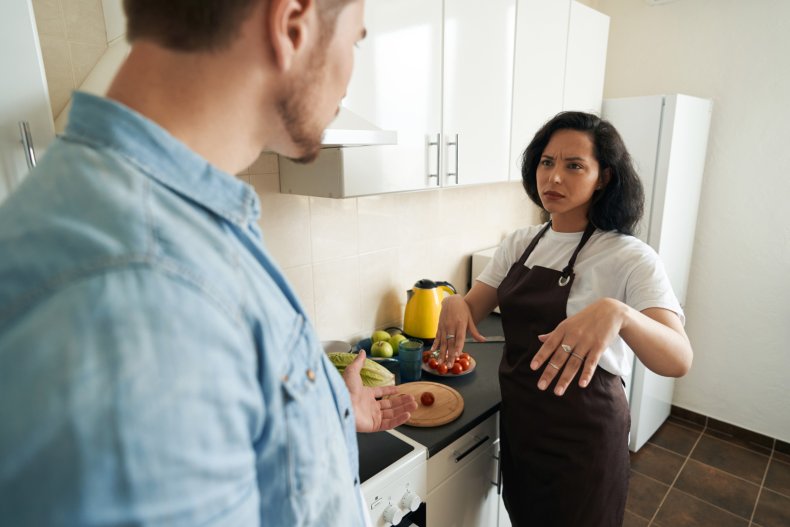 Several users on Mumsnet slammed the husband for being "incredibly unreasonable," as well as "arrogant" and "sexist."
User snowlolo said: "He is being absolutely unreasonable, arrogant and is completely misguided about how the world works...."
In a subsequent post, the same user added: "...I think his misogynistic/ sexist values are shining through. I'd run a mile."
User Forth said: "Wow. He's being incredibly unreasonable," and user Blanketwars agreed, stating "It's not like he didn't know you were going to take a hit in your career for god's sake! He's being totally totally unreasonable."
User SnowAndFrostOutside said: "If he's been the trailing spouse for 20 years, how would you get the top job? He didn't allow you to develop your career when you were young and now he demanded you have a high paying job? It doesn't work like that at all."
Newsweek was not able to verify the details of this case.
Do you have a similar marriage dilemma? Let us know via life@newsweek.com. We can ask experts for advice, and your story could be featured on Newsweek.