Husband Slammed for Questioning Why Working Wife Finds It 'So Hard' With Their Kids
A "shattered" working mother who has been finding it "difficult" to look after her kids has received a wave of support from Mumsnet users, who criticized her husband for questioning why she found it "so hard."
In a post on Mumsnet's Am I Being Unreasonable (AIBU) subforum, the mom of two (username Keolea), who works three days a week, said she'd been away for a few days and left her kids with her husband for the first time.
The mom said she returned and saw the house was "tidy but not been wiped down," and there was a "big pile of [clothes] washing on the top of the stairs and the washer hasn't been put on once."
Her husband allegedly told her they "needed a chat," as he "cannot understand what I do on my days off and why I find it so hard."
According to a 2020 survey of 440,000 parents, including 226,000 mothers, conducted by health care startup Maven, more than 2.4 million women were reported to be suffering from burnout. Working moms were found to have 28 percent greater chance of experiencing burnout than working dads, the study said.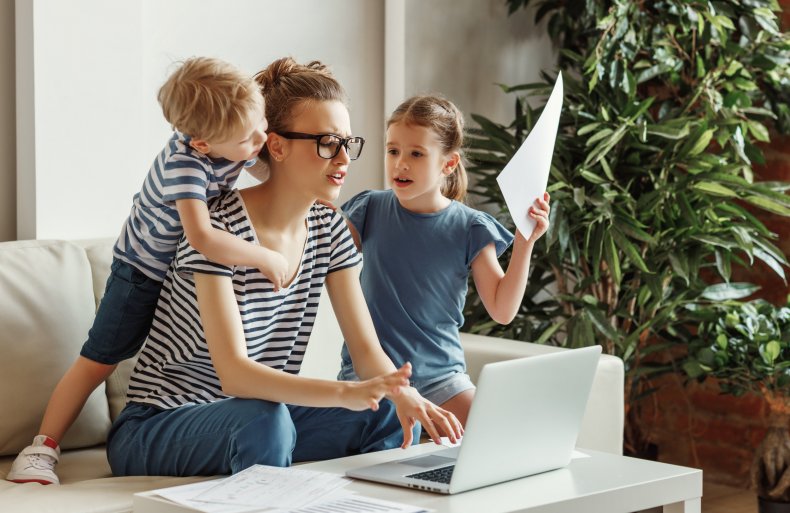 Burnout is a "specific syndrome of exhaustion related to prolonged situations of emotional imbalance, where the burden of perceived stress exceeds personal resources to cope with it," explains a June 2018 study in the peer-reviewed journal Frontiers in Psychology.
According to an April 2022 study in the peer-reviewed International Journal of Environmental Research and Public Health, burnout is a state where "energy is not recharged and is physically and emotionally depleted due to a response to emotional stress, and a sense of efficacy is reduced and incapacitated..."
The "parenting stress of working moms with young children during the COVID-19 period showed a positive relationship with depression..."
Burnout occurs if "the mother fails to relieve the parenting stress and depression and is severely affected," the study said.
The mother in the latest Mumsnet post said she feels "absolutely shattered" by the time her husband gets home from work around 7 p.m. and that she does "find it difficult with 2 young kids."
The user said her children appear to be "more hard work" when they're with her. She said her "very clingy" son "literally won't let me leave the room sometimes," explaining he "doesn't seem to be that way" with her husband.
Several Mumsnet users shared support for the mother of two, slamming her husband for acting like her "line manager." Asking "who does he think he is?", they debated "exactly what he's done these last few days..."
User FiveDollarMilkshake said: "Jeeze who does he think he is? Your line manager? Tell him to jog on."
User fufflecake agreed, stating: "Not sure why he felt he had to ring you, he's not your line manager! Maybe ask what he actually did if he found it so easy?! I'd expect him to have done some of the housework if it was that easy...bet he [hasn't]."
Hidingawaytoday said: "I'm willing to bet that your days off aren't solely looking after the kids but cleaning/shopping/cooking etc etc so it will be interesting to know exactly what he's done these last few days..."
Tothemoonandbackx noted: "Hate s**t like this, because then you're left wondering for the rest of the day what [he's] got to say, I'd call it emotional abuse...I'd be writing a list of everything I do and as he's going along, tick off what he's done and see what he's left with."
MummaB22 shared: "I would go absolutely mental at this! Who does he think he is your boss? Make sure you tell him that he cannot speak to you like that and he cannot tell you how tired you should or should not be! Also tell him to give up his bloody full time job and look after the kids!..."