Stay-at-Home Mom Bashed for Refusing to Work After Husband's Pay Cuts
Online commenters criticized a stay-at-home mom for refusing to get a job to help pay her family's bills.
Posting in Reddit's "Am I The A**hole" (AITA) forum under the username u/mucker113, the woman's husband said he's taken two pay cuts at work and doesn't "have the luxury" to look for a new job, so he needs her help.
The post has garnered 7,900 upvotes and over 2,000 comments from Redditors, many of whom slammed the woman for not doing her part to support her partner. You can read the full post here.
In his post, u/mucker113 said that he and his wife have three children between the ages of 10 and 15. After their first child was born, u/mucker113 told his wife that she could be a stay-at-home mom and "raise the kids."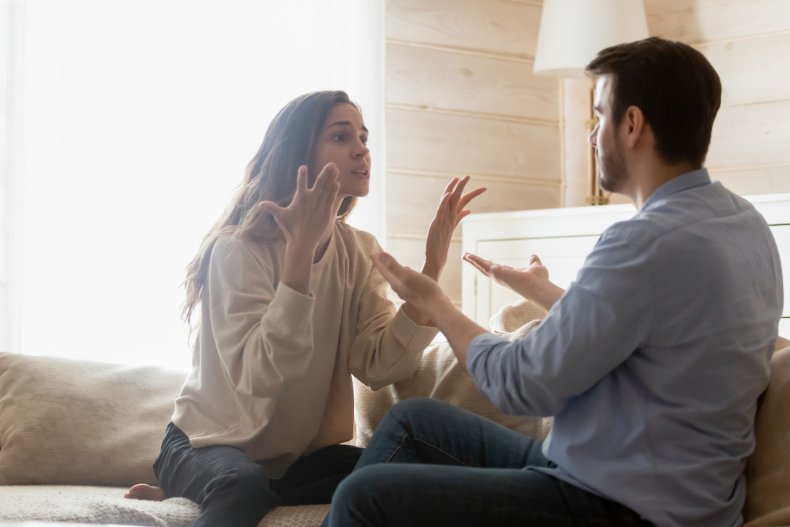 Unfortunately, he's since experienced a couple of pay cuts and has been forced to take a part-time food delivery job on weekends to afford their children's extracurricular activities.
"It's getting to be a mental strain on me financially," he said.
To help ease the burden, he asked his wife to get a part-time job, but she refused.
"She went off on me stating I lied when I said she [could] be a stay-at-home mom when we got married...and [asked me] if I can't afford a family why did I get married," he wrote.
"I'm just at a loss on what to do. I work from home and even offered my wife a job with me part-time while [the] kids are in school [answering] a few of my calls and [transfering] them appropriately to the departments they need," he continued.
He also said his family has taken his wife's side, and though he's reminded them that their "needs have changed," no one will listen.
"My wife hasn't spoken to me in two weeks," he concluded.
Speaking to Newsweek, u/mucker113 said that right now, he's taking things "day by day."
"I loved [my wife] from the moment I laid eyes on her up [until] and including today...[but] I just feel like I'm on a boat in the middle of the ocean by myself," he said.
"Our savings are dwindling rapidly, [and] at the rate [we're going], we will be living paycheck to paycheck in a matter of months, if not a month," he continued. "So I'm just taking it day by day and hoping she has a change of heart sooner rather than later."
Cost of Living
In his post, the man said his two older children are enrolled in sports programs and his youngest wants to start gymnastics. According to a 2019 survey conducted by the Aspen Institute, these programs aren't exactly cheap. The survey found that parents spend an average of $692 annually per child, per sport, ESPN reported.
Of course, some sports cost less than others. The survey found that track and field, for example, costs roughly $191 per year. Gymnastics, meanwhile, costs approximately $1,580, and skiing has an annual cost of about $2,248.
It's also worth noting that many households experienced pay cuts last year, CNBC said. Though average hourly wages increased by 4.7 percent in 2021, inflation grew 7 percent in December, resulting in a 2.4 percent pay cut for the average worker, the station reported.
"In what was the best year for wage growth that we have seen in many, many years, it still comes up as a loss for many households," Greg McBride, chief financial analyst for Bankrate, told CNBC. "Their expenses increased even faster and chewed up all of the benefits of whatever pay raise they had seen."
Redditors React
With all this in mind, many Redditors said u/mucker113 was right to ask his wife to get a job.
"NTA [not the a**hole]. Times change, inflation is high, money is tight...and it's not like your pay is entirely within your control," u/TogetherAgain18 said. "You're doing what you can, and you're asking her for help. I'm pretty sure that's how it's SUPPOSED to work!"
"Your needs have changed, so the family situation needs to change. You never lied to your wife: she was able to be a SAHM for 16 years. And you are essentially working two jobs. If she doesn't help out, you are going to burn out," u/bamf1701 wrote.
"You are NTA, but your wife is. Holy hell, who [the f**k] doesn't support their partner when things change?" u/Final_Difficulty_684 asked. "She'd rather see you work every day and lose your relationships with your kids than help HER OWN FAMILY? Gross. Your wife and both sides of the family should be ashamed of themselves."
More Viral Stories
Earlier this month, Mumsnet users blasted a man who quit his six-figure job without telling his wife.
Last month, commenters slammed a man who told his wife to get a second job and stop "wasting her days." That same week, a different woman went viral for sharing that her husband wouldn't let her get a job.
08/12/2022, 4:11 p.m. EST: This article has been updated to include a comment from u/mucker113.