Mom 'Forced' to Leave Alabama As Ban Prohibits Trans Healthcare for Son
An Alabama mom has launched an online fundraiser to help her move states so that she can access gender-affirming care for her teenage son.
The 48-year-old mom, who asked to be referred to only as Heather, moved to the state only 10 months ago to be closer to her family. Now she says it is necessary to move away again after Governor Kay Ivey signed a bill last week making it a felony to prescribe hormone medications to transgender people under the age of 19.
The bill has sparked outcry from transgender and civil rights advocates, who argue the bill bans families from seeking medically necessary care for their children. The bill states such medications "should not be presented to or determined for minors who are incapable of comprehending the negative implications."
For Heather, the bill is "heartbreaking" as it means her 15-year-old son will not be able to continue with his transition. Up to now, Heather said her son had been receiving care from a doctor at the Children's of Alabama hospital in Birmingham.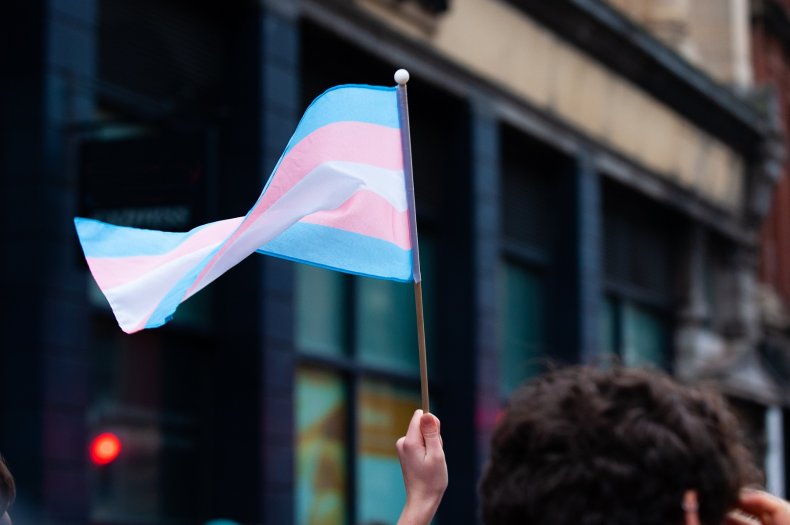 "It's so hard to wrap my head around, that I'm being forced to leave my home so that I don't get charged with a felony for giving my son medication that was prescribed to him by a fantastic medical doctor," Heather told Newsweek.
"I've been estranged from my family for decades and I just got back here and I feel like I'm home again. And I'm being forced to leave. I really don't have words to describe what this feels like."
In the time since moving to Alabama and renewing access to her son's testosterone prescription, she said his health has begun to deteriorate.
"My son's period had begun while he was off his medication," she writes on her GoFundMe page. "He was hiding the fact out of shame and was avoiding liquids so he wouldn't have to deal with the dysphoria he was feeling. I cannot let him detransition. He will not survive it."
Alabama's new bill prohibiting access to hormonal treatments for transgender individuals is called SB184, or the Alabama Vulnerable Child Compassion and Protection Act.
The bill's text acknowledges that some individuals experience "severe psychological distress" as a result of discordance between their internal sense of identity and their sex at birth.
However, it goes on to state that "taking a wait-and-see approach to children who reveal signs of gender nonconformity results in a large majority of those children resolving to an identity congruent with their sex by late adolescence" and refers to gender-affirming care such as hormonal treatments and surgery as part of an "unproven, poorly studied series of interventions".
Almost immediately the bill faced a legal challenge from Dr. Morissa J. Ladinsky and Dr. Hussein D. Abdul-Latif, both providers at the Children's Hospital of Alabama with 55 years' medical experience between them, and two Alabama families.
Their complaint states that the bill prohibits doctors from prescribing transgender medical treatments that are "recognized as the standard of care for the treatment of gender dysphoria in minors and that are safe, effective, and medically necessary" and that "children with gender dysphoria who do not receive appropriate medical care are at risk of serious harm, including dramatically increased rates of suicidality and serious depression."
Heather told Newsweek she does not have the money to move again so soon after relocating to the state—"my parents had to help me move here. Financially, I wasn't even able to get to this state"—which is why she is looking for help.
As of Thursday morning the fundraiser, titled "Help a Trans Child and Family Leave Alabama," had gained just under $2,500. "I am so incredibly appreciative of the help I've gotten so far," she said. "It's way past my expectations, honestly, and has gone a long way in easing my son's mind—knowing that people out in the world actually care about him.
"And yet, I know I will be deeply anxious and scared until the moment we are resituated in a new home somewhere where my family is safe from these harms."
Correction 4/21/22 4:35 a.m. ET: This article was updated to correct the term 'transsexual' to 'transgender' and to correct the name of the Children's of Alabama hospital.