Mom Fought Pitbull While Being Bitten by Fire Ants After Dog Attacked Kids
A pit bull mauled two young children in South Carolina in a horrific attack while their mother attempted to fight the dog off while simultaneously being bitten by fire ants.
The incident occurred on April 26 in the town of Bonneau when an elderly neighbor with dementia walked onto the property of the Bayles family, according to a GoFundMe page set up by a relative. The woman was very confused and asked for help, Robert Williams, the children's uncle, wrote on the GoFundMe page.
The mother, Bethany Hastings, helped the woman onto the family's golf cart and took her back to where she lived. However, when the family arrived at the woman's house, the front door was wide open and her pit bull rushed out and began attacking them "viciously" in an unprovoked mauling, according to Williams.
More than 4.5 million people are bitten by dogs every year in the U.S., according to the U.S. Centers for Disease Control. At least half of those bitten are children, the CDC said.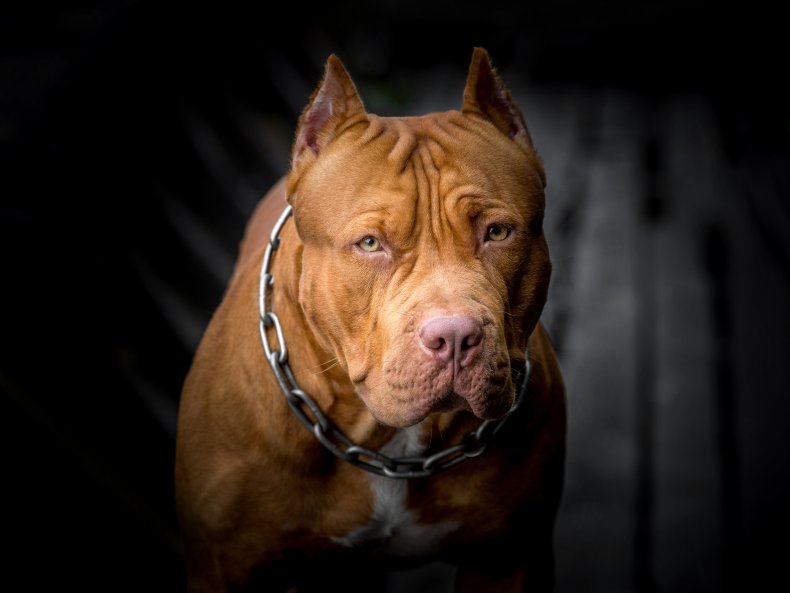 "First the dog lunged at their two year old son two times during which he sustained injuries to his face," Williams said. "Their four year old daughter started screaming and the dog then attacked her."
"Their mother tried to fight the dog off and get her children to safety," he said. "It was then the dog attacked again, ripping her daughter from her hands dragging her to the ground, and causing multiple severe injuries to their little girl's face."
Williams said the mother eventually managed to grab hold of the dog and pull it off her daughter. She then held on to the animal for 15 "terrifying" minutes, while repeatedly being bitten on the face. At the same time, she was also being bitten by fire ants all over her body.
"I didn't have a choice," Hastings told Greenville news station WCSC. "If I had let go, he would have gotten me or them again."
With nobody around to help, the mother also managed to call 911 while she was holding the dog.
"During that time she had to endure watching her children screaming for her while they bled," Williams wrote on GoFundMe. "She was unable to get to them or provide any medical aid because if she had let the dog go the consequences would have been grave."
Eventually, a neighbor arrived at the scene shortly before emergency responders did and took the children to his truck. The family was then taken to the hospital where they were treated for their injuries. The mother and two-year-old son were released from the hospital that same night, but the daughter had suffered severe injuries and ended up spending four days there, including two in pediatric intensive care.
"They hadn't quite seen anything like that before to that extent, with that much damage," Hastings told WCSC. Her daughter will have to have several procedures over the next year or so in order to treat her facial injuries.
An incident report from the Berkeley County Sheriff's Office shared with Newsweek said the child had suffered "extensive" trauma, and that the officers who had responded to the scene "observed a large amount of blood and blood spatter" on the inside of the golf cart, and on the grass around it.
Williams said the children are "fortunate to be alive" and that the lives of the family have been turned "completely upside down" because of the event. He said he set up the GoFundMe page because the family is in "dire need" of legal representation and medical funding.
"My hope is to get their story heard, get the help they need, and to slowly get their lives put back together," he wrote.
Newsweek reached out to the Berkeley County Sheriff's Office for comment.
Several other serious dog attacks have made headlines in recent weeks. These cases have included a woman in Oklahoma who authorities say was killed by a pack of dogs, a South Carolina woman who had her arms amputated following a mauling, and a toddler who died after being attacked by his family's dog.
Update 05/20/22, 10:25 a.m. ET: This article was updated to include information from a Berkeley County Sheriff's Office incident report.