Mom's Happy Dance Caught on CCTV Over Grandma's Surprise Visit Warms Hearts
A mother has echoed the sentiments of many new mothers in a comical TikTok video with over eight million views.
In the video, caught on a security camera, a young mother with a stroller suddenly notices her mother driving up to her house unexpectedly and starts jumping with joy. April Hendy, @aprilhendy89, titled the video, "When my mother turns up unexpectedly! Thank you Mother Bear!"
Newsweek has asked Hendy for comment.
Mothers Needing Mothers
A study from 2019 found that the thing most women want after giving birth is in fact, their own mothers, or someone similarly supportive and close.
The study, published in the journal Reproduction, Health, and Medicine by Danielle Bessett, an associate professor at the University of Cincinnati, found that although generic self help books suggest a "generational disconnect" between mothers and their pregnant daughters, due to their hugely different experiences, most women actually do rely on their mothers for support when pregnant, and post birth.
The study interviewed 64 pregnant women and 23 grandmothers and found that almost all the women interviewed were in contact with their mothers and consulted them about all sorts of pregnancy issues.
The study found that "Black and Latina women and white women with less than a college degree disregarded or even rejected the disconnect; they tended to frame their mothers' advice as relevant."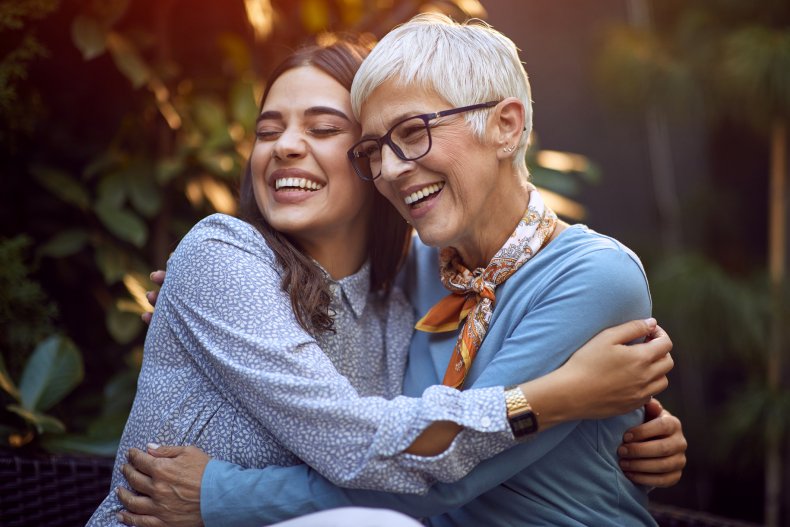 They took their mothers to prenatal appointments, and spoke to them about any medical issues they were concerned about.
The study also found that "by contrast...highly educated white women tended to endorse the generational disconnect when it came to matters related to pregnancy health behaviors—what to eat, how much to exercise—and their obstetric care. The mothers of these women not only largely supported the generational disconnect, but also bonded with their daughter over a shared appreciation for scientific understandings of pregnancy."
"She's My Angel"
Many people on TikTok expressed their envy. "You are lucky to have her close", said one user, while Hendy responded, "She's my angel. We lost my dad last year and she still continues to be the best! I know I'm lucky!"
Not everyone on TikTok had great experiences with their mums, "If I saw my mother pull up, I'd run in the house and lock the door. But I'm genuinely happy that you must have a GOOD MOM that loves you very much!", said one, while another agreed, "I have never had this, no one from my family bothers with my children. So lovely to see you so happy x".
"All Moms need a break, but especially new Moms really need them", said one person, "My bestie had PPD [postpartum depression] and I was her call. I'd answer the phone and she'd be sobbing."