Mom of National Guard Says He Was 'Better Cared for in Afghanistan' Than Protecting D.C.
The mother of a Maryland National Guard currently serving on the front lines to protect Washington, D.C. says her son was better cared for by the Army in Afghanistan than in the nation's capital.
Following years of fighting in the Middle East, the former soldier was deployed to D.C. last Thursday after Trump supporters stormed the federal building in an insurrection that left five people dead, including a police officer.
His mother wants to let others know about the experience facing the men and women working to keep the city secure.
She described the shifts are long, the outside conditions as cold and detailed how many Guardsmen have been forced to use trash bags and armor for pillows and blankets.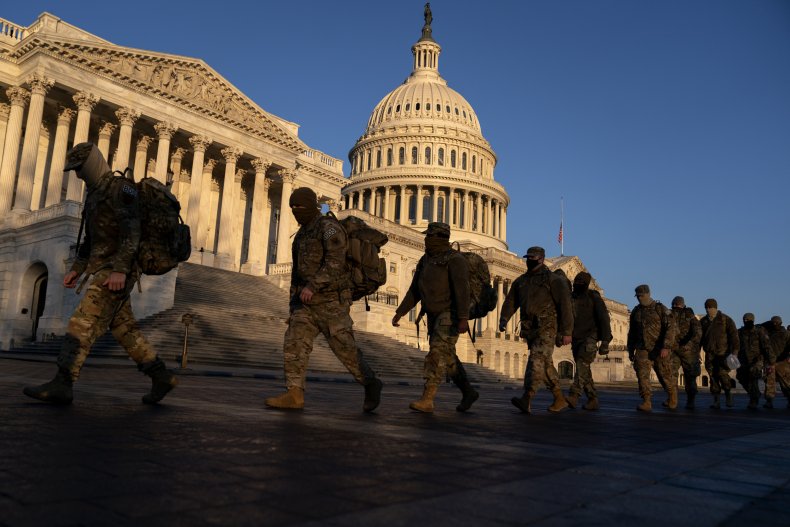 "He said in many ways he felt he was better cared for by the army in Afghanistan than he feels he's cared for now," the concerned mother told WUSA9.
"I just got off the phone with him and he said some of the young men that he's with don't have enough money to buy some extra gear they might have so they're wearing three pairs of extra socks to keep their feet warm. He went online today to order some more gear from Amazon that he's going to have delivered to my nephew who lives in D.C. and then my nephew is going to walk over some of the stuff."
According to the guardsman, he is not allowed to drink coffee "because of the optics," no laundry service has been made available and the food is less than ideal.
"He gets cold food at about eight o'clock at night. He gets a box of cold food left out on the sidewalk for him. Cold spaghetti at eight o'clock," his mother said. "He feels like he really isn't getting enough food, so he's bought some of his own food. He's gone to local convenience stores."
The guardsman's mother, who did want her son's name to be identified due to the sensitive nature of his deployment, said her son also works as a police officer and has a wife and young son waiting for him to come home.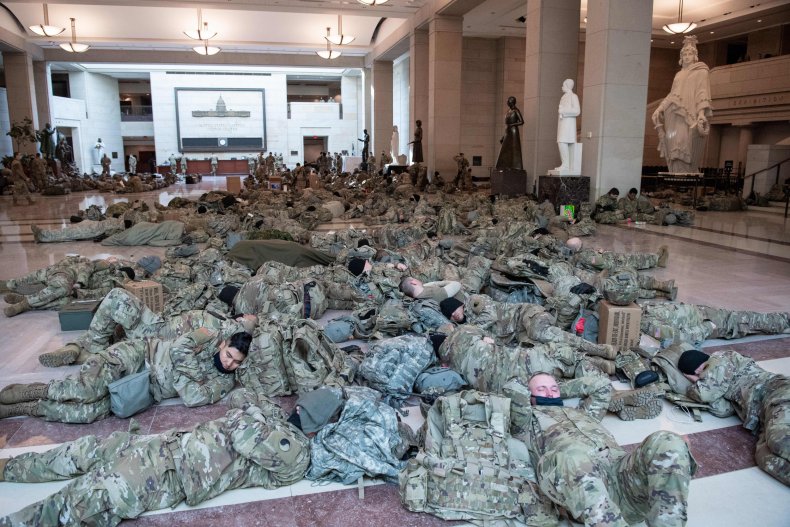 As troops often sleep close to one another at night, with some often taking their masks off, she is also worried about coronavirus distancing measures. "He said he's not allowed to request a test unless he has obvious symptoms," she said.
Photos of guardsmen sleeping on floors have circulated on social media, prompting the National Guard to release a statement saying the photos showed the troops when they were considered on-duty.
"Please know our National Guardsmen have appropriate lodging for when they are off-duty; the photos circulating are of them on-duty, in a designated rest area between shifts," the statement read. "Being present is the first step in ensuring the safety of our citizens and our Nation's Capitol. Our security personnel work in shifts and rest when they can as others stand watch."
In an email to Newsweek, Alfred Puryear, chief of public affairs for the Virginia National Guard, wrote that "areas of the Capitol have been designated as rest areas for National Guard personnel when they are on duty but between shifts, and this is not where they are lodging when they are off duty."
He continued: "Our security personnel work in shifts and rest when they can as others stand watch. Being present is the first step in ensuring the safety of our fellow citizens and our Nation's Capital."
The Maryland mother hopes her son's time on the front lines will be over soon and says she can hear the discomfort in his voice when they speak on the phone.
"I can hear stress in his voice. He sounds tired," she said. "It hasn't been a good deployment and he doesn't feel like he has a defined mission."
"It's hard and we'll be thankful when all of our soldiers can come home," she added.
A total of 1,100 members of the D.C. National Guard were called up by Acting Defense Secretary Chris Miller on the afternoon of Wednesday January 6 as a mob rioted through the halls, chambers and offices of the U.S. Capitol.
By 6 p.m. Miller has authorized the mobilization of up to 6,200 National Guard members from Maryland, Virginia, New York, New Jersey, Delaware and Pennsylvania.
"These service members will flow into the city over the next few days and will help secure the peaceful transfer of power to President-elect Joseph Biden on Jan. 20," the National Guard said in a statement.
Newsweek has contacted the National Guard for comment.
Supporters of President Donald Trump descended on Washington, D.C. on to protest the Congressional certification of state's Electoral College votes. Some eventually breached the Capitol building and were seen inside both the House and Senate chambers.
Investigators are combing through photos, video footage and tips to track down those who took part.
Sixteen people now face federal charges, with approximately 40 facing charges in the Superior Court, the Justice Department said.
In light of the violence, at least 20,000 National Guard members are expected to be in D.C. for President-elect Joe Biden's inauguration, which is roughly four times more than the number of troops currently in Afghanistan and Iraq combined.
During a press conference on Wednesday, Metropolitan Police Chief Robert Contee said: "I think you can expect to see somewhere, upwards beyond 20,000 members of the National Guard that will be here in the footprint of the District of Columbia."
When asked if he has ever seen law enforcement reinforcement to this magnitude in D.C., Contee said: "Not at this level, no."